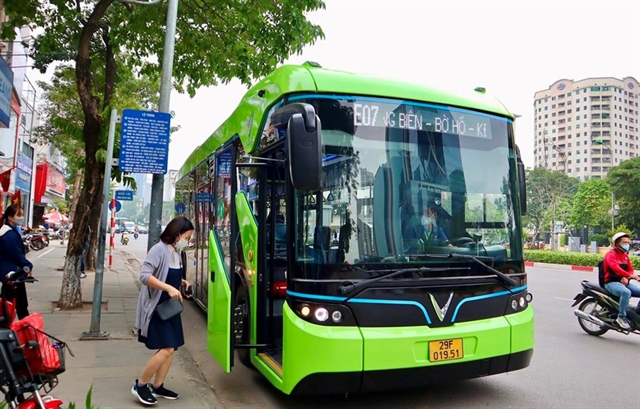 A passenger boards an electric bus on the Long Biên-Hoàn Kiếm Lake-Vinhomes Smart City route in Hà Nội. — VNA/VNS Photo
HÀ NỘI — The State and transport enterprises need to conduct detailed studies on challenges in replacing petrol and diesel-powered public buses with electric vehicles.
More research is needed in order to build a comprehensive roadmap for the replacements in each locality, the Institute for Transportation and Development Policy has said.
In that way, the country could achieve the goal of 50 per cent of buses running on clean fuel by 2030, it said.
Results of the institute's recent survey on public transport demand in five big cities showed that the market share of buses was between 8-9 per cent in Hà Nội. HCM City had a rate of 7.5 per cent while the cities of Hải Phòng, Đà Nẵng and Cần Thơ only reached approximately 1 per cent.
The country currently has 854 bus routes and 8,500 buses running on a total length of 32,344 kilometres of roads.
However, only 849 are environmentally friendly vehicles. Of those, 702 buses, or 82.7 per cent, use compressed natural gas (CNG) and the rest are electric vehicles.
Figures from Hà Nội's Department of Transport's Public Transport Management Centre showed that the city currently has 130 bus routes with 1,966 vehicles.
Only 220 buses are electric or run on clean fuel. The majority, accounting for 89 per cent of the total, are petrol and diesel-powered buses.
According to the national public passenger transport development plan, Việt Nam targets to replace up to 5,800 petrol and diesel-powered buses with electric and clean fuel vehicles in the 2022-25 and a further 6,000 buses by 2030.
Lê Đỗ Mười, head of the institute, said public transport needs strong investment in order to achieve the goal of having 50 per cent of buses running on clean fuel by 2030.
He pointed out difficulties such as very high initial investments in vehicles and limited charging station infrastructure.
Currently, there was no standard unit price for this type of vehicle, supportive policies for businesses to invest in electric buses, or planning for charging stations.
The procedures for getting the support of 50 per cent interest rate on bank loans for vehicle investment are still complicated while there are shortages of land fund for the construction of parking lots, depots, gas stations and stable supply of CNG.
The institute has recommended that the State and businesses conduct detailed studies to assess the current difficulties, challenges and gaps to build a comprehensive, step-by-step roadmap to replace diesel vehicles with eco-friendly buses.
It was also necessary to develop mechanisms and policies to encourage enterprises to invest in this field.
The city's Public Transport Management Centre has proposed the city's transport department require new routes for electric or CNG buses only.
It is expected that the number of eco-friendly vehicles will increase to 4,800 by 2030.
Buses operating for more than ten years must be replaced with electric or CNG vehicles. As planned, a total of more than 1,700 diesel buses will be converted to electric and CNG vehicles in 2025-2035, it said. — VNS