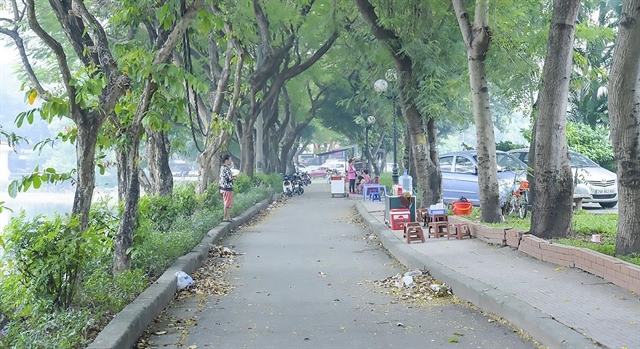 Many areas in Tuổi Trẻ Park in Hà Nội's Hai Bà Trưng District have turned into car parking lots or taken up by small beverage vendors. — Photo vov.vn
HÀ NỘI — Hà Nội authorities plan to "revive" parks in the city next year so that people can benefit from them and have free access to these public spaces.
Many new park projects are still on paper while old parks are being encroached upon illegally.
According to experts, in order to build the capital into a green city, it is necessary to strictly implement the planning of a network of parks and flower gardens that has existed since 2014 by setting aside appropriate land funds for green spaces after relocating industrial facilities, hospitals and universities.
In addition, it is necessary to drastically redesign parks, and return green spaces to the public.
The majority of people and experts said that Hà Nội authorities should remove park fences to make them open community spaces.
However, it is necessary to educate and improve people's awareness on preserving the parks and flower gardens because they are precious spaces of the city.
Thống Nhất Park is an example.
The 50ha park located in Hai Bà Trưng and Đống Đa districts with population of 730,000 people is always empty, even on weekends.
Nguyễn Văn Thanh, a resident on Nguyễn Đình Chiểu Street near the park, said that only people living near the park come here to do exercise in the morning and evening.
People entering the park must buy tickets. Although the ticket is very cheap, this is a psychological barrier for many people, Thanh said.
As a person who has been living in Hà Nội for many years, Phạm Đình Trọng in Cầu Giấy District was very excited when he learned of the "reviving the park" policy of the city's People's Committee.
"Parks are likened to the green lungs of the city, especially in the rapid urbanisation process today," Trong said. "When concrete buildings are dense, the green, clean and beautiful parks will harmonise the landscape and the urban face."
Every day, walking and exercising in Cầu Giấy Park, Trọng noticed the serious deterioration in the park.
"Protective fences, sanitary works, exercise equipment, and toys at the children's play area have been old, broken and degraded for a long time," Trọng said.
Meanwhile, Đoàn Thanh Huyền, a resident in Cầu Giấy District, said parks are associated with the spiritual life of the local community.
The city authority should pay more attention into maintaining the green, clean and beautiful features of the parks to make them ideal destinations for locals and foreign tourists, Huyền said.
According to Nguyễn Minh Phong, a former expert of the Hà Nội Socio-Economic Development Research Institute, in modern urban life, parks are indispensable cultural institutions.
"Parks are an integral part of the socio-cultural life of the residential community in general and of the modern urban area in particular," Phong said.
In fact, in Hà Nội and some other localities, there is a situation where many parks are degraded, abandoned for many years, causing a waste of land while people have no place to enjoy, he said.
To solve this situation, it is necessary to establish an inter-sector agency to review the status of parks so as to adjust the general development plan of the city, he said.
Hà Nôi authorities need to clearly define the functions of each specific park, he said.
"There will be parks with specific themes of bonsai, cultural and spiritual symbols, technology, and entertainment in order to create diversity as well as characteristics of cultural and spiritual life in the area," Phong said.
Notably, the parks should be without fences so that people can enjoy the cultural and natural values ​​for free, he said.
"I believed that when the city defines the functions, goals, investment criteria and management mechanism well, parks will definitely be one of the projects and items that attract a lot of investors," he said.
"Developing parks also contributes to changing and improving the urban landscape," he said.
Parks of community
According to Phạm Thanh Tùng, an architect of the Việt Nam Architects' Association, parks and flower gardens are a very important part of a modern city.
Hà Nội has had many large parks such as Botanical Park, Thủ Lệ Park, Thống Nhất Park and Tuổi Trẻ Park.
However, the current situation is so sad because many flower gardens are not cared for and many parks are degraded and abandoned, Tùng said.
Hà Nội has a policy of embellishing and upgrading existing parks and flower gardens and building more new parks such as Kim Quy Park on an area of 100 hectares. It is expected that it will be a Disneyland in Việt Nam.
However, the project has been suspended for about eight years because of ground clearance issues.
The Thanh Hà Park project, which is an astronomy park that completed construction two years ago, has not yet opened because it did not comply with the city's zoning.
"This issue needed to be considered in terms of responsibility and planning management," said Tùng.
In addition, the architect also cited a series of other examples such as Hòa Bình Park that was built in 2010 to celebrate 1,000 years of the Thăng Long-Hà Nội anniversary.
So far, it has seriously degraded, even becoming a site for social evils.
Hồ Linh Đàm Park in Hoàng Mai District has also seriously degraded and became a landfill of the urban residential area. — VNS