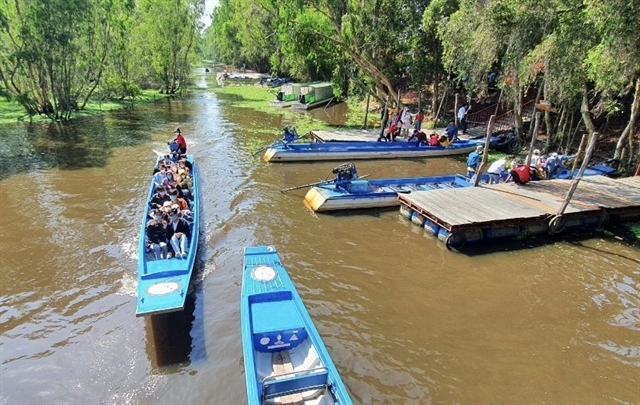 Trà Sư Cajuput Forest in An Giang Province's Tịnh Biên District attracts large numbers of tourists. – VNA/VNS Photo Thanh Sang
AN GIANG – An Giang Province is soliciting investment to foster its socio-economic development.
The Cửu Long (Mekong) Delta province has great economic potential, especially since its infrastructure has steadily improved, according to local authorities.
It borders Cambodia and is a gateway to Southeast Asia, which facilitates the development of the border economy, trade and services.
Nguyễn Thanh Bình, chairman of the province People's Committee, said An Giang is soliciting investment in and developing key agricultural items such as rice, tra fish, fruits, and vegetables.
It would comprehensively improve the investment environment, simplify administrative procedures and implement digital transformation and e-governance to improve administrative efficiency, he said.
Located in the key economic zone, the province has both flat and mountainous terrains, a lot of natural resources, famous landscapes, historical and cultural relics.
The Óc Eo-Ba Thê special national relic site in Thoại Sơn District, Cấm Mountain and Trà Sư Cajuput Forest in Tịnh Biên District are among its most popular tourist destinations.
Cấm has an altitude of 705m, beautiful scenery, large forests, and a number of pagodas, and is a well-known pilgrimage and tourism destination that attracts both domestic and foreign visitors.
With its natural landscape, relic sites and diverse cultures, the province can become the delta's cultural and tourism hub.
It targets economic growth of 6.5-7 per cent a year until 2025.
It has identified agriculture as the basis of its economy.
Nguyễn Sĩ Lâm, director of its Department of Agriculture and Rural Development, said the province is restructuring agricultural production towards developing value chains and producing high-quality items.
Some 70 per cent of its rice growing areas have high-quality varieties.
On nearly 90 per cent, farmers apply the "three increases-three reductions" technique that reduces the use of seedlings, fertilisers and plant-protection chemicals to increase productivity, quality and efficiency.
The farming areas with linkages with companies have increased consistently in recent years and now measures 31,190ha, with most planted to global good agricultural practices or Sustainable Rice Platform standards.
Lê Hồng Quang, secretary of the Party Committee, said the province is making zoning plans for 2021-25 and seeks to ensure close linkages with the rest of the delta.
It would increase the intensive processing of agricultural products and use of advanced techniques to improve yield and quality and meet market requirements, he said.
It would develop border economic zones and mobilise all possible resources in transport infrastructure, clean power and logistics.
It aims to become a hub for agricultural processing and refined foods and a global agricultural investment destination by 2050, he added. – VNS