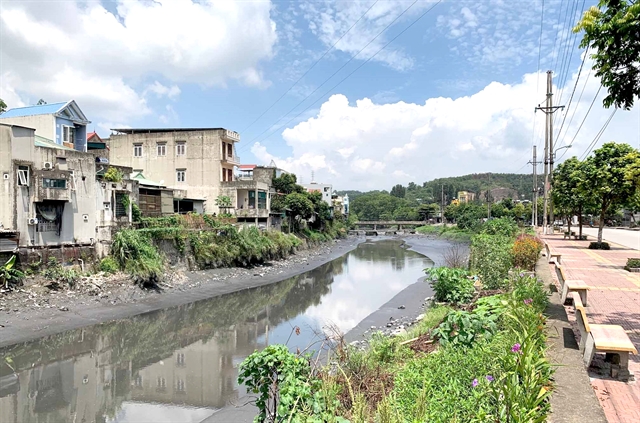 Part of Mông Dương River in Cẩm Phả City, Quảng Ninh District. Photo baotainguyenmoitruong.vn
QUẢNG NINH — The urban wastewater treatment systems in cities in the northeastern province of Quảng Ninh are failing to keep up with demand.
Wastewater and rainwater are collected together and discharged into the sea.
In Hạ Long City, more than 31,720 cubic metres of wastewater is produced daily. However, only five wastewater treatment stations operate in the city, dealing with only 14,276 cu.m of wastewater daily or just 45 per cent of the total.
The remaining untreated wastewater is collected together with rainwater and then released into the sea.
Vice chairman of Cẩm Phả City People Committee Phạm Văn Kính said that the city was facing the same wastewater problem as Hạ Long City.
A majority of rainwater and wastewater in the city was pumped into canals or channels that run to the sea, which posed a high risk of environmental pollution, Kính said.
Moreover, the city's water drainage system was not properly developed and was degrading, Kính said.
In Uông Bí City, poor water drainage was blamed for the flooding that happened after prolonged torrential rain in August this year.
Water from rivers and streams flooded houses, causing damage of up to VNĐ11 billion for both local households and public works.
The wastewater system in Uông Bí City has not been completed, meaning the city does not have treatment stations to deal with the wastewater produced.
According to the authorities of Quảng Ninh Province, currently, the drainage systems of urban areas in the city are mostly old and degraded. Many sewer lines in urban areas are encroached upon, blocking the water flows and causing flooding in many areas, especially during heavy and prolonged rain.
Mông Dương River is the main drainage channel in Mông Dương Ward, Cẩm Phả City, but it is always filled with sediment, causing very slow drainage, especially in the rainy season combined with high tides.
Moreover, due to rapid urbanisation, the natural surface areas and natural water surfaces such as ponds, lakes and canals have been narrowed, which has partly affected the drainage capacity of urban areas.
In fact, many natural drainage ditches and streams have been filled with sediments, leading to flooding in some areas during heavy and prolonged rain. This situation occurs not only in big cities like Hạ Long, Cẩm Phả, Uông Bí and Móng Cái but also in mountainous districts such as Ba Chẽ and Hải Hà.
Meanwhile, the technical infrastructure for drainage in coal production areas has received investment but is still fragmented and disconnected from the existing urban technical infrastructure system. Therefore, when there is heavy rain, soil and rocks from coal production areas are washed away with rainwater, causing sediment in rivers and streams, and reducing the drainage capacity of sewer lines in urban areas.
Poor drainage capacity not only causes flooding in urban areas but also causes environmental pollution in Hạ Long Bay and Bái Tử Long Bay.
To increase domestic wastewater treatment in association with water security, Quảng Ninh Province has recently issued Resolution 10-NQ/TU on strengthening the Party's leadership in resource management and environmental protection, natural disasters prevention and mitigation as well as climate change response and water security in the 2022-2030 period.
Accordingly, it targets to increase the rate of wastewater collection and treatment in concentrated urban areas including Hạ Long, Cẩm Phả, Vân Đồn, Quảng Yên to over 65 per cent by 2025 and over 70 per cent by 2030.
Localities like Đông Triều, Uông Bí and Móng Cái are expected to have over 30 per cent of domestic wastewater treated by 2025, and over 50 per cent by 2030.
All new projects granted licenses under urban residential infrastructure construction planning or socio-economic development projects around Cửa Lục Bay, Hạ Long Bay, Bái Tử Long Bay and in urban areas must have a system to collect and thoroughly treat wastewater. VNS