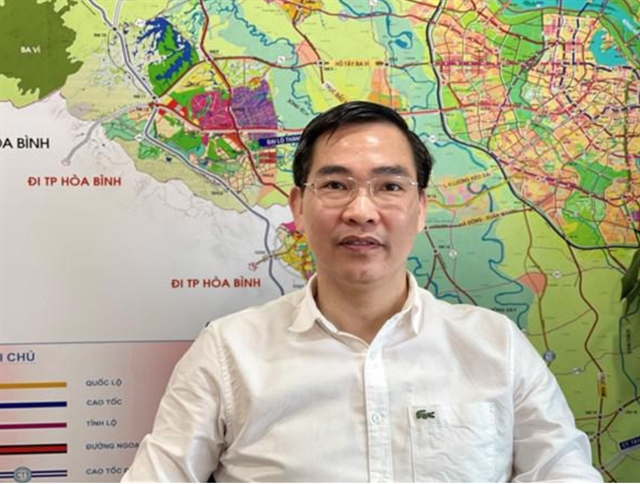 Deputy director of the Hà Nội Transport Department Trần Hữu Bảo. Photo: kinhtedothi.vn
The capital city of Hà Nội is striving to develop its transport infrastructure system and improve its public passenger transport network in order to bolster its socio-economic development. Deputy director of the Hà Nội Transport Department Trần Hữu Bảo talks with Kinh Tế & Đô Thị (Economic and Urban Affairs) newspaper about the issue.
Could you give an overview of the traffic infrastructure system and public transport network in Hà Nội?
In general, the city has seven ring roads (five urban belts and two inter-provincial belts), nine expressways, 18 bridges over the Red (Hồng) River, eight bridges over the Đuống River, 10 lines of urban railway with a total length of 417.8km.
The public transport network has made strong strides with 154 routes to all districts in the city. The elevated mass transit railway line of Cát Linh-Hà Đông and many bus lines using clean energy have also been put into operation. As planned, a section of the Nhổn-Hà Nội Station metro line will be put into operation in the next few months which significantly helps improve public transport capacity.
What is the investment in the transport infrastructure system?
Currently, the city has been investing in building five urban ring roads with a total length of 163.96km, of which 20.57km is under construction.
A particularly important project is the inter-provincial ring road No.4, which has been approved for investment, is preparing for site clearance and is expected to start construction in 2023.
In addition, seven out of nine highways connecting the capital city with other provinces and cities, nine out of 18 bridges over Hồng River and four out of eight bridges crossing the Đuống River have completed construction.
What are the city's specific plans to achieve the goal of having a breakthrough transport infrastructure?
The city will focus on investing in building bridges over the Hồng and Đuống rivers, completing the Vĩnh Tuy Bridge phase 2 by 2025, starting construction of five bridges - Thượng Cát, Vân Phúc, Hồng Hà, Mễ Sở, Đuống 2 - and preparing investment for the Tứ Liên and Trần Hưng Đạo bridges.
The city has to make strong efforts to complete and put into operation urban railway No.3, Phạm Ngọc Thạch - Chùa Bộc Intersection, Kim Đồng Tunnel, Ring Road 3.5 - Thăng Long Road Intersection, and a road linking Pháp Vân - Cầu Giẽ Highway with Ring Road No.3.
Preparations have begun for constructing Ring Road No.4, Highway 6, Highway 21 and the Mỹ Đình - Bái Đính - Ba Sao Highway for the periods of 2021-2025 and 2026-2030.
These works are very important, contributing to the completion of the inter-regional transport axes, promoting socio-economic development as well as ensuring the national defence and security of the whole region with Hà Nội being central to the orientation of the Party and State.
As for the public transport network, what issues will Hà Nội focus on during this period?
In order to meet at least 40 per cent of the people's travel needs by 2030, the city focusses on seven major solutions.
The first is to modernise and improve the quality of bus services.
The second is to expand the route network, including buses and trams, and widely publicise the advantages of public transport to attract people.
The third is to strengthen the connection between regular buses, express buses and urban railway.
The fourth is to regularly review the public transport network to promptly adjust unreasonable policies.
The fifth is to promote scientific research and the application of technology in public transport development, especially fast and high-volume transport as well as set up an online digital map of the public transport network, issue smart ticket cards, and connect public transport to optimise trips for passengers.
The sixth is to complete a system of specialised regulations, standards and economic-technical norms for bus rapid transit (BRT), urban railways and monorails.
The seventh is to develop an investment mechanism in the form of transit oriented development (TOD) to maximise the land fund at urban railway stations to create investment capital for the railways themselves as well as the transport infrastructure and public transport network in general.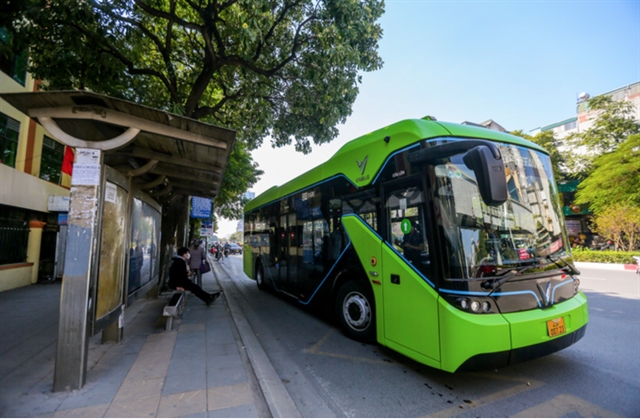 An electric bus on a street of Hà Nội. The city will continue to further develop its public transport network in the next ten years. Photo nld.com.vn
Could you tell us about the effectiveness of the solutions?
In summary, Hà Nội's transport development strategy in the next 10 years will include six groups of solutions.
The first is a group of basic solutions that are sustainable and long-term to mobilise all resources of investment for transport infrastructure development.
The second is a group of regular solutions that strengthen the maintenance and repair of traffic infrastructure in order to bring into full play the efficiency of existing infrastructure.
The third is to both develop the public transport network and gradually reduce personal vehicles.
The fourth is a group of breakthrough solutions that apply information technology into traffic management and administration, and handling violations.
The fifth is to focus on enhancing dissemination and education of the law on traffic safety.
The sixth is to promote the inspection and handling of violations in the field of transportation. — VNS