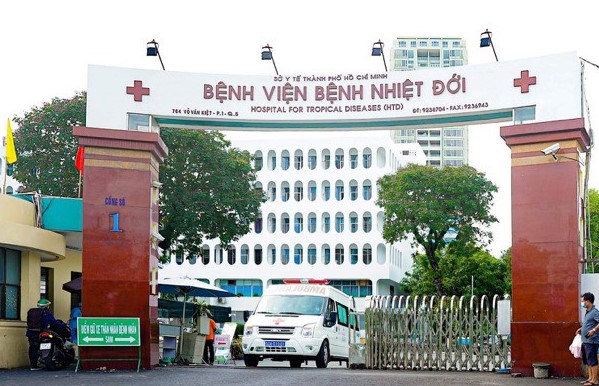 The monkeypox patient is currently being treated for at HCM City Hospital for Tropical Diseases. — VNA/VNS Photo Thu Hương
HÀ NỘI — The first case of monkeypox in Việt Nam has been identified as a 35-year-old woman from HCM City, said the Ministry of Health on Monday.
She was confirmed to be infected with the Clade IIb variant after travelling home from Dubai.
Her symptoms started on September 18, which included a fever, fatigue, chills, muscle aches, headache and cough, alongside red, itchy bumps on her arms, face and body.
Immediately after returning to Việt Nam on September 23, the patient went to Từ Dũ Hospital for a medical examination.
She was later transferred to HCM City Dermatology Hospital to be tested for monkeypox. Her results came back two days later, showing that she was infected with the disease.
She is in stable condition and is undergoing treatment in isolation at HCM City Hospital for Tropical Diseases.
As soon as the suspected case was reported, the health ministry directed HCM City People's Committee to ensure prevention and control measures, conduct genetic sequencing tests to determine the virus variant, isolate the patient and continue investigation to prevent outbreaks according to the ministry's guidelines.
Close contacts of the case since she returned home to Việt Nam have been monitored according to regulations. No further infections have been detected so far.
Provincial and municipal People's Committees have been required to actively prepare response plans in their localities, strengthen surveillance, prevention and early detection of cases at border gates and medical facilities.
At healthcare facilities, localities will also take measures to ensure the admissions, categorisation and treatment of patients and avoid cross-infection, especially among medical staff. Training will be provided to health workers at all levels of treatment.
Communication on preventive measures, risks and treatment will also be enhanced.
The health ministry recommends people cover their noses and mouths when coughing or sneezing, combined with regular hand-washing with soap or sanitisers.
Those with an acute rash of unknown cause, accompanied by one or more suspected symptoms, or who have been in close contact with the infected, should self-isolate and contact a medical facility for monitoring and advice.
People are also advised to avoid close and skin-to-skin contact with people infected with monkeypox, to not touch the rash or scabs of a person with monkeypox and not to share utensils, bedding, towels or clothing with them.
Those travelling to countries with monkeypox outbreaks should avoid contact with mammals (dead or alive) such as rodents and marsupials as they may contain the monkeypox virus. They should also proactively make health declarations upon returning to Việt Nam.
After the World Health Organization (WHO) declared monkeypox a public health emergency of international concern, the Government and health ministry issued guidelines to strengthen prevention and control measures, notably the Prime Minister's Dispatch No 680/CĐ-TTg dated August 1, 2022.
As of yesterday, the world has recorded 68,265 monkeypox infections across 106 countries, of which there are 25 fatalities.
According to the WHO, the risk of a widespread monkeypox outbreak in the Western Pacific Region, which includes Việt Nam, is at an average to low level. — VNS