108 Military Central Hospital director Mai Hồng Bàng presents certificates of merit to Professor Baek Rong-Min and Vice President of SK Ecoplant Group Lee Seong Nyeoh at the event. — Photo courtesy of the hospital
HÀ NỘI — A humanitarian programme between the 108 Military Central Hospital and the Korean Society of Smile for Children has operated on 4,091 patients safely, bringing smiles to thousands of patients over the past 25 years.
A meeting was held to celebrate the 25th anniversary of cooperation between the 108 Military Central Hospital and the Smile for Children on Thursday.
Speaking at the event, the 108 Military Central Hospital director Mai Hồng Bàng praised support for Smile for Children, led by Professor Baek Rong-Min, for their contributions to the country's health care, training and medical equipment support for the hospital.
"During the past 25 years, the Smile for Children and Professor Baek Rong-Min spent a lot of effort to bring smiles and brighter futures to Vietnamese disabled children, helping them have the opportunity to integrate into the community. This humane philanthropic act has eased many burdens for families with children with disabilities, especially in poor and remote areas," said Prof. Bàng.
"Professor Baek Rong-Min also directly participated in the training, teaching, and sharing of knowledge and experience to Vietnamese doctors at hospitals where delegations work. This is a precious help to the Vietnamese health sector and the 108 Military Central Hospital, particularly in dealing with congenital disabilities," said Bàng.
He also expressed hope that the two sides will continue to carry out humanitarian surgery programmes in other localities, especially in remote and impoverished provinces in the country, and expand training courses on advanced programmes in plastic, craniofacial and cosmetic surgery for doctors as well as cooperation and professional exchange between the hospital and the Bundang Hospital of Seoul National University.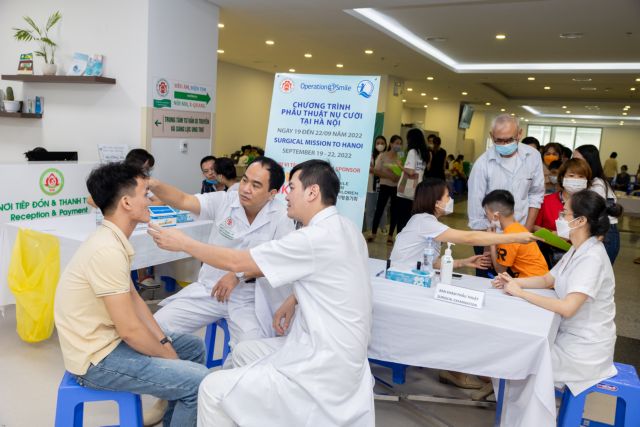 Doctors of the 108 Central Military Hospital examine patients as part of a humanitarian surgery programme. — Photo courtesy of the hospital
Since 1995, with the permission of the Government and the Ministry of National Defence, the Vietnam Smile Surgery Association, led by the late Major General Professor Dr Nguyễn Huy Phan - Deputy Director of 108 Central Military Hospital, has established a cooperative relationship with the Korean Society "Smile for Children".
The cooperation programme has provided free surgery for thousands of poor children with lip and palate deformities in localities, including Bắc Kạn, Cà Mau, Phú Yên and Thanh Hóa. In addition, they provide modern medical equipment to remote areas to develop their expertise and improve the quality of treatment for the patient.
Annually, more than 3,000 cases of congenital disabilities of maxillofacial deformity occur in Việt Nam. The rate of newborns with this malformation who have not yet received surgery has reached 10,000. Physical defects affect aesthetics and make children face many difficulties in daily activities. — VNS