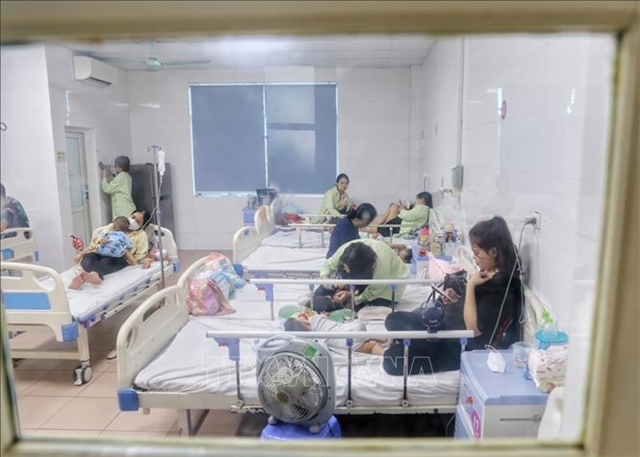 Children are treated at Thanh Nhàn Hospital in Hà Nội. —VNA/VNS Photo
HÀ NỘI — The number of children hospitalised in Hà Nội has increased rapidly in recent days, causing overcrowding for hospitals, Tin tức (News) newspaper reported.
At some hospitals, two or three patients have to share one bed and one doctor is in charge of up to three patients.
Most of the children were hospitalised due to diseases relating to respiratory or digestive disorders with symptoms of vomiting, fever, diarrhea and cough.
The Pediatric Department of Thanh Nhàn Hospital is treating 120 children, most of them aged five years old and under who have dengue fever. The number of children hospitalised has increased sharply in comparison with previous years, and two thirds of the patients are suffering from diseases relating to respiratory disorders.
Bạch Mai Hospital recorded an increase of 20-30 per cent in the number of child patients in comparison with the same period last year.
Doctor Vũ Thị Mai from Thanh Nhàn Hospital said one of reasons was the disruption in vaccinations for kids due to the impact of the COVID-19 over the past two years. In addition, many families fail to have their kids take vitamin A as scheduled, contributing to a weaker immune system, thus making easier for children to get sick.
Experts also said the sudden increase in the number of child patients was also blamed on current climate conditions which are favourable for the spreading of virus and bacteria.
Apart from diseases such as pneumoni, bronchitis, dengue fever and seasonal flu, many children have been affected by Adenovirus.
Adenovirus is transmitted by droplets of respiratory transmission between people. The disease can also be transmitted through mucous membranes when swimming, through contaminated water used in daily life, or transmitted when healthy people share personal items with sick people.
Adenovirus can cause illness in all ages, with children between the ages of six months and five years the most common.
In order to detect diseases early and treat children effectively, experts recommend parents strengthen the immune system for children with good nutrition, a healthy lifestyle and proper vaccinations.
Parents are advised to bring children to health care establishments immediately if the children have such symptoms as high fever, vomiting, diarrhea, difficulty breathing, chest tightness or signs of fatigue. — VNS