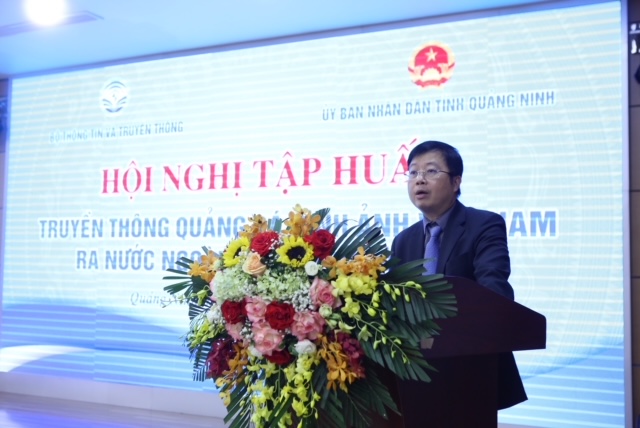 Nguyễn Thanh Lâm, deputy minister of Information and Communications, speaks at the event. — Photo courtesy of the organising board
QUẢNG NINH — A communication training conference to promote the image of Việt Nam abroad in effective new ways opened in the city of Hạ Long, Quảng Ninh Province on Thursday.
The two-day event, co-organised by the Ministry of Information and Communications (MIC) and the People's Committee of Quảng Ninh Province, focused on guiding and helping localities deploy promotional communication in a new way.
"Communicating what the world wants to know about Việt Nam and promoting Việt Nam's image abroad in a consistent, synchronous and unified manner is our goal," said Đoàn Công Huynh, Chairman of the MIC's External Information Department.
Promotional communication takes the local as the "foundation" to build and communicate about the national image. The national image was a composite image of localities, strengths and core values of 63 provinces and cities across the country.
Huynh pointed to the need to innovate, apply information technology and carry out digital transformation.
At the conference, Nguyễn Thanh Lâm, deputy minister of Information and Communications said: "The new situation requires a new, proactive, creative, positive and effective way of doing things. External information needs to break through first in this spirit."
"Communication to promote the national image is a major component of external information work, which requires doing work in a new way, creating an innovative approach," he said.
Nguyễn Thanh Sơn, a master of international journalism at the Moscow Institute of International Relations, said: "New media practitioners must cultivate knowledge and be willing to learn because the current readers of press are the young generation (Gen Z). They are quick learners, grasping trends and digital media very quickly."
"We are using non-traditional information channels such as Zalo, Facebook, Youtube, and Twitter. This is a really effective means of external communication in the context of globalisation," he said.
Vice Chairwoman of Quảng Ninh Province's People's Committee Nguyễn Thị Hạnh said the province put special attention on external information efforts. The province annually issues a communication cooperation plan and asked the provincial Department of Information and Communications to coordinate with press agencies to carry out communication tasks as well as provide information for press agencies to introduce the image, potential, strengths and people of Quảng Ninh and information about events hosted by the province.
In response to the requirements of the new situation, Hạnh said Quảng Ninh needs to do communication tasks more proactively and systematically.
The MIC will open training courses for Hà Nội, Hải Phòng, Quảng Ninh Province, Thừa Thiên-Huế Province, HCM City, Đà Nẵng, Cần Thơ, and Bà Rịa-Vũng Tàu Province. — VNS