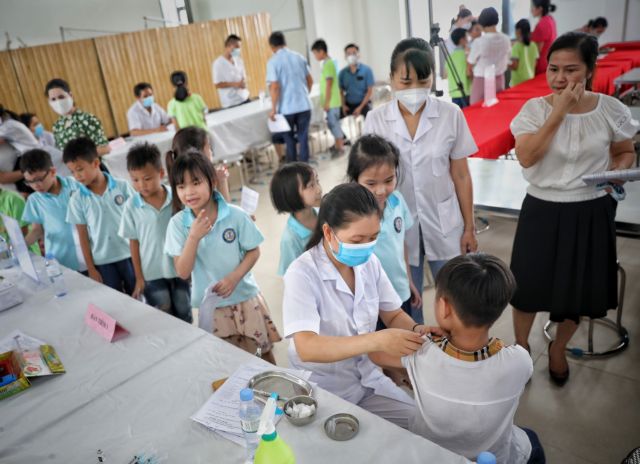 Primary school students in Bắc Giang receiving COVID-19 vaccine. Vaccine, treatment, technology and public awareness are still key to Việt Nam's fight against the pandemic. — VNA/VNS Photo
HÀ NỘI — About 20 per cent of severe COVID-19 patients being treated at the Intensive Care Unit of the National Tropical Disease Hospital No 2 have not been vaccinated against the virus.
These patients are mostly elderly, infected with HIV/AIDS or suffering from underlying conditions, Sức Khoẻ&Đời Sống (Health and Life) newspaper reported.
The unit is treating more than 40 COVID-19 patients, including 20 serious cases needing oxygen therapy for breathing.
Amids the complicated developments of the pandemic, the Government continues to urge people to follow mask and hand sanitising protocols.
The Deputy Prime Minister Vũ Đức Đam said in the latest directive that vaccines, treatment, technology and public awareness are key to fighting the pandemic.
He asked local authorities and the health sector to stay active and respond to any scenario to prevent the pandemic from resurging.
At the national conference on COVID-19 prevention, control and vaccination on Wednesday afternoon, health deputy minister Nguyễn Thị Liên Hương ordered authorities to remain vigilant.
According to the National Institute of Hygiene and Epidemiology, more than 259.6 million vaccine doses have been administered. Almost all people over 18 have been vaccinated with at least two doses. Third and fourth dose coverage has reached 77.5 and 80.3 per cent.
Almost 100 per cent of those from 12 to 18 years old have been vaccinated with at least two doses.
More than 88 per cent of children between 5 and 12 years old have received the first dose, and 60.2 per cent of them have got the second jab.
Authorities of some localities reported that vaccine supply in the final months of the year has not met demand, leading to the possibility of a vaccine shortage.
It was revealed at the meeting that 1.2 million doses of Pfizer would arrive in Việt Nam on Thursday evening.
The health ministry ordered authorities to accelerate COVID-19 vaccination and update vaccination dates on the general database.
Health deputy minister Hương also asked local authorities to raise attention over dengue fever, hand-foot-mouth disease and adenovirus infections, to detect and curb new outbreaks, avoid widespread cross-infection, and minimise the fatality rate. — VNS