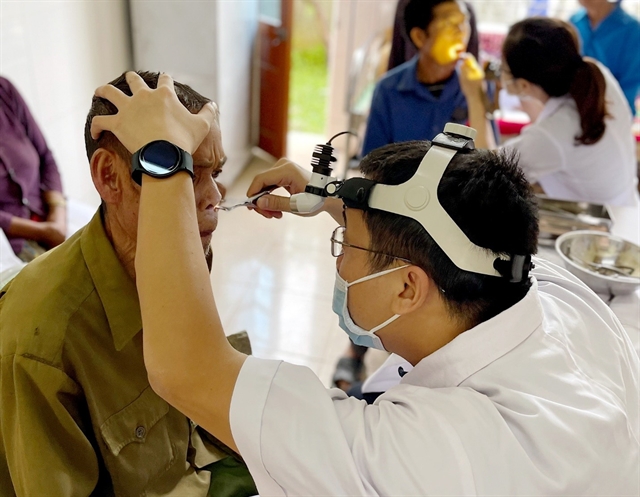 A doctor of Nghệ An General Hospital provides health checkup for a local man in Keng Đu Commune. — Photo suckhoedoisong.vn
NGHỆ AN — Volunteer visits organised quarterly by the Youth Union of Nghệ An General Hospital to the highlands are a chance for doctors to contribute more to the community.
Keng Đu, a difficult and remote mountainous commune of Kỳ Sơn District near Laos, is located in the westernmost part of Nghệ An Province, at an altitude of 1,100m above sea level.
The conditions here are challenging. The people living here are mainly of the Thai, Khmu and Hmong ethnic groups. People's access to medical information, examination and treatment is still limited.
The Party Committee, Board of Directors, and Youth Union of Nghệ An General Hospital, in collaboration with the Nghệ An Red Cross and New Image Company, went to Keng Đu to organise a medical examination programme and provide free medicine distribution for citizens as well as gifts to children.
From early morning hundreds of people in Keng Đu Commune gathered at the commune health station to receive medical examinations and free medicine.
Upon hearing the announcement, many people woke up early and walked for hours for examinations and gifts from the delegation.
"We are very happy to have doctors coming here to examine us, provide free medicines, and give gifts to our relatives. We hope that every year there will be a delegation to visit people for a free medical examination, so we don't have to go far from medical care and save money for the family," said Moong Phò Vươn of the Mông ethnic group.
For the medical examination and treatment for the people to have good results, the hospital has sent enthusiastic young doctors with good qualifications and modern equipment to an area far from the headquarters.
During the medical examination, the delegation carried out screening for respiratory, digestive, bone and joint diseases and other conditions for nearly 300 people.
Many acute diseases such as arthritis and respiratory inflammation were detected, with patients given drugs for treatment.
Doctors also consulted on nerve and spine conditions, bone tumours, and stomach tumours for referral for in-depth examination and treatment.
"Participating in volunteer programmes for medical examination and treatment for children in the highlands is an unforgettable experience for young doctors like us," said Phạm Tất Bách, a cardiologist at the Nghệ An General Hospital.
In parallel with the voluntary medical examination, the volunteer group distributed 150 nutritious meals and presented valuable gifts to poor and disadvantaged families in the Keng Đu Commune.
"Volunteer visits to disadvantaged areas of the country are always organised quarterly by the Youth Union to share difficulties with the people in the highlands, and at the same time, it is also an opportunity for young doctors at the hospital to have the opportunity to devote their youth to the health of the community," said Lê Nhật Huy - Nghệ An General Hospital Youth Union leader. — VNS