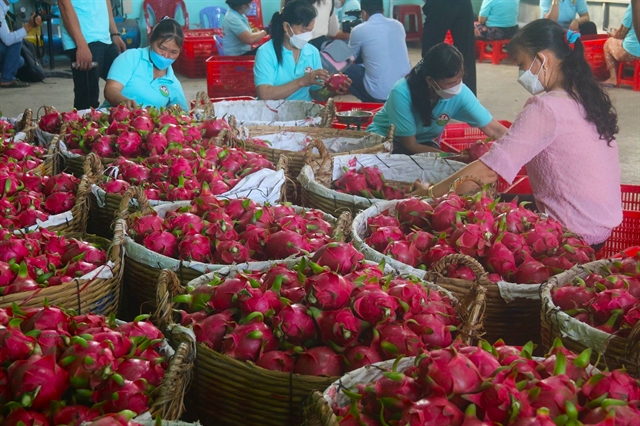 Sorting dragon fruits at an export company in Tiền Giang Province, southern Việt Nam. — VNA/VNS Photo Minh Trí
LONG AN — In the dragon fruit growing area of ​​Châu Thành District in the southern province of Long An, almost everyone knows about Tầm Vu Dragon Fruit Co-operative for its successful and effective business.
According to Trương Quang An, Director of the co-operative, a decade ago, few dragon fruit farmers were interested in joining the co-operative.
However, as the co-operative regularly brought high and stable profits to its members, it has now attracted 70 members with a total dragon fruit area of ​​90 ha.
Most of the co-operative's dragon fruit growing areas apply VietGAP and GlobalGAP standards and high technology in farming. The co-operative is creating regular jobs for about 140 local workers, with an average monthly income of VNĐ7-8 million per worker.
In addition, to ensure the quality of dragon fruit, the co-operative also invested in building a warehouse of more than 5,500 sq.m to process and pack dragon fruit for export and cold storage to preserve 500 tonnes of dragon fruit.
Every year, the co-operative exports thousands of tonnes of dragon fruit, half to China and the rest to the US, Europe, Japan, Thailand, Singapore, India, and the United Arab Emirates.
Over the past year, when China - Việt Nam's largest dragon fruit importer sharply reduced its dragon fruit import due to the pandemic, members of Tầm Vu Dragon Fruit Co-operative still had a profitable business.
Many dragon fruit growers had to sell their fruit for a few thousand Vietnamese đồng for a kilo and suffered heavy losses. Meanwhile, members of Tầm Vu Co-operative still sold at over VNĐ10,000 đồng per kilo and stayed profitable, An said.
Besides Tầm Vu Dragon Fruit Co-operative, many other local dragon fruit co-operatives were able to survive through such difficult times thanks to their development strategies focusing on taking advantage of the collective economy.
Đỗ Thanh Hiệp, Chairman of the Board of Directors of Hòa Lệ Clean Dragon Fruit Co-operative in Hàm Thuận Bắc District, Bình Thuận Province, said that established in 2017 with 12 members, the co-operative did not have sufficient farming area to grow dragon fruit and meet export orders.
Thus, Hòa Lệ co-operative bought dragon fruit from five other co-operatives in the neighbourhood to collect 65 tonnes of dragon fruit for export monthly.
After signing a contract on dragon fruit supply, Hòa Lệ Co-operation also co-operated with many other dragon fruit processors and exporters, such as Yasaka Fruit Processing Co., Ltd., to export 72 tonnes per month to Japan, and Song Nam International Trade Development Co., Ltd. to export 116 tonnes per month to India. The co-operative worked with enterprises to export about 210 tonnes per month to China.
Hiệp said that to diversify dragon fruit products, the co-operative developed 10 products from clean dragon fruit, such as dragon fruit wine, white and red fermented dragon fruit juice, cream, jam, dragon fruit juice, dragon fruit beer, candy and dried dragon fruit.
"These products help increase the value of dragon fruit, increase income for co-operative members and employees," Hiệp said, adding that currently, the co-operative is linking the consumption chain with six VietGAP dragon fruit production co-operatives in the district and those in other districts in the province to expand the market.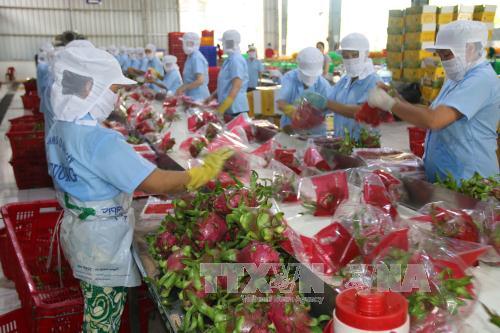 Workers process dragon fruit for export in the southern province of Tiền Giang. — VNA/VNS Photo Minh Trí
​Production-consumption link
According to the Ministry of Agriculture and Rural Development, in 2021, the country's dragon fruit output reached nearly 1.4 million tonnes. More than 1.25 million tonnes were grown in the three provinces of Bình Thuận, Long An and Tiền Giang.
The domestic market consumed about 15-20 per cent of the output, and the remaining 80-85 per cent of the production was for export.
Vietnamese dragon fruit has been exported to 40 markets around the world. However, only about 2 to 3 per cent of the exported volume is via an official channel, while the rest is in the form of border trade with a small quota.
A few years ago, dragon fruit farmers flourished because of high demand, high prices, small investments and big profits. Chinese traders used to buy Vietnamese dragon fruit and were willing to pay VNĐ50,000-60,000 for a kilo.
Seeing the large profit, people and families rushed to grow dragon fruit, which saw ​​dragon fruit growing areas in Tiền Giang, Long An, and Bình Thuận provinces sharply expand.
According to the national cultivation plan, the dragon fruit growing area of ​​Bình Thuận until 2020 was 30,000 ha. However, by the end of 2021, the province had more than 33,750 ha of dragon fruit, nearly 4,000 ha higher than planned.
In Tiền Giang Province, about 9,000 ha was planned for dragon fruit by 2025. However, its current dragon fruit growing area is about 700 ha higher than planned.
In Long An Province, the dragon fruit growing area has reached more than 11,600 ha, exceeding the planned area of 2030 by more than 3,000 ha.
Dragon fruit prices once reached up to VNĐ30,000 per kg, making growers highly profitable. However, there have been periods when prices dropped to VNĐ 4,000 per kg, even VNĐ2,000 per kg, making it difficult for growers to recover their investment.
In the last three years, dragon fruit producers have faced many difficulties because the Chinese market has temporarily suspended imports of the fruit.
Many farmers growing dragon fruits in the provinces of Tiền Giang and Long An wanted to destroy their dragon fruit gardens and switch to other crops.
Minister of Agriculture and Rural Development Lê Minh Hoan said that dragon fruit producers must reorganise their production as per market demand.
Localities must reorganise dragon fruit production starting from the commune level so that farmers must know about market needs and understand the market, partners and competitors, Hoan said.
In the dragon fruit production chain, farmers are the start, so they must be instructed and connected with units and enterprises to promote production-and-consumption linkage, Hoan said.
Lê Thanh Tùng, Deputy Director of the Cultivation Department, said that to link production with consumption, it was necessary to complete the dragon fruit value chain, promote production links through co-operatives and co-operative groups, and create production links with enterprises and reduce intermediaries.
"The dragon fruit chain also needs to promote official exports, reduce unofficial exports, and expand the domestic consumption market to avoid difficult times when dragon fruit is difficult to export," Tùng.
According to the Dragon Fruit Association Chairman in Long An Nguyễn Quốc Trịnh, many farmers are now expanding their dragon fruit production, setting prices and finding traders themselves.
"This is a loophole for traders to impose low prices when the market is congested," Trịnh said, adding that dragon fruit farmers did not understand why, so blamed the traders.
"If dragon fruit growers want a stable production and consumption mechanism, they need an organisation or association to capture market information and adjust production," he said.
Trần Minh Hải, Director of the Co-operative Economics Training and Consulting Centre under the School of Agriculture and Rural Development, said that co-operatives were formed in dragon fruit growing areas to gather farmers and instruct them in production and connection.
However, at present, it was tough to link co-operatives with farmers because most co-operatives operate in the style of "everyone does what they like, everyone takes care of themselves," Hải said, implying ineffective cooperation. — VNS