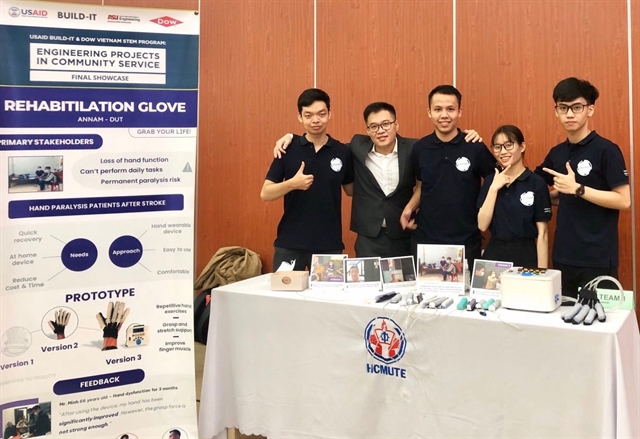 Students from the University of Science and Technology won first prize in the 2022 EPICS competition with their Rehabilitation Glove product. — Photo udn.vn
ĐÀ NẴNG — Academic experts and quality assurance professionals explored how the Engineering Projects in Community Service (EPICS) programmes have contributed to producing ready-to-work university graduates and how to conduct these programmes at a forum in central Đà Nẵng City on August 5.
The forum was held as part of the Playbook forum series by the "Building University-Industry Learning and Development through Innovation and Technology" or BUILD-IT project, funded by the US Agency for International Development and implemented by Arizona State University and the University of Science and Technology under the University of Đà Nẵng.
EPICS brings together experts in academia, industry, and government to explore the importance, successes, and challenges in implementing this award-winning entrepreneurship programme.
The project is an internationally recognised engineering-based service learning and social innovation applied project programme that inspires students to use engineering and human-centred design to build solutions for social challenges.
EPICS asks student teams to partner with local community organisations to address community-based human and environmental challenges. Community organisations are encouraged to use students' technical skills to improve, coordinate, and build pragmatic innovations for their communities.
Students get field experience designing, building, and rebuilding working prototypes. They gain confidence, 21st Century skills, and real-world engineering experience, all before graduation.
For the past five years, BUILD-IT has been helping Vietnamese universities implement and conduct EPICS programmes and challenges throughout Việt Nam.
Through this programme, student-led teams design, build and deploy systems to solve engineering-based problems for charities, schools and other not-for-profit organisations. The students aren't waiting to graduate to make a difference - they are tackling real-world problems today.
The tools and techniques BUILD-IT employ to prepare their partner universities for a quality EPICS programme are robust. With support and guidance, faculties from our partner universities have supported student-led teams and guided EPICS competitions held throughout Việt Nam.
BUILD-IT's goal is to enable the sustainability of quality EPICS programmes in the long-term by increasing the access students have to these types of competitions.
In 2017, BUILD-IT began modelling the EPICS programme with six Vietnamese universities to expand their capacity to organise and operate innovative multi-disciplinary project-based learning programmes.
The value of these competitions has been demonstrated by Vương Thị Ngọc Tuyết, who grew up in Mekong Delta Cần Thơ City.
Coming from a family where women didn't attend college, Tuyết studied Engineering at Cần Thơ University.
"When I first joined the university, I was shy and lost. As a minority, I didn't speak up or voice my opinions — even when I needed something," she said.
She was encouraged to join EPICS. As one of only a handful of female students studying engineering, she found like-minded, talented young women when she joined the programme.
Through the programme, Tuyết and her team invented a candy made of rice bran to help diabetic patients manage their diets. In her second programme, Tuyết and her team came in first place at the nationwide EPICS final showcase, where she presented her high-capacity, easy-to-use rolling pesticide sprayer designed to ease the burden of farmers.
The project has also been impactful at Lạc Hồng University. In 2021, a team of students won their EPICS competition by creating Automov, a device to convert manual wheelchairs into electric wheelchairs.
Participants at the forum explore how EPICS is implemented, its value and benefit, and its challenges and solutions. They also experience how Vietnamese universities expand their capacity to organise and operate innovative multi-disciplinary project-based learning programmes.
Representatives from current programmes discussed challenges and successes in implementing their own EPICS programmes, and local industry experts examined their involvement in contributing to student impact.
While the benefits of BUILD-IT's programs are obvious in real-time, the real value is its long-term support of higher education.
To leverage seven years of programmes, workshops, seminars, and training sessions, BUILD-IT created its Playbook Series to assist in sustaining its value long after the programme ends in 2023.
The 2022 series of BUILD-IT forums celebrates key topics as prioritised by university partners. Topics in this playbook series include Institutional Accreditation, Project Based-Learning, Digital Immersion Learning, Program Accreditation, Industry Advisory Boards, Women in STEM, Maker Innovation Network, and Faculty Development and Active Learning.
BUILD-IT anticipates that the playbooks will become recognised resources for university and HEI planning. These tools can help build scale – reaching additional universities and engineering programmes throughout Việt Nam for sustainable, nationwide change. VNS