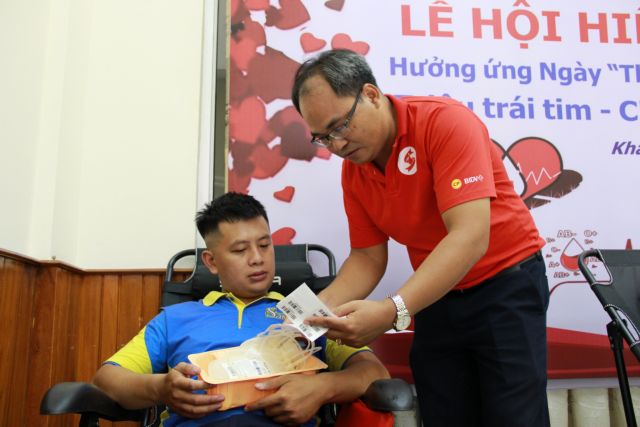 Lê Thanh Ninh (right) encourages a local person to donate blood during a blood donation campaign held by the provincial Red Cross Society. — VNA/VNS Photo Phan Sáu
Phan Sáu
KHÁNH HÒA — Lê Thanh Ninh, 39, from south central Khánh Hòa Province, has donated blood 73 times and never wanted to stop.
"We should devote our best efforts when we are young. I want to donate more blood to help patients," he said.
Recalling the first days when he donated blood, Ninh said he faced many difficulties. The biggest challenge was from his family, as they did not understand blood donation, which they thought would affect his health.
However, seeing Ninh's health stable after each blood donation, his parents and family members started to realise the benefits and joined him to donate.
Ninh established a blood donation club in 2005 to mobilise more people to join. However, initially, not so many people donated. Many people thought that donating blood meant losing blood and that their health would be weakened.
However, Ninh did not give up. He decided to study blood donation and asked for professional knowledge from doctors at the provincial Centre for Hematology and Blood Transfusion.
He then shared the knowledge with residents to raise their awareness. As a result, more people donated.
In 2013, a group of teachers and students from Central Highlands Lâm Đồng Province visited Khánh Hòa Province and had an accident when passing Khánh Lê Pass. After receiving information about the accident from local authorities, Ninh mobilised dozens of people to donate blood to help the victims within two hours.
Ninh also started helping local orphans in 2008. Initially, he provided each orphan with VNĐ50,000 (US$2.2) per month due to the lack of finance. But now, he can monthly provide each orphan with VNĐ200,000.
Ninh said he was happy to help others as the good deeds become multiplied across society.
During the outbreak of the pandemic in 2021, Ninh coordinated with the provincial Red Cross Society to organise many activities to support the community, such as cooking free meals for COVID patients and disadvantaged workers. He also mobilised different sources to help local citizens to get free eye surgery.
Speaking highly of Ninh's contribution to blood donation activities, Deputy Chairwoman of the provincial Red Cross Society Lưu Thị Bích Hường said Ninh plays a key role in the blood donation campaign of Ninh Hòa Commune, helping the campaign to grow.
She said his initiative to establish a blood donation club brought practical efficiency.
She added that during the pandemic, Ninh pioneered mobilising and supporting local citizens to overcome difficulties.
In 2016, the Prime Minister presented Ninh with a Certificate of Merit in recognition of what he had done for the community. He was also one of 100 outstanding blood donors across the country honoured at a ceremony held in 2015. — VNS