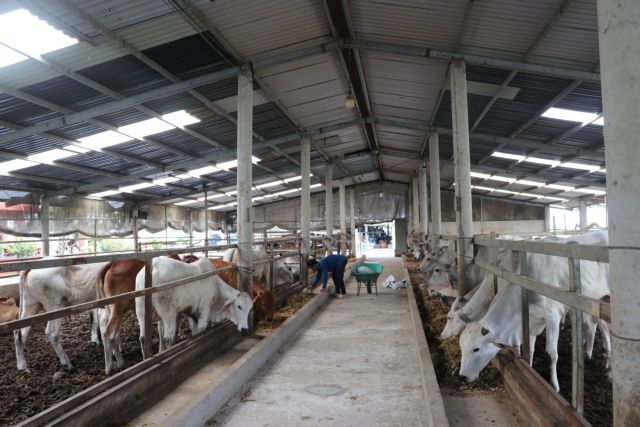 Cows and oxen are bred in Long An Province's Tân Hưng District. – VNA/VNS Photo Đức Hạnh
LONG AN – The Cửu Long (Mekong) Delta province of Long An has significantly developed agricultural production and rural areas, and improved the lives of farmers as it has effectively implemented programmes and measures for their development.
The province has effectively implemented Resolution No. 26 of the tenth Party Centre Committee on agriculture, farmers and rural areas, which was issued in 2008.
Tân Hưng, which borders Cambodia, is an agrarian district but more than 50 per cent of its farming area used to be left vacant because of alum affected soil before the implementation of the resolution.
Nguyễn Thanh Tiệp, secretary of the district Party's Committee, said that to implement the resolution effectively, the district has taken measures to zone rural areas and restructure agriculture production to increase the added value and sustainably develop agricultural products.
It has focused on cultivating new crop varieties that have high yields and quality and on using advanced farming techniques, he said.
It has developed large-scale rice fields in which there are linkages among farmers, companies, scientists and local authorities for rice production and consumption, he said.
It has an average agriculture growth of 4.5 per cent a year.
More than 99 per cent of households in the district have access to power grids and have clean water for daily use.
In Thạnh Hóa District, the implementation of the resolution has helped increase the annual average income of people in rural areas from VNĐ13.2 million (US$570) in 2010 to VNĐ50 million ($2,200) last year.
About 70 per cent of the district's rural labourers have been trained with professional skills. All commune health stations have doctors.
Nguyễn Thanh Truyền, director of the province's Department of Agriculture and Rural Development, said the province has set up concentrated farming areas suited to each locality for rice, fruits, industrial trees, aquaculture and animal husbandry.
It has developed such areas for high-quality rice on a total of 198,000ha, industrial trees and fruit trees on a total area of 103,000ha, and concentrated areas for brackish water aquaculture and cultivating vegetables, cows, buffaloes and pigs.
Under the country's target programme for building new-style rural areas implemented in the province, the province has 108 of its 161 communes meeting all 19 criteria for new-style rural areas.
The criteria include infrastructure, transport, irrigation, electricity, the environment, income, education, healthcare, social security, and culture.
The programme has helped improve the lives of people in rural areas and narrow the gap between rural and urban areas.
Most roads in communes and hamlets have been paved, facilitating travel and goods transportation.
Hồ Sĩ Đạt, who lives in Vĩnh Hưng District's Thái Bình Trung Commune, said: "People in this border commune have got many benefits from the programme, especially transport and irrigation systems."
The linkages among stake holders in agricultural production and the use of machines and advanced farming techniques have reduced labour costs and increased income for farmers, he said.
Farmers in Thái Bình Trung Commune used to grow mostly rice in the past but under the programme, more rice farmers have switched to grow watermelon and other crops in a same field, earning higher profits than growing rice.
Nguyễn Tuấn Anh, deputy chairman of the Vĩnh Hưng District People's Committee, said after 10 years of building new-style rural areas, the district has more than 80 per cent of its inter-hamlet and village roads paved by concrete or asphalt.
The living standards of local people have increased by 3.5 times, he said.
Truyền, director of the department, said after implementing the programme, the province has boosted the development of hi-tech agriculture and restructured agriculture production.
It has four hi-tech farming areas for rice, dragon fruit, vegetables, and cows and oxen, and each covers 2,000ha.
The province has taken effective measures to implement the national target programme for sustainable poverty reduction.
The measures include providing financial support for the poor to do production and business, creating jobs for them and providing them social welfare.
The average annual income of people in the province's rural areas has increased from VNĐ15.6 million ($670) in 2010 to VNĐ61 million ($2,600) last year.
The number of poor households in the province has fallen from 10.5 per cent in 2008 to 1.3 per cent last year.
Planning
The province is estimated to have an additional 11 communes recognised as new-style rural areas this year, according to the department.
It plans to have a total of 142 of its 161 communes recognised as new-style rural areas by 2025.
It also plans to have 10 districts, towns and cities meet all criteria of new-style rural areas by 2025.
To reach the target, the province will switch its agricultural production from merely producing and instead enable farmers to sell their produce.
It will develop the processing of agricultural products to increase their value, and agricultural production in combination with tourism services. – VNS