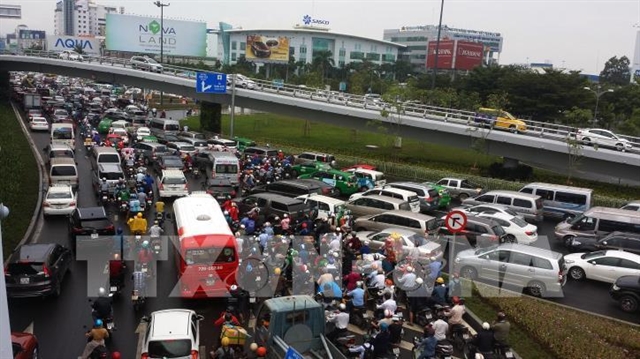 Traffic congestion is a routine occurrence around Tân Sơn Nhất International Airport in HCM City. VNA/VNS Photo
HCM CITY – Traffic congestion has plagued the area around Tân Sơn Nhất International Airport for long, but a solution seems to be around the corner with HCM City authorities finalising procedures for several works to be carried out this year.
According to the city Department of Transport, there is only one road leading to the airport, and the thick traffic means there is often severe congestion.
In November the department will start building a 4km road connecting Trần Quốc Hoàn and Cộng Hòa streets in Tân Bình District leading to the new T3 terminal at a cost of over VNĐ4.84 trillion (US$206.88 million) to ease congestion in the airport's vicinity.
The city People's Committee has instructed Tân Bình District to immediately make land acquisition and resettlement plans.
The city will also build underground tunnels at the intersections of Phan Thúc Duyện and Trần Quốc Hoàn streets and Trường Chinh and Tân Kỳ Tân Quý streets, and a flyover in front of T3 terminal.
The construction and land acquisition and clearance are expected to cost more than VNĐ4.8 trillion (over $208 million).
The department said the biggest difficulties are related to acquisition of lands since most are managed by the military.
On June 13 the People's Committee called on the Government to instruct the Ministry of Defence to hand over 12ha of land for the construction works.
Hoàng Hoa Thám Street, which runs from a military base near the airport to Cộng Hòa Street, will be widened at a cost of over VNĐ290 billion, with the work starting in October. It will be done along with upgrades to Cộng Hòa Street, and their completion is expected to take three to six months.
The city recently completed construction of a flyover on Trường Sơn Street in front of the airport gate and another at the intersection of Nguyễn Kiệm, Nguyễn Thái Sơn and Hoàng Minh Giám streets, and widening of Hoàng Minh Giám Street. – VNS