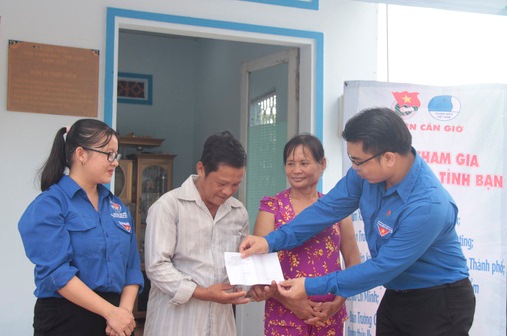 Cần Giờ District's Youth Union in HCH City has repaired an old charity house for a local disadvantaged household. — Photo tuoitre.vn
HCM CITY — Phan Văn Thành, a resident living in HCM City's Thủ Đức City, expressed his joy that he and locals here now can go to cool off and exercise at a new public park that was transformed from a vacant lot thanks to the helping hands of 20 student volunteers.
Thành said the 160sq.m park was once public land in Long Phước Ward and left vacant for many years covered with wild grass and littered with trash.
"The change of this place is beyond my imagination. I will call for people to keep the park clean and plant more ornamental plants and flowers," he said.
With a desire to make contributions to the homeland, student volunteers from universities and colleges in the city are joining in many meaningful projects and programmes during their summer time.
The student volunteers from the HCM City-based College of Technology II have made positive changes to the face and development of Long Phước Ward.
In the first days of working in the ward, the group had to confront erratic weather, said Ngô Thị Hồng Nhung, leader of the student volunteers.
However, they did not delay their work as all members made every effort to complete the assigned work as scheduled, she said.
"All members unite and help each other, thereby the work is completed more smoothly, quickly and efficiently," she said.
Another member, Nguyễn Xuân Chiến, a student in information technology, said he personally was tasked with clearing away wild grass, leveling the ground and helping to mix concrete.
"Everyone is tired due to the heavy workload, but we tried our best to complete the work so the locals could have a clean and beautiful park," he said.
Lê Tuấn Nghĩa, deputy secretary of the Hồ Chí Minh Communist Youth Union in Long Phước Ward, said the park was complete and open to the public after one week.
Local residents, especially children, now have a new playground for relaxing and other entertainment activities, he said.
"This shows the volunteerism of the youth is very important in building a green, modern and civilised city," he said.
In Mid-July, a campaign themed "Youth join hands in building new-style rural areas" has been launched in Cần Giờ District's Cần Thạnh Town with a number of meaningful activities.
Volunteers are members of youth unions, young writers and artists who have carried out activities such as cleaning the beach, providing free medical check-ups and drugs, presenting gifts to ethnic minority households and needy people, consulting on policies of social insurance and health insurance, and introducing the VssID application of social insurance to locals.
They have organised playgrounds and given scholarships to children in Bình Khánh Commune, launched a community house at Miễu Ba Quarter in Cần Thạnh, provided training courses in entrepreneurship skills and visited a start-up business at Việt Nam Nipa Palm Development Company Limited in Bình Khánh Commune.
The campaign has helped construct a team house in Tam Thôn Hiệp Commune, repaired a house for disadvantaged households in An Thới Đông Commune, and upgraded the steel at the memorial house of war martyrs in Lý Nhơn Commune.
Other youth unions in districts across the city have also volunteered to plant trees, dredge canals, disseminate dengue fever prevention and control measures, and provide free health checks and drugs for post-COVID-19 medical care for people in difficult circumstances. — VNS