Grassroots telemedicine prove effective in mountainous areas
Technology in remote health centres is helping improve the quality of life for patients living in mountainous areas.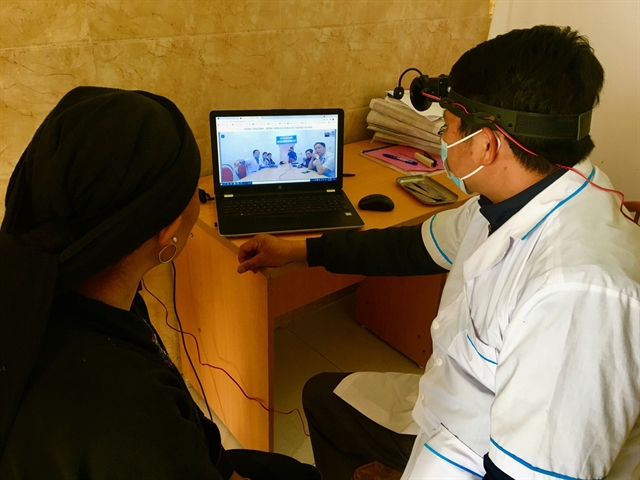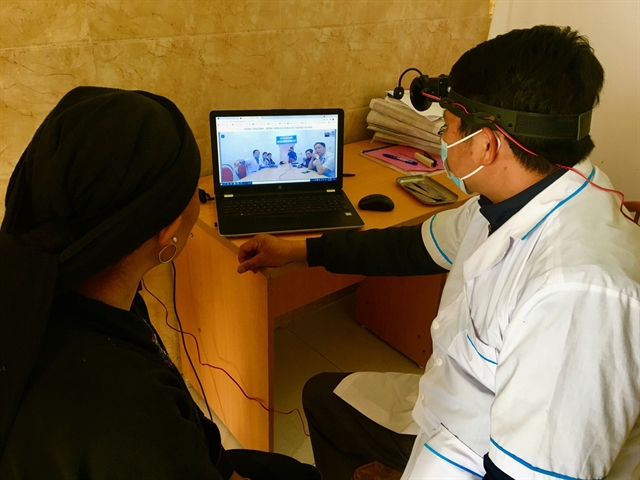 HÀ NỘI — Technology in remote health centres is helping improve the quality of life for patients living in mountainous areas.
Medical staff can instantly talk to other professionals across the country to seek consultation and guidance using the telemedicine system.
It's also helping to reduce overcrowding at health facilities.
The system was put in place by the UNDP and Electronic Health Administration under the Ministry of Health (EHA-MOH), the departments of Health of Hà Giang, Bắc Kạn, and Lạng Sơn provinces two years ago.
Called "Doctor for Everyone", the system runs through a smartphone application and has a secure video conferencing.
It helps improve the quality of grassroots health service and complements the existing telehealth programme connecting national hospitals with some provincial and district hospitals, which is also led by the Ministry of Health.
The project was launched as the COVID-19 pandemic highlighted the need for digital transformation to reduce disease transmission risks, improve healthcare quality and access, and strengthen governance and efficiency.
During outbreaks, visits to healthcare facilities reduced by as much as 80 per cent due to fear of infections, travel restriction and social distancing.
People from ethnic groups or those with disabilities face high costs and challenging travel over difficult terrain to reach health facilities.
Under the grassroots telemedicine project, so far, 483 (or 89.5 per cent) grassroots medical facilities have been trained and connected to treat people in the three provinces.
​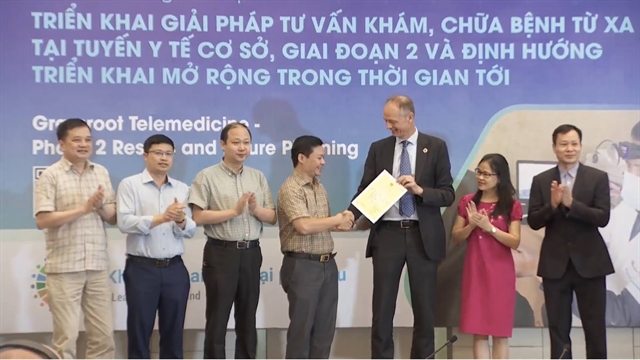 ​
Doctor Hà Thị Dương, head of General Clinic in Nam Dịch Commune, Hoàng Su Phì District, Hà Giang Province said easy access to professional support has been invaluable.
She said: "Now if we encounter any difficulty in dealing with emergency cases and need support, we can log into the system and connect to our colleagues at a higher level and get timely support, providing better emergency treatment for patients."
Lý Thị Hoa from Nam Dịch Commune's Kết Thành Village said that now, when visiting commune health station, she was examined by both commune doctors and district doctors, which encouraged her to stay and receive treatment.
Sin Văn Đức, director of Hoàng Su Phì District General Hospital, said that when staff at a grassroots level called for help, they could advise or even instruct them to deliver first aid before transferring patients to a higher level hospital.
"This helps a lot and makes the next steps of treatment more effective," Đức said.
At a recent workshop held to look at results of the telemedicine system, Nguyễn Trường Nam, deputy director general of the Electronic Health Administration praised the success of the technology.
He said: "Local health facilities have received it positively, local people support it and participate in effectively, many ethnic minority people have received medical examination and treatment by grassroots doctors under the guidance and advice of doctors at a higher level, so they trust it and spread the word to many people to use this service."
UNDP Deputy Resident Representative Patrick Haverman thanked the provincial departments of Health of Hà Giang, Bắc Kạn and Lạng Sơn provinces for their strong commitment and close collaboration with UNDP and EHA-MOH in implementing the "Doctor for Everyone" solution in all their districts and communes.
Building on this initial success, the UNDP has mobilised additional finance through two further projects supported by both the Korean and Japanese government to scale up the technology and access points.
Haverman said: "The UNDP in close collaboration with Ministry of Health will support to replicate the "Doctor for everyone" application in Thừa Thiên-Huế, Quảng Ngãi, Bình Định, Cà Mau and Đắk Lắk provinces, with the aim to develop a nationwide grassroots telemedicine system to leave no one behind." — VNS
Source: VNN
Maybe You Also Interesting :
» COVID-19 patients isolating at home receive remote support
» Startups eye post-pandemic 'tele-health' revolution
» Telehealth system, National Technology Centre for COVID-19 Prevention and Control launched