Volunteer medics ready to respond to traffic accidents no matter the time
Every day in Hà Nội there are fatal traffic accidents, in part because the victims do not receive first aid or are hospitalised in time.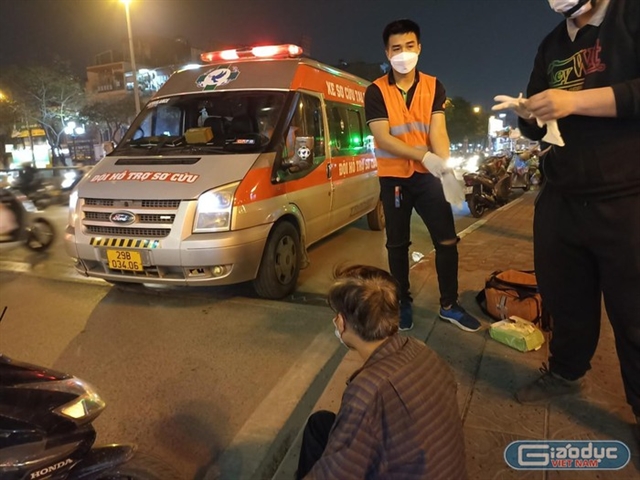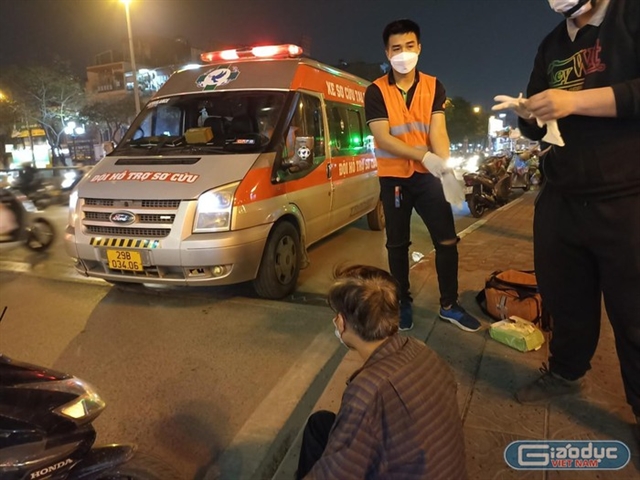 HÀ NỘI Just after going to bed after a day of work, Nguyễn Văn Luân received news about an accident 15km away. He immediately got dressed and 10 minutes later was on the scene to give first aid to a victim.
Every day in Hà Nội there are fatal traffic accidents, in part because the victims do not receive first aid or are hospitalised in time.
Luân, 23, is a member of the Free Aid Support team "FAS Angel", established three years ago, which provides first aid to traffic victims, day or night.
Between 9pm to 2am every day, FAS Angel members were present at three strategic traffic points: Cầu Diễn, Ngã Tư Sở and Nguyễn Xiển.
When receiving news of an accident, the team can be at the scene of the accident within four to eight minutes.
At 2:30am on April 15, 2022, a message went out in the FAS Angel group chat: "There has just been an accident at Highway 32, Phú Diễn, Nam Từ Liêm District, near the turn to the Cầu Diễn Road to Cầu Giấy. Two female students have lost consciousness".
Luân replied: "I'm leaving".
He immediately got dressed and drove his car to the scene, more than 10km from his home.
He found the two female students were scratched and an electric bicycle nearby. The truck driver who had caused the accident had fled the scene.
Luân provided first aid to the victims and used his phone to record images of the scene.
Then, with the help of a motorbike taxi driver, the two victims were put in a car and taken to Hospital 19/8.
After that, he called the victims' families, and then returned to the scene to provide information to the police.
One of the victims was La Thị Huyền, a student at Hà Nội Polytechnic College.
"If Luân was not there at dawn on April 15, my friend and I don't know what would have happened. Both of us were unconscious and bleeding profusely."
Having been part of the team for nearly a year, Luân said: "I do this job completely voluntarily. We also spend money buying supplies to support victims in unfortunate cases."
In the early days, his parents did not support him because they were worried about his safety. Now though, seeing how meaningful their son's activities are, they are full of support.
Luân works for a pharmaceutical company and has some medical knowledge. All have to be trained in first aid.
In his car is a bag of medical supplies, so he is ready to go whenever he receives a message about an accident.
Another team member, Trần Hải Minh, 24, said he is an only child, so his parents initially opposed his voluntary job with FAS Angel team because of the risks. Later though, they understood the meaning of the work and agreed.
Minh said there are some difficulties in the group's volunteer work, such as the victim's family mistakenly thinking that the FAS Angel members caused the accident or had bad intentions like stealing toward the victims.
Therefore, every time they arrive at the scene, they take pictures to provide evidence for the police.
Phạm Quốc Việt, founder and head of the FAS Angel, said: "In November 2016, I had an accident under the rain in Tuyên Quang Province. I was left at the scene for 15 minutes. In that time, I clearly understand loneliness and despair."
FAS Angel team was established in September 2019 with just five initial members, but now there are 20 official members and over 100 volunteers.
The team now has two cars for transporting victims, but there were still many difficulties in costs. Support from sponsors was publicised on the app page of Thiện nguyện (Charity), Việt said. VNS
Source: VNN