Việt Nam shows resiliency and sustainable growth amid pandemic: experts
Việt Nam's economy is recovering with strong prospects for resiliency and sustainable growth, experts said yesteday at a conference in HCM City.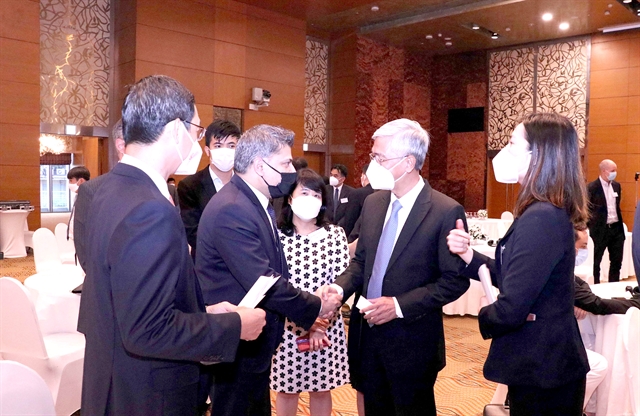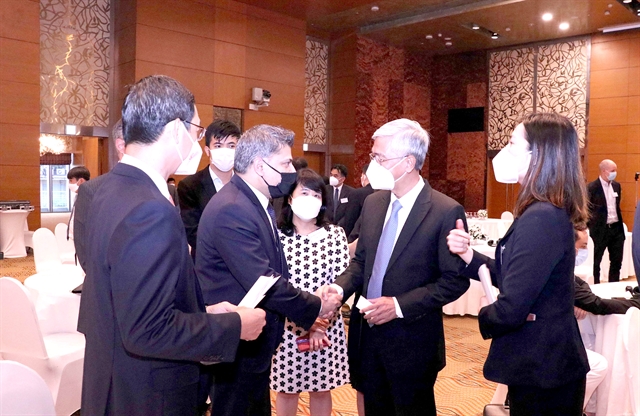 HCM CITY — Việt Nam's economy is recovering with strong prospects for resiliency and sustainable growth, experts said on Tuesday at a conference in HCM City.
Speaking at the "Meet the USA: Partnering to Promote Reopening, Economic Recovery, and Rebound in the South Region" event, Tô Anh Dũng, deputy minister of Foreign Affairs, said the conference was organised at a time when the country has been hit hard by the outbreak, especially in HCM City and southern provinces.
The event highlighted the joint commitment of the US and Vietnamese governments to "enable a safe reopening, economic recovery, and rebound in Việt Nam, especially in the southern economic region," he said.
"It showcases the rebound underway in Việt Nam, and prospects for continued sustainable growth and partnership between the two countries."
Dũng said he hoped the Vietnamese-US business community would continue to cooperate with the Vietnamese Government in enhancing bilateral economic development.
He expressed his heartfelt thanks to American companies for partnering with the Vietnamese Government in the long-term fight against the pandemic. He also spoke highly of the US firms for lobbying their government to continue to offer vaccines to Việt Nam.
Marie Damour, chargé d'Affaires at the US Embassy in Vietnam, who joined virtually from Hà Nội, said the US was proud of contributing to Việt Nam's fight against the pandemic, especially with 20 million vaccine doses, of which 16 million have arrived in the country.
Việt Nam is the US's 10th largest trade partner and an important part in the global supply chain, she said, adding the conference "afforded both sides a chance to discuss ways to restore production, boost recovery and develop the economy".
Võ Văn Hoan, vice chairman of HCM City People's Committee, said the city would enable a safe reopening and adjust to "living safely with the virus".
It will address concerns of businesses, as well as the prospects for the tourism sector, according to Hoan.
"HCM City will continue to further its administrative reform to enhance the business climate, complete market economy institutions, and create a legal environment of fairness, equality and healthy competition for all economic sectors at home and abroad, as well as fight corruption."
The country's largest city will maintain regular dialogues with local and international business communities for timely policy adjustments for both the benefit of the city and the business community, he added.
The city is ready to take the lead in piloting new models to improve partnerships with other cities and provinces across the country, according to Hoan.
Partnership for recovery
Experts expressed confidence in partnership for recovery and economic growth in Việt Nam, especially the southern economic region.
Representatives from AmCham and US enterprises offered recommendations to help with sustainable economic recovery and development.
The conference's first panel, "Partnering on a Safe Reopening and Economic Recovery", was moderated by Fulbright University Senior Lecturer and Harvard Kennedy School Senior Fellow Nguyễn Xuân Thành.
The second panel, "Rebound and Resiliency in the Southern Economic Region," was moderated by AmCham Executive Director Mary Tarnowka, featuring a panel of AmCham Vietnam leaders from different sectors.
During the two sessions of the conference, leaders of southern cities and provinces committed to offering as much support as possible to businesses, including those from the US, so that they will continue to do business for the long-term.
AmCham members will give feedback on progress and provincial best practices that are enabling a safe reopening and economic recovery, including results from a recent member survey, according to Tarnowka.
The event was also attended by leaders from Bình Dương, Đồng Nai, Bà Rịa-Vũng Tàu, and Đà Nẵng.
Experts have said Việt Nam's economy will recover on the back of solid growth achieved in the first half of the year.
Almost all business activities have been allowed to reopen with prevention measures. Businesses that remain banned from reopening include bars, spas, karaoke and massage parlors, movie theatres and nightclubs.
While challenges remain, including labour shortages and supply chain disruption, the economy remains resilient helped by strong market fundamentals.
Việt Nam's fourth wave of COVID has been the most severe. The country has recorded more than 1.1 million cases, including more than 24,000 dealths.
The event was organised by the Vietnamese Foreign Ministry in cooperation with the American Chamber of Commerce in Việt Nam. — VNS
Source: VNN