HCM City to speed up anti-flooding projects
Editor Choice
Flood control projects in HCM City will be sped up in preparation for the upcoming rainy season.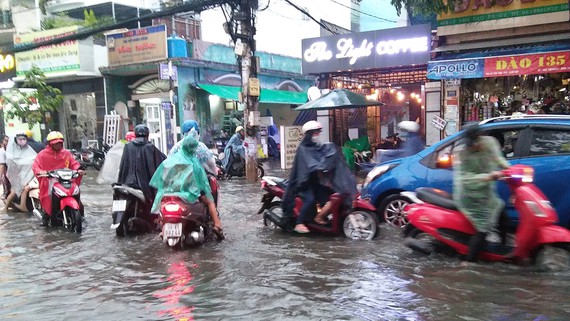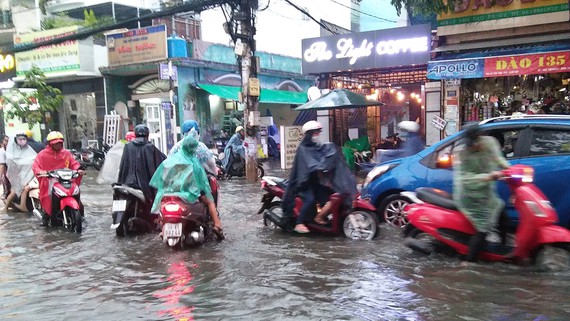 HCM CITY — Flood control projects in HCM City will be sped up in preparation for the upcoming rainy season.
Cộng Hoà, Điện Biên Phủ and Quốc Hương streets were later flooded after an afternoon rain on April 24. Heavy rains at busy times caused traffic jams and inconvenience for many locals.
Earlier, rain at dawn on April 16 flooded many roads including Kha Vạn Cân, Hiệp Bình, and Tô Ngọc Vân in Thủ Đức City, Bình Lợi in Bình Thạnh District, Phạm Văn Chiêu and Nguyễn Văn Khối in Gò Vấp District and Nguyễn Văn Quá in District 12. Tô Ngọc Vân Street was the most flooded, with half of motorbike tyres covered with fast flowing water.
Lê Thị Xuân Lan, a meteorologist, said the rainy season this year came about a week early, with heavy rainfall. It is forecasted that the rainy season will start in early May, with rains accompanied by thunderstorms.
Anti-flooding projects
In 2018, HCM City surveyed and planned to build seven regulating lakes underground in many locations to prevent flooding. However, none of these have been completed.
The drainage system upgrade on Võ Văn Ngân Street in Thủ Đức City started in October, 2020. The project, covering 2.5km in length, is estimated at VNĐ129 billion in value and expected to be completed in 17 months. However, the project has not seen any progress.
Meanwhile, a flood control project, invested by Trung Nam Group with total capital of nearly VNĐ10,000 billion, including six tidal gates, is expected to be completed in 36 months.
The project kicked off in June 2016, with the aim of controlling flooding in an area of 750 sq km for 6.5 million people on the bank of the Sài Gòn River. Even though 90 per cent of the workload has been completed, the project is currently on hold due to complicated contract appendices and additional procedures.
According to the Centre for Technical Infrastructure Management, under the Department of Construction of HCM City, the City spent VNĐ25,998 billion between 2016 and 2020 on flood control.
Of that amount, VNĐ7,047 billion was used for flood control; VNĐ9,927 billion for other related projects; and VNĐ9,024 billion for a water environment improvement project.
HCM City is one of the localities most affected by flooding due to weather and high tides compared to other provinces.
The city has many high-rise buildings without proper drainage systems, so it is crucial to synchronise planning, speed up the progress of anti-flooding projects, train quality human resources, and pay attention to the connections among all drainage works to achieve high efficiency. VNS
Source: VNN