Students must be ready for changes amid Industry 4.0: education official
Editor Choice
Associate Prof. Nguyễn Văn Nhã, former head of training department of the Việt Nam National University Hà Nội, talks to Thế giới & Việt Nam (World & Việt Nam) newspaper about the impacts of digital transformation in the education and training sector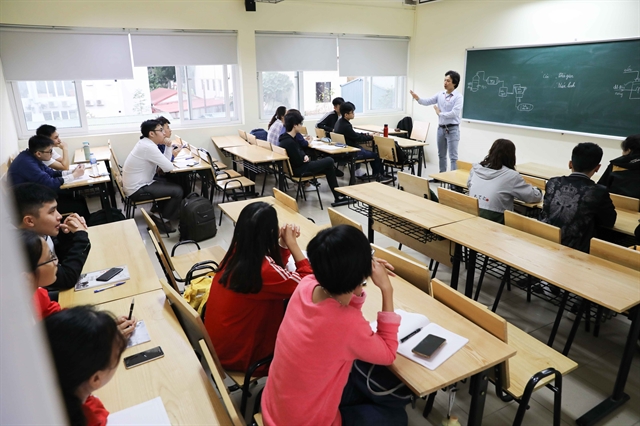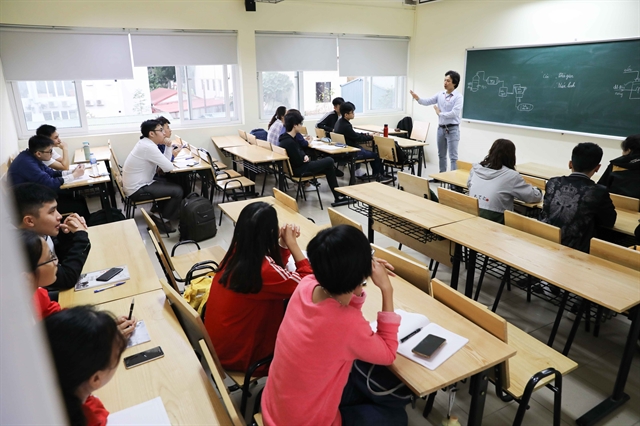 Associate Prof. Nguyễn Văn Nhã, former head of training department of the Việt Nam National University Hà Nội, talks to Thế giới & Việt Nam (World & Việt Nam) newspaper about the impacts of digital transformation in the education and training sector
How has digital transformation influenced career orientation for students?
First, it should be made clear that digital transformation is a natural thing in the Fourth Industrial Revolution (Industry 4.0). This has become a strategy in many businesses and organisations both locally and internationally. Nearly 90 per cent of Vietnamese businesses have started digital transformation and they are at different stages now, from research to implementation.
More than 30 per cent of business leaders surveyed consider digital transformation life-and-death for their companies and the development of society. More importantly, Industry 4.0 has had deep and wide impacts on all aspects of social life as well as economic, security and defence development.
Education must also change in accordance with this trend. Changes in teaching methods, changes in textbooks, STEM application, experience and creative teaching are among the examples.
Career orientation for students must also be changed and adjusted.
Amid global integration, what are the challenges and opportunities for the education and training sector?
This is a good question for not only this sector but each of us. The opportunities to develop, especially for businesses, are inevitable. We have rapid and precise updates thanks to the modern information system, social networks and supercomputers, besides consistent and timely reports of e-government.
There are also products and services beyond our imagination.
The efficiency and competitiveness of businesses change every day and help push rapidness and innovation.
Digital transformation is not only about technological innovation but also about culture and people. Through digitising learning, both teachers and students can improve their skills with the shared goal of creating more attractive and effective education procedures.
For example, we have global learners, e-learning, effective learning modules and high-quality teacher and lecturer training.
In recent years, the education and training sector has paid attention and pioneered in applying information and technology in many activities. On April 24, Việt Nam National University HCM City launched its Artificial Intelligence Research and Application Centre. This is a positive sign for teachers and students to have practical experience in accessing advanced technology.
With regards to challenges, I often share with pupils and students that when the world is flatter in terms of science and technology, it also becomes rougher in income and the gap between the rich and the poor.
In the history of the four industrial revolutions of humankind, Việt Nam lagged behind and was slow in innovation. We need to be faster and push innovation and creativity to have more breakthroughs. If we just imitate others, we will always lag behind.
The training programmes of many education institutions fail to meet the requirements of the labour market. Is this one of the reasons for graduate unemployment?
The core reason leading to the current unemployment among bachelor and master degree holders is that we lack capable teachers and managers.
In higher education, it is hard to find someone that is good at all three aspects: training, research and management. There are many who have acquired several degrees, qualifications and diplomas but still have limited capacity.
Many businesses are strengthening training for staff at the managerial level to catch up with the development and the new era of management.
I think the education and training sector, instead of calling for teachers to be more passionate about innovation, should offer them opportunities to be trained both in Việt Nam and abroad.
The sector should also pay more attention to improving their lives. This is one of the most effective measures to improve the quality of education and training as well as reduce unemployment among graduates.
On the one hand, we have advanced universities that are listed among the top 500 or 1,000 universities in the region and the world. Many teachers and lecturers are very passionate and dedicated to their career, innovation and the development of this sector.
On the other hand, we also have those that lag behind which are slow in innovation and changes. They waste the resources of parents and students. Therefore, we need to have measures to tackle this problem. But it is not simple at all, it is challenging like fighting against corruption.
But with digital transformation along with increasingly updated and trustworthy information channels, there will be positive changes in this sector.
Many students seek well-paid jobs but when they graduate, these jobs may change. What is your advice for young people now?
We are living in the era of advanced technology, volatility, uncertainty, complexity and ambiguity.
Many jobs will disappear and there will be many new jobs created. We have been seeing this happen. Therefore young people should be ready for changes and unexpected things. Successful people are those who are always ready and well-prepared for new things.
Opportunities are there for everyone but not many are ready for challenges and able to overcome them to achieve success.
High-earning jobs are one of the legitimate demands of people. However, money is only a means in our life but shouldn't be the purpose.
It doesn't matter what role you have in this life. It is the passion and willingness to dedicate that matter. In the end, you will be a happy person. Sometimes, it is the profession that chooses you, not that you chooses it. — VNS
Source: VNN