Doctors warn about human growth hormone deficiency in children
Editor Choice
The National Hospital of Paediatrics found that H.V was suffering from a growth hormone deficiency, a rare condition that causes slow growth and below-average height in children.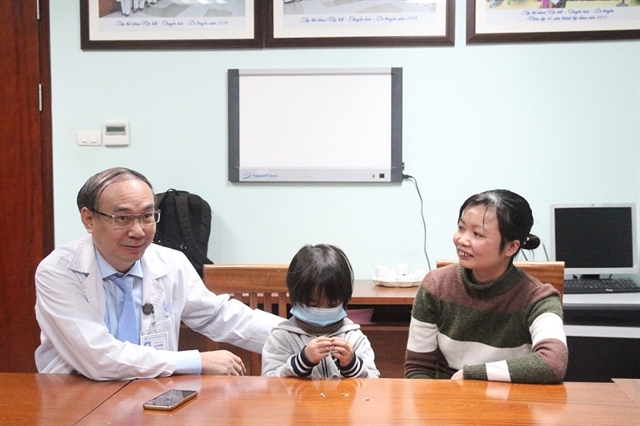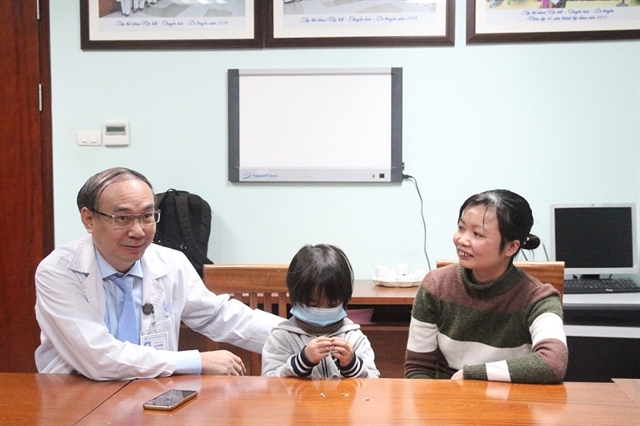 HÀ NỘI — At the age of nine, H.V looked like a two-year-old baby girl.
She was only 79cm tall and weighs 9kg. Due to her small appearance and weak health, V couldn't go to school and showed signs of poor self-esteem and sadness as she was aware she was smaller than peers.
Q.T.T, her mother, took her to many hospitals, but the doctors found no cause. Finally, the National Hospital of Paediatrics found that she was suffering from a growth hormone deficiency, a rare condition that causes slow growth and below-average height in children.
T said she gave birth to V in 2009 in northern Thái Bình Province. The baby girl weighed 2.8kg and was very healthy. She continued gaining until fifth month when her growth slowed down and stopped.
Worrying about the girl's health, the mother took her to the National Hospital of Paediatrics and the girl was diagnosed with malnutrition.
T said she remembered the doctor telling her to bring her daughter back for re-examination if she didn't gain weight in the next six months.
The mother and the baby went home. She learnt about nutrition to better care for her daughter, but the girl only ate several spoons of rice every meal. She didn't gain any weight.
T brought the baby to the hospital for a second visit and got the same result as before. T told herself that she needed to be patient.
Three years later, her impatience had increased. She decided to take her child to the National Institute of Nutrition to find the cause of the slow growth. The doctor advised her to buy some tonics and supplements for the child.
A glimmer of hope came to her when the baby girl gained 0.2kg after three months. But the girl's weight was unchanged in the next three years.
Tiredly and hopeless, T returned to the National Hospital of Paediatrics and asked the doctors to find what was really going on. The girl took tests, and the results showed she was healthy.
"I was so depressed and didn't want to take her to another hospital," she told Nhân Dân (People's Daily) online.
V turned six and was about to go to school. T had to beg the school to let her daughter go as well, but the girl didn't have self-control in hygiene and didn't have any skills to take care of herself.
She was just like a one-year-old baby.
V stayed in the first grade for three years, and the school told her mother to send her to a school for special children.
T said her daughter told many stories about her class to her parents and learnt how to write by watching her brother.
In 2019, when V was 10, T once again took her to the hospital.
That's when she was informed that her daughter had been suffering from a growth hormone deficiency.
Growth hormone is essential for children's normal growth, muscle and bone strength, and distribution of body fat. Without enough growth hormone, a child will grow slowly and be much shorter than peers of the same age and gender.
Dr Vũ Chí Dũng, head of the Endocrinology and Metabolism Department of the National Hospital of Paediatrics, said the girl had severely slow growth and the treatment was quite late.
V received growth hormone treatment to replace the hormone deficiency and fortunately, she responded very well.
Dũng said that in 22 months of treatment, she increased by 28cm in height and 10kg of weight.
"This is a very typical case of good response to the treatment of growth hormone deficiency due to severe pituitary failure. Although the baby received late treatment, the results were quite good," he said.
Dũng said the doctors would maintain the treatment routine to keep up the child's growth rate at the right age and gender. Once that level is reached, the next goal would be to maintain her growth.
When she turns 18 years old, the doctors plan to re-evaluate her hormone deficiencies to decide whether to transit to growth hormone therapy at adult doses.
Dũng said on average, 20 children go to the hospital for health check-ups related to slow growth every day. There are many cases in Nghệ An and Hà Tĩnh provinces.
Some 400 patients have had treatment for the disease in the past five years.
He warned parents to bring their children to the hospital for tests in case they showed any signs of slow growth.
Last Thursday, V and her mother went to the hospital for a regular health examination. T said V could eat two bowls of rice and could go to the toilet herself.
"I'm satisfied with her development. I hope she will be able to take care of herself in the future," V said. — VNS
Source: VNN
Tags:
Maybe You Also Interesting :
» Vietnam has more than family planning issues to worry about
Regional differences in fertility rate, sex imbalance at birth, aging population and "low quality" of the population are four key challenges Vietnam is...
» Don't tie people into knots over tying the knot
Family planning policies should not infringe in any way on people's right to get married and have kids (or not) of their own volition.