New storm enters East Sea
Editor Choice
A tropical depression at East Sea (internally known as South China Sea) has turned into tropical storm Krovanh on Sunday and become the 14th typhoon of the year.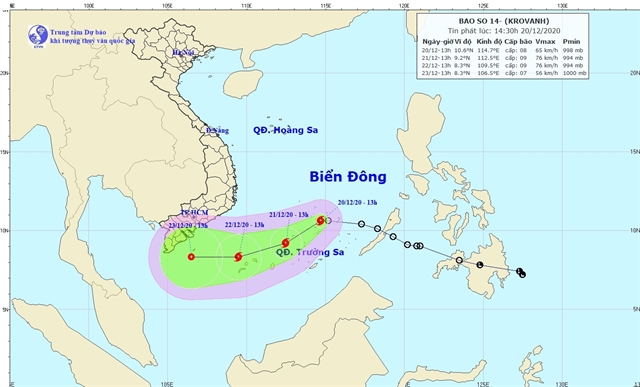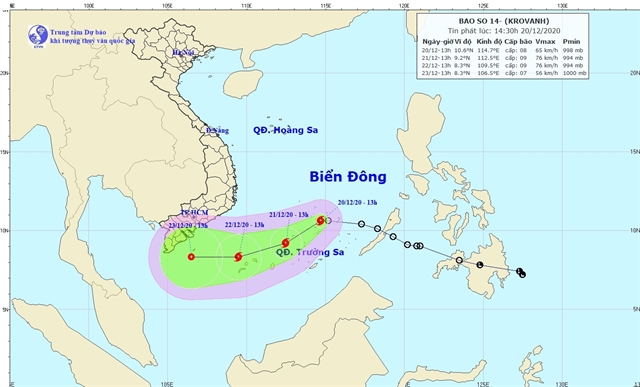 HÀ NỘI — A tropical depression in the East Sea (internationally known as the South China Sea) turned into tropical Storm Krovanh on Sunday and became the 14th typhoon of the year.
At 1pm on Sunday, the centre of the storm was about 120km south off Song Tử Tây Island on Trường Sa (Spratly) Archipelagoes with the strongest sustained winds recorded between 60-75km per hour.
In the next 24 hours, it is likely to move towards the west and then south-west at 10-15kmph and grow stronger.
At 1pm on Monday, the eye of the storm will be about 330km southwest of the Trường Sa Archipelago. The strongest wind speeds in the area is predicted at 60-90 kph.
The tropical depression is expected to trigger waves as high as 5-7 meters in Trường Sa, the centre said.
During the next 48 to 72 hours, the storm will move mainly to the west with speeds of 10-15km per hour and weaken into a tropical depression.
Rough to very rough seas are expected over the middle and south areas of the East Sea with waves between 5-7m.
In order to respond to the tropical depression and Storm Krovanh, the National Steering Committee for Natural Disaster Prevention and Control is urging the authorities of coastal localities to inform fishing boats of the predicted movement of the tropical depression, allowing them to take the initiative to avoid dangerous areas or seek safe shelters.
The localities are advised to keep regular communication with boat owners; rescue forces and equipment are ready to promptly handle possible situations. Ships are being strictly managed to ensure the safety of people and property including oil and gas platforms and economic activities at sea.
The Ministry of Foreign Affairs were asked to liase with countries and territories to support fishermen to avoid storms.
The Ministry of Agriculture and Rural Development reported that successive storms, floods and landslides that hit the central region from mid-September to mid-November resulted in 192 deaths, 57 missing and an estimated economic loss of VNĐ30 trillion ($1.29 billion). — VNS
Source: VNN