Home to Việt Nam's warm care
Editor Choice
It was less than three weeks since Prime Minister Nguyễn Xuân Phúc requested the flight when it landed in Hà Nội, part of Viet Nam's efforts to leave no one behind.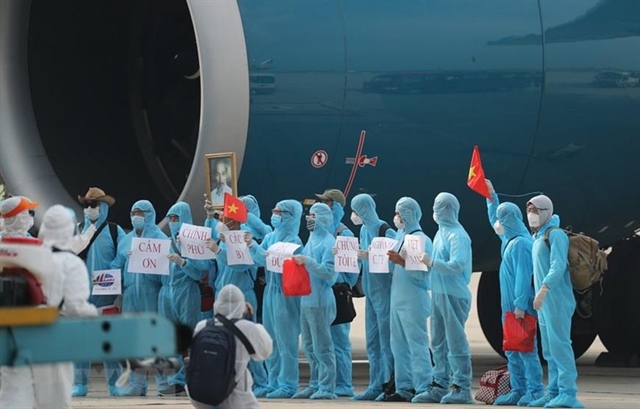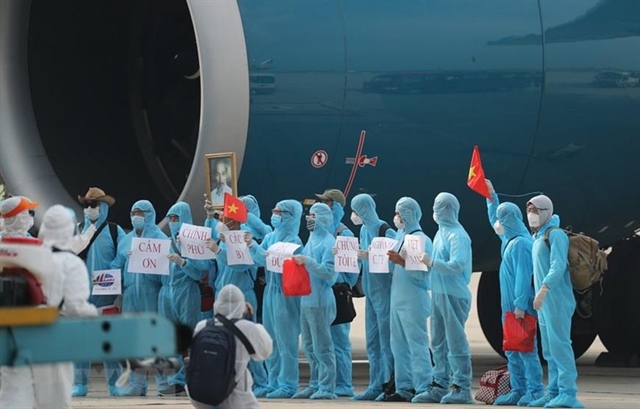 HÀ NỘI — An unusual flight landed at Nội Bài International Airport on Wednesday afternoon, repatriating 219 Vietnamese workers who had been stranded in Equatorial Guinea, with nearly half of them confirmed positive for SARS-CoV-2.
It was less than three weeks since Prime Minister Nguyễn Xuân Phúc requested the flight to bring back the workers who were desperate for help, as part of Việt Nam's efforts to leave no one behind.
Doctor Thân Mạnh Hùng of the National Hospital for Tropical Diseases, the leader of the group comprising two doctors and two nurses escorting the flight, said before the flight that it was "an enormous challenge to bring home 120 COVID-19 patients."
"The risk of infection will be extremely high as the aircraft's space is narrow so the virus concentration will be intense," he said.
"As soon as the plane landed, I just took a deep breath to partly relieve worries and stress during the trip," Hùng said.
Then, Hùng said, he turned on his mobile phone and called hospital leaders to inform that their mission was completed, the flight had landed safely and everything on board was under control.
In a hurry, he called his mother and his wife and reassured them that they all were okay.
"We did not allow ourselves to be tired during the trip as unexpected things could happen any time, especially with seriously ill patients," Hùng said.
About 15-16 patients suffered from high fevers during the flight and health workers gave them some relievers and water. Five or six other patients had breathing difficulties but fortunately did not need ventilators or intubation, Hùng said.
The breathing difficulties may have been caused by pressure changes or because the patients wore face masks for hours, he said, adding that one of the COVID-19 patients on the plane got diarrhoea and another had malaria.
Phạm Xuân Trường, a Vietnam Airlines flight attendant who worked on the flight, said that after 12 hours, they arrived at Bata Airport of Equatorial Guinea at 1.30 pm (local time).
"It was scorching outside," Trường said, adding that he could see people waving and smiling to welcome the plane.
"They (the passengers) were gathered at a terminal to wait for us for hours. At the lounge for passengers, there were no seats, fans or water," Trường said.
When the plane door opened, more than 200 protective suits were given to the passengers and the plane was refilled.
It took up to six hours for the plane to get enough fuel as there was only a 16-tonne tank truck at the airport.
"Wearing protective suits, the passengers kept looking at the plane, eager to get on board. Sometimes we flight attendants went to the plane door and waved our national flags, just hoping that we could reassure them somewhat."
The passengers were told to head to the plane in the evening. They went in groups of five, walking fast or even running under the rain.
Trường said that after the plane had been in the air for an hour, bells from the COVID-19 patient area – the aircraft was divided into sections to prevent cross infections between confirmed patients and likely healthy ones – rang as some patients had fevers, breathing difficulties or diarrhoea.
Another flight attendant Nguyễn Anh Tuấn said he had worked on several repatriation flights and would continue to volunteer to join more as "it's my job and also my honour to take the task that country and company assign."
"Many people asked me what would happen if I got infected. I replied that everything would be okay. I trust in Vietnamese doctors and I think that the 14-day-long quarantine would go fast," he said.
For about 37 hours flying from Hà Nội to Equatorial Guinea and back, the flight attendants did not eat and just drank water. They were wearing protective suits and diapers to minimise toilet trips.
Tuấn said that during the flight, the attendants repeatedly told the passengers: "We are coming home!"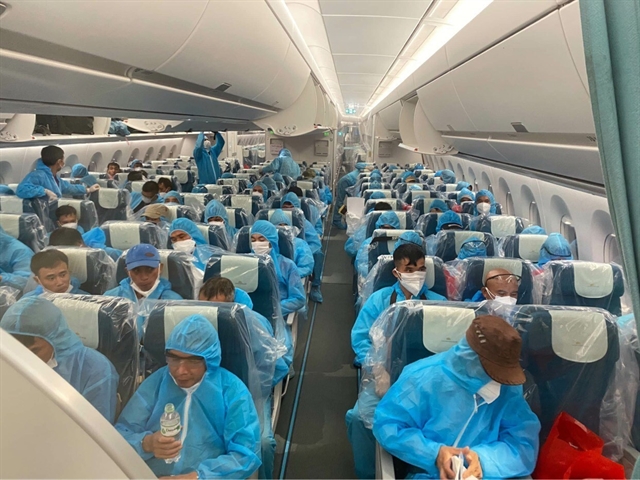 Home at last
After days of anxious waiting, Bùi Đăng Khoa finally made it back to Viet Nam on the flight from Equatorial Guinea.
On the road to the airport in Bata, the 23-year-old cook was reunited with workmates he had not seen since entering quarantine several weeks ago due to COVID-19. They worked together at the Sendje hydropower project.
Placed in an area for workers who had tested negative for COVID-19, Khoa and other workers of this group fell into a deep, peaceful slumber after long days of concern.
Onboard the Vietnam Airlines Airbus 350 coded VN6, flight attendants and health care staff went about their business with special care.
In early July, after learning about the spread of the coronavirus among Vietnamese workers at the Sendje hydropower project, the Ministry of Labour, Invalids and Social Affairs asked the Ministry of Foreign Affairs and the Vietnamese Embassy in Angola and Equatorial Guinea as well as the National Steering Committee for COVID-19 Prevention and Control to help bring the workers home.
It also directed the three companies managing Vietnamese workers to work with the major contractor of the project to suspend work on the site.
The ministry asked that guidelines on preventive measures against the pandemic be explained to the workers, along with solutions to ensure hygiene in their accommodation, nutritious meals and that their rights and interests be protected.
Recognising the pandemic was spreading with a high rate of infection and getting beyond the control of companies, the ministry proposed to the Prime Minister that a flight be organised to bring the workers home.
Shortly afterwards, PM Nguyễn Xuân Phúc requested a flight to evacuate the Vietnamese citizens from Equatorial Guinea and asked the Ministry of Foreign Affairs, ambassadors, and Vietnamese representative offices abroad to do their best to care for all Vietnamese citizens abroad.
His direction received a prompt response from sectors and agencies. Various meetings were convened to identify how to arrange the flight, along with measures to ensure flight safety, epidemiological hygiene, flight procedures, and support for passengers throughout the flight.
Though dozens of flights have been conducted bringing Vietnamese citizens home from different points around the globe, this is the first time Việt Nam has had to deal with a large number of infections at the same time, requiring particularly thorough preparations.
For Khoa and more than 200 other workers from the Sendje Hydropower Project, the past month has been an unforgettable roller coaster of emotions.
Talking over the phone with a Vietnam News Agency (VNA) correspondent in Africa, the young man from Hương Sơn Commune in Hà Nội's Mỹ Đức District recalled that many workers who had been quarantined in Equatorial Guinea could not hold back their tears when they heard that the Government was arranging a flight to bring them home.
Before boarding, on behalf of the workers and through VNA, Khoa said he wanted to thank the Vietnamese Government and relevant agencies for arranging the flight. He and the workers chanted "I am Vietnamese" at the airport.
When the announcement came that the plane was about to land, through a window Khoa saw green patchwork fields with rivers and small villages. Such emotional images have stayed with him over the last few days.
He understood that he and his workmates could not be welcomed immediately with hugs and flowers from parents and relatives, due to quarantine regulations. But there was one thing he knew for sure: his homeland was warmly welcoming him back to Việt Nam. — VNS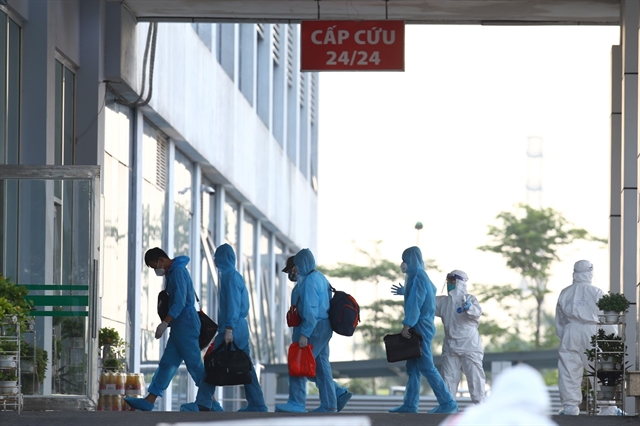 Source: VNN