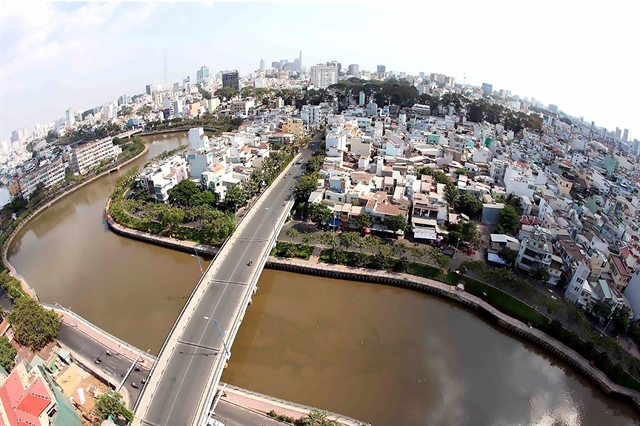 A section of Nhiêu Lộc-Thị Nghè Canal in HCM City. — VNA/VNS Photo Mạnh Linh
HCM CITY — The HCM City People's Council has discussed feasible measures to address the issue of encroachment into drainage systems and litter in the Nhiêu Lộc-Thị Nghè Canal.
Last week, the Urban Committee of the municipal People's Council had a working session to inspect the management, maintenance and operational tasks at Nhiêu Lộc-Thị Nghè flood-tide control station based on Phú Mỹ Street and the Bình Triệu flood-tide control station on Đinh Bộ Lĩnh Street in Bình Thạnh District.
Deputy Director of the city's Department of Construction Đặng Phú Thành said certain districts have low terrain, along with continuous ground subsidence, leading to limits in drainage flows and negative impacts on maintenance and dredging activities of the city's drainage system.
In addition, due to the impact of climate change, unprecedentedly high precipitation in a short time has made it difficult for the drainage system to function smoothly.
Land encroachment into the drainage system infrastructure through illegal construction works still exists. In addition, illegal discharge of waste on canals is blocking water flows.
The current law violations receive no punishments as there are not yet any sanctions for acts of damaging the drainage system.
Thành proposed a more synchronous cross-level management of drainage canals in order to have more power for maintenance and dredging tasks to ensure water flows. This will contribute to the fight against urban flooding.
It also needs to promote communication to raise the public's awareness about environmental protection and prevent residents from illegally littering in canals and streets.
He also petitioned the Ministry of Construction to add more content into the sanction decree for actions that negatively affect drainage flow, such as disposing construction waste into manholes and sewers.
At the working session, many experts proposed the Urban Infrastructure Construction Investment Projects Management Unit to evaluate the performance of six flood-tide control stations and the handling of littering and land encroachment into drainage systems.
Reports should be submitted to the municipal People's Committee in a timely manner.
Nhiêu Lộc-Thị Nghè flood-tide control station is established on the confluence of two branches of Nhiêu Lộc-Thị Nghè Canal and Văn Thánh Canal.
The station plays a key role in preventing urban flooding due to high tides in the districts of Tân Bình, Bình Thạnh, Gò Vấp, Phú Nhuận, 1, 3, and 10.
Once heavily polluted and dubbed a "dead canal" back in the 1950s, the Nhiêu Lộc-Thị Nghè Canal had been revitalised following an expensive clean-up project.
The canal is now considered to be one of the most beautiful canals in the city and has even become a tourist attraction.
There are more than 1.2 million residents living along the canal.
Experts have proposed using the canal as a reservoir to regulate water as urban floods have become more serious during the rainy season in the city. — VNS