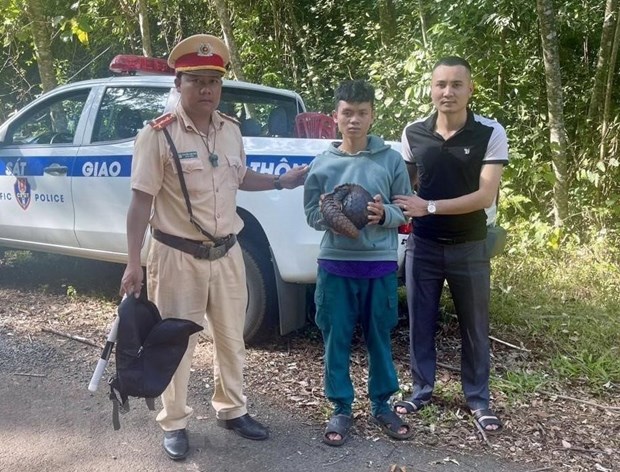 Điểu Duy (centre) was arrested on March 1. — VNA/VNS Photo
ĐẮK NÔNG — Three men involved in the illegal trading of pangolins, a critically endangered species, have been arrested in the Tuy Đức District of Việt Nam's Central Highlands province of Đắk Nông.
The men, identified as Điểu Poi (19), Điểu Nhơn (39), and Điểu Duy (19), were working as contract workers at Bù Gia Mập National Park in the southern province of Bình Phước.
According to a police report on March 1, local police stopped Duy, who was driving a motorbike on National Highway 14C, through Quang Trực Commune. Upon inspection, they found a backpack containing a pangolin weighing 4kg.
Duy confessed that he had caught the pangolin on February 28 and was selling it. The pangolin was later identified as the Java pangolin (scientific name Manis javanica), a species listed as critically endangered by the International Union for Conservation of Nature.
Following Duy's confession, police arrested Poi and Nhơn on March 13. The three men were arrested for violating regulations on the management and protection of endangered, precious, and rare animals, as prescribed in Article 244 of Việt Nam's Criminal Code of 2015.
All three men were working at the forest management and protection office at Bù Gia Mập National Park and were residing in Bù Gia Mập District. Further investigations are underway by Tuy Đức District authorities.
The illegal trade in pangolins continues to be a major problem in Việt Nam. The pangolin is highly sought after for its scales and meat, which are used in traditional medicine and as a delicacy. Wildlife conservation groups estimate that tens of thousands of pangolins are illegally trafficked each year. — VNS