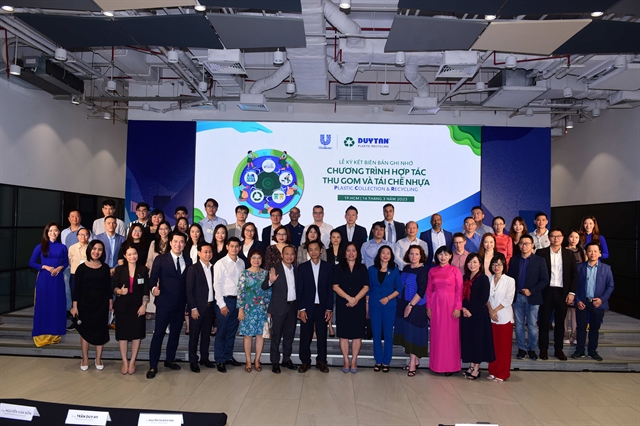 Delegates at the signing ceremony of the "Partnership on plastic collection and recycling" towards a circular economy on March 14. — Photo Unilever Vietnam
HCM City — Unilever Vietnam and Duy Tân Recycling signed the "Partnership on plastic collection and recycling" towards a circular economy on March 14.
The partnership demonstrates the commitment and determination to realise the goal of a leading consumer goods corporation in Việt Nam to increase post-consumer recycled plastic (PCR) and reduce virgin plastic in production, increase packaging recyclability, as well as collect and process more than plastic packaging sold on the market. It also aims to turn plastic waste into a useful renewable resource for economic and daily use purposes and reduce harm to the natural environment.
The partnership is a step forward in promoting the use of recycled plastic in Unilever's packaging production, thereby increasing recycling activities and creating a cycle for plastic waste in Việt Nam.
The model will be realised by establishing a system of plastic waste segregation at source and collection, then leveraging the expertise and technology of Duy Tân Recycling to optimise the plastic waste collected through recycling and recycled plastic particle production to serve the packaging production of Unilever Vietnam.
Bearing a strong commitment, close-knit collaboration, and a firm action plan, the five-year partnership between Unilever Vietnam and Duy Tân Recycling aims to collect and recycle 30,000 tonnes of plastic waste by 2027.
Along with the goal of building a plastic cycle to protect the environment, the partnership also contributes to implementing social commitments by improving working conditions, hygiene and health; providing training to increase awareness and capability, enhancing the livelihoods and social safety for waste collectors at more than 100 collection stations in the value chain of Duy Tân Recycling. This workforce is considered vulnerable and underrepresented as the majority of them are women and almost all are outside the social safety net.
Additionally, Unilever Vietnam and Duy Tân Recycling also conduct communications and education programs to raise people's awareness about environmental protection through the habit of sorting waste at households. This will help create a stronger and wider impact across the country.
According to the Market Study for Vietnam: Plastics Circularity Opportunities and Barriers conducted by IFC and the World Bank, as much as 2.62 million tonnes of plastics are disposed of per year, that is, not recycled, resulting in the loss of 75 per cent of the material value of plastics, which is equivalent to US$2.2 billion to US$2.9 billion per year.
The recycling industry in Việt Nam has a diverse but undeveloped source of recyclable materials while the plastic recycling rate is only 33 per cent. The main reason is that the demand for post-consumer recycled plastic (PCR) is not high enough because using virgin plastic is more convenient and cost-efficient.
Therefore, the quality of PCR plastic is always a challenge for corporations that apply international standards to their products like Unilever. This is also a "bottleneck" in driving the circular economy for plastic in Việt Nam. — VNS