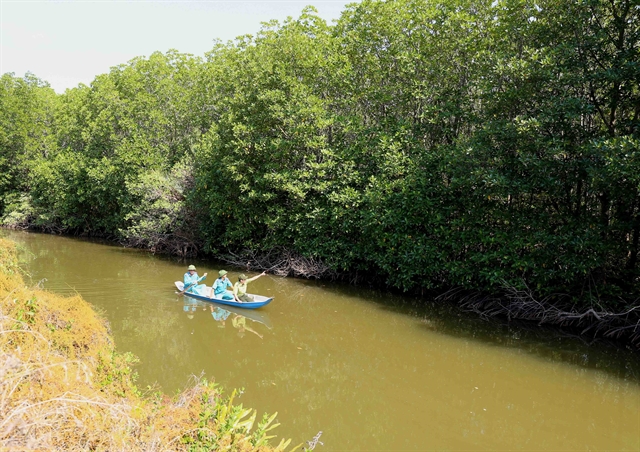 Mangrove forests in Bến Tre Province's Ba Tri District. — VNA/VNS Photo Vũ Sinh
BẾN TRE — The Cửu Long (Mekong) Delta province of Bến Tre plans to increase its forest cover, especially by growing mangroves, to mitigate the impacts of climate change and combine them with aquaculture to increase people's incomes.
It will protect existing forests and grow new ones for environmental protection, according to its Department of Agriculture and Rural Development.
Đoàn Văn Đảnh, director of the department, said the province plans to plant 171ha of new forests this year.
It now has 4,470ha of forests, all in the coastal districts of Ba Tri, Bình Đại and Thạnh Phú and comprising 2,247ha of protective forests, 1,868ha of special-use forests and 355ha of commercial forests.
Most are mangrove forests that have low commercial value but play a key role in mitigating the impacts of winds and waves and preventing erosion along coasts.
The province has allocated more than 2,800ha of mangrove forests to households and organisations to protect and exploit, according to the protective and special-use forests management board.
The households are poor, do not have much farmlands or recently switched livelihoods.
They can breed aquatic species in the forests using extensive farming models to ensure a steady livelihood.
Lâm Văn Đồng in Ba Tri District's Bảo Thuận Commune has been allotted two hectares, which has improved the life of his family.
Besides a sum of money he is paid every year for tending the forest, he also earns more than VNĐ10 million (US$400) a month from selling shrimp, mud crab, fish, and oyster he raises in the forest, he said.
The programme has helped many households escape poverty.
Last year the province planted 395,000 trees to create 140ha of forests.
It is implementing a project to plant 10 million trees in residential areas and forests in 2021-25, and plans to strengthen advocacy to enhance public awareness of the benefits of forests.
With a coastline of 65 kilometres and a dense network of rivers and canals, planting trees helps protect dykes and environment, according to the department.
The province aims to have forest coverage of 2 per cent by 2025. — VNS