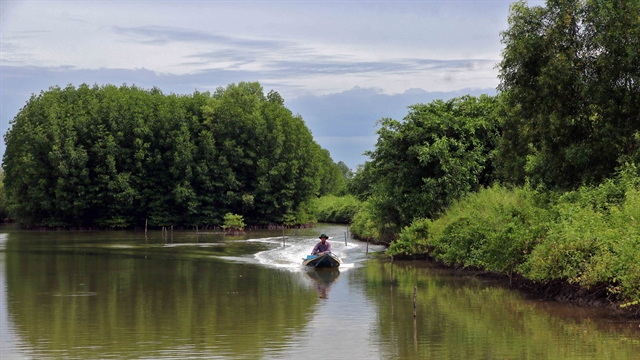 The Cửu Long (Mekong) River. — VNA/VNS Photo
HÀ NỘI – Deputy Prime Minister Trần Hồng Hà has signed a decision approving the general planning scheme of the Cửu Long (Mekong) river basin for the 2021-2030 period.
The plan aims to ensure water security in the river basin, and reserve, regulate and distribute water sources in a fair, sustainable, and efficient manner to serve socio-economic development, ensure defence-security, and environmental protection.
It also includes the building of a roadmap to restore degraded, depleted, and polluted water sources; and the construction of a data system for the sector given the country's digital transformation process.
As per the freshly approved document, by 2030, 100 per cent of cross-border flow monitoring sites will be monitored virtually and automatically, while the entire inter-provincial water sources will have their wastewater receiving and load capacity made public.
In addition, all urban wastewater will be treated meeting national standards, before being discharged into water sources and public drainage systems.
Following the decision, the exploitation and use of water in and the discharge of wastewater into the Mekong river basin are expected to be controlled via the connection and transmission of information and data on a monitoring system of the activities according to regulations.
Meanwhile, facilities will be upgraded and constructed to reserve, exploit, use, and develop water sources, with 28 sub-regions lacking fresh water prioritised. - VNS