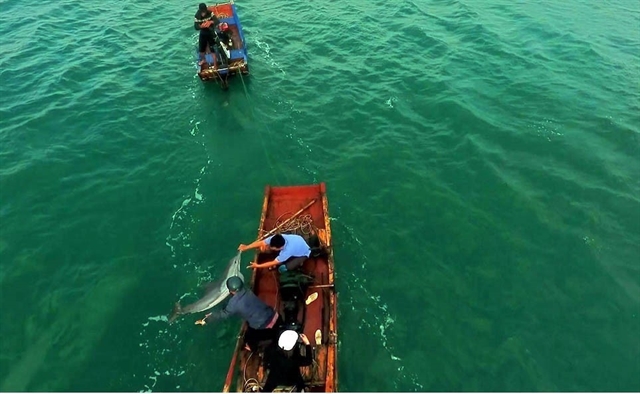 Phạm Hữu Tuấn, an employee of the Cô Tô District Public Service Centre, and two local fishermen Vũ Hữu Khoa and Khuất Tuấn Anh, released the dolphin back into the sea where the water is deeper. — VNA/VNS Photo
QUẢNG NINH — A dolphin stranded in shallow water in Cô Tô island district in the northern province of Quảng Ninh was rescued and safely released back to sea on Monday.
A dolphin weighing over 35kg was seen swimming in the waters and then found itself stuck. Local fishermen quickly came to the rescue, and the dolphin quickly swam away after being pushed to deeper waters.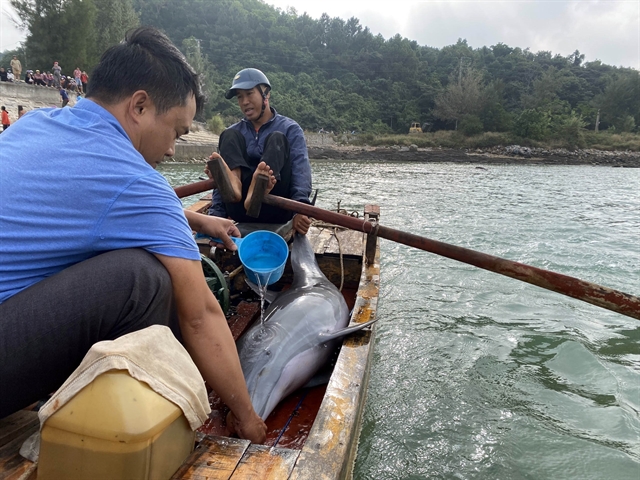 Seawater is poured on the dolphin while it is being carried to deeper water area. — VNA/VNS Photo
Previously, on November 19, the dolphin was seen g around for many hours in the water near Cô Tô Port. This is the second time dolphins have appeared in this sea this year.
Fishermen speculated that the creature might have wandered astray from its pod inadvertently during a hunting trip.
Local authorities have warned residents not to approach the dolphin or play with them too much to avoid frightening the creatures and exhausting them.
Cô Tô authorities said they are still monitoring the dolphin to ensure its safety. — VNS