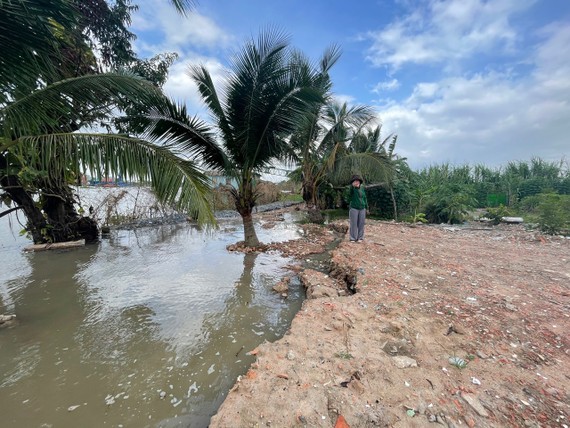 Erosion occurred along the bank of Sài Gòn River in HCM City's Hóc Môn District in July. — Photo www.sggp.org.vn
HCM CITY — HCM City authorities have asked agencies and relevant units to take necessary measures to ensure safety for more than 1,300 residents living around 32 erosion-prone locations.
Eight of the locations are in Thủ Đức city, seven in Nhà Bè District, four in Bình Chánh District, seven in Cần Giờ District, four in Bình Thạnh District, one in Hóc Môn District, and one in Củ Chi District.
Of them, there are eight areas considered dangerous in Thủ Đức city and the districts of Bình Chánh, Nhà Bè and Cần Giờ.
The municipal People's Committee has asked investors to accelerate embankment projects to ensure the safety of humans and property.
It also urged the Department of Natural Resources and Environment to coordinate with competent forces to increase supervision over the illegal exploitation of sand and gravel in the river bed.
The people's committees of Thủ Đức City and the districts have asked residents around the areas to stay alert.
They have sealed off and kept a close watch on erosion-prone site and helped erosion-affected households move to safe places. — VNS