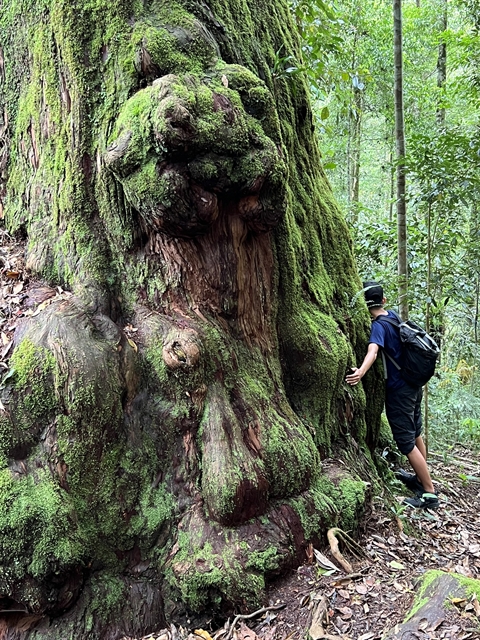 A man hugs a tree in a forest in Tây Giang District of Quảng Nam Province. The central province has been building a pilot plan for carbon credit export in 2021-25, vision to 2030. — Photo courtesy of Lê Quốc Việt
QUẢNG NAM — The central province of Quảng Nam has been speeding up the process of building carbon credit exports as a key part of sustainable development and forest protection, setting its sights on being the first place in Việt Nam to export 1.2 million carbon credits per year from 2026.
Deputy Chairman of the Quảng Nam People's Committee Hồ Quang Bửu said it has been selecting consultancy agencies in setting up a future action plan on reducing greenhouse gas emissions by increasing forest and conservation areas and creating a larger amount of carbon credits for export under the requirements of the global Reducing Emissions from Deforestation and Forest Degradation (REDD+) agreement.
The pilot plan of exporting 2.5 million carbon credits for an amount of VNĐ110 billion (US$4.7 million) to VNĐ130 billion ($5.6 million) per year from 2021-25 has been agreed upon by the Government from 2021.
"Quảng Nam will be the forerunner in Việt Nam implementing the plan of exporting carbon credits. It would help boost protection and development of forest while creating a budget for reinvesting for afforestation from carbon sale," Bửu said.
"Local people will be involved in management, protection and growing forest in earning money from carbon exchange cost as carbon credits export values from two to 2.5 times as much as current payment for forest environment service from the State budget," he said.
The first amount of 1.2 million carbon credits that had been reserved in 2018-20 will be on sale at a price of US$5 per tonne.
An official from the national forestry administration of Việt Nam, Phan Văn Điển, said Việt Nam has the potential in promoting carbon credits export, but it needs strict and transparency management policy in carbon emission control.
"Legal regulations on carbon credits and detailed guidance for trading credits are not yet available. Việt Nam has yet built up surveillance system on the greenhouse gas and emission control for every industry, business and factory that follow the international standard," he explained.
Nguyễn Tuấn Quang, from the Administration of Climate Change under the Ministry of Natural Resources and Environment, said the preparation of policy-making and market of carbon credits export will be implemented in 2021-25.
The deputy chairman of Quảng Nam province said it will replant more than 50,000 hectares to reduce 14 million tonnes of carbon emissions while supplying seven million cubic metres of timber in 2030.
He said the carbon export plan would help increase forest coverage in the province to 60 per cent.
Bửu said the province will open tenders for carbon credits as soon as the policy and procedure on the pilot plan are completed.
He said at least five investors have paid attention to carbon credits sales in the province.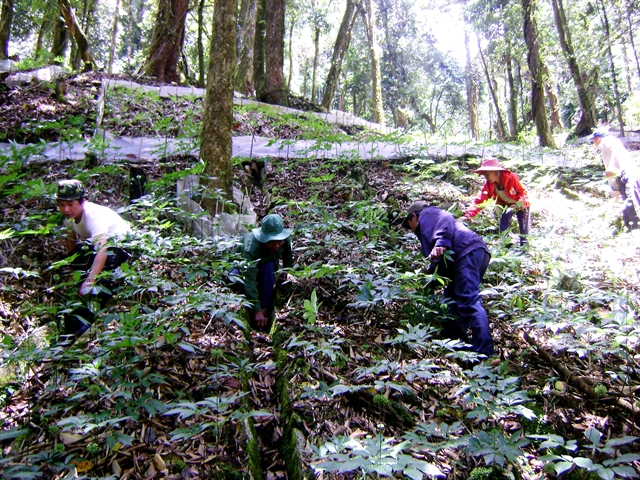 Local farmers grow ginseng in a forest in Nam Trà My, Quảng Nam Province. The protection of forests will help Quảng Nam reserve carbon credits for export. — Photo courtesy of Văn Thọ
The central province's 19,000ha is a protected area for endangered Asian elephants, with funding from the United States Agency for International Development (USAID) Green Annamites Project.
It also promoted the Sông Thanh Nature Reserve to a national park to conserve its rich biodiversity over 77,000 hectares, of which more than 58,000 are tropical, evergreen primary forests, while an area of 15,000ha of Ngọc Linh ginseng (Vietnamese ginseng) was planted in Nam Trà My District.
The province has preserved a UNESCO-recognised world biosphere reserve Chàm Islands-Hội An, and the reserve of sao la, Vũ Quang ox, or Asian bicorn (one of the world's rarest large mammals) in Tây Giang District.
An area of 100 hectare-forest has been built as a safe habitat for a herd of grey-shanked douc langurs in Núi Thành District in 2019-28. — VNS