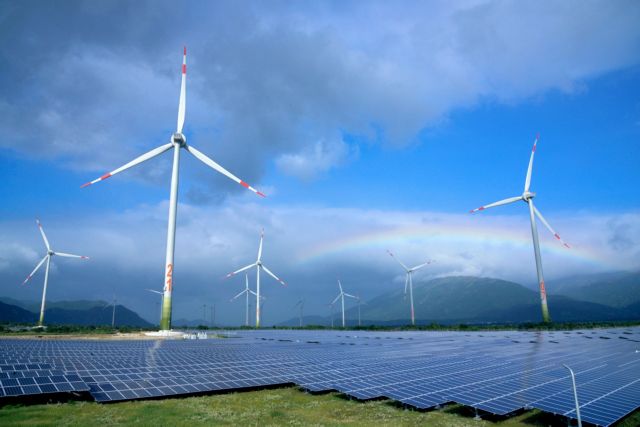 A wind and solar energy project in Lợi Hải Commune, Bắc Phong District in the south-central province of Ninh Thuận. — VNA/VNS Photo Minh Hưng
HÀ NỘI — International partners have committed to support Việt Nam in realising the goal of net zero emissions and energy transition as per the country's commitment at the 26th UN Climate Change Conference of the Parties (COP26), according to Vietnamese Minister of Natural Resources and Environment Trần Hồng Hà.
After the COP26 in 2021, in high-level meetings, the United Nations and development partners, during discussions with Vietnamese ministries and sectors, expressed their willingness to support Việt Nam in achieving the goal of net zero emissions and energy transition, Minister Hà noted at a recent conference.
Partners including the United Nations, the European Commission and development partners including the United Kingdom, Denmark, Italy, Japan, China, South Korea, France, Germany, Australia, New Zealand, Finland, Netherlands, United States; the World Bank and the Asian Development Bank were ready to support Việt Nam in energy transition and renewable energy; building and perfecting institutions, policies, strategies and master plans; as well as developing the carbon market, he said.
The partners also pledged to help Việt Nam in inventorying and reducing greenhouse gas emissions; improving capacity and transferring technology; making financial support and helping reduce emissions and adapt to climate change, he said.
Hà also said that currently, Việt Nam was still facing difficulties in researching and deploying new technologies to ensure security and balance power sources, capture carbon and to produce renewable energy.
Therefore, in order to achieve the goal of bringing net emissions to "zero" by 2050, Việt Nam urgently needed the support of the international community.
At the conference, a representative of the European Union said that financial mechanisms and policies to mobilise capital would play a vital role in the development of future goals, especially technical and economic support.
A representative of the World Bank in Việt Nam said this would be a journey with many difficulties, many new factors, many challenges and opportunities in the implementation of the goal of achieving net zero emissions and energy transition.
Also at the conference, Hà said after COP26, the Government and Prime Minister Phạm Minh Chính ordered relevant ministries and sectors to deploy and update the Nationally Determined Contribution (NDC) in 2022; develop and publish a report on the potential of offshore wind and wave energy in Việt Nam's seas; focus on building the National Strategy on Climate Change by 2050 and building the programme on green energy transition. — VNS