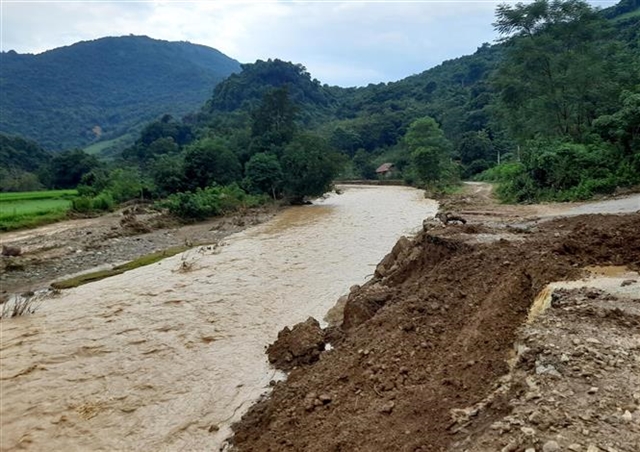 Heavy rain and floods cause landslides in Kỳ Sơn District, Nghệ An Province. VNA/VNS Photo
HÀ NỘI — One person is missing after heavy rain triggered floods across the northern regions damaging hundreds of households and dozens of hectares of agricultural land.
Hòa Bình Provincial Steering Committee for Natural Disaster Prevention and Control, Search and Rescue reported that Nguyễn Xuân Giang, 37, was swept away by flash floods on Thursday.
Heavy rain and floods caused landslides in Đà Bắc District and blocked traffic. Many inter-commune roads in Thái Bình Ward, Hòa Bình City had 50cm floods.
Phú Thọ Province recorded 32 flooded households, five affected by landslides and damage to dozens of hectares of agricultural land. Students and teachers were advised to evacuate to safer places when the torrential rain began.
Head of Agriculture and Rural Development Division of Tân Sơn District, Nguyễn Xuân Việt, said hundreds of roads were flooded while landslides disrupted urban transport networks. The local People's Committee instructed people to evacuate from areas at high risk of landslides and flash floods. The district has been told to keep a close eye on weather reports and quickly inform authorities and residents of any pending storms.
In the mountainous district of Như Xuân in Thanh Hóa Province, torrential rain caused a rise in river levels and isolated several villages, including Thanh Hòa, Thanh Quân, Thanh Lâm, and Thanh Phong. Local authorities have banned people and vehicles from entering flooded areas.
Thanh Hóa's Provincial Commanding Committee of Natural Disaster Prevention and Control, Search and Rescue is checking reservoirs, dykes, and residential areas vulnerable to flooding and landslides.
Some areas in Chương Mỹ District of Hà Nội were also affected. On Thursday night, residents were told to evacuate from their flooded houses. VNS