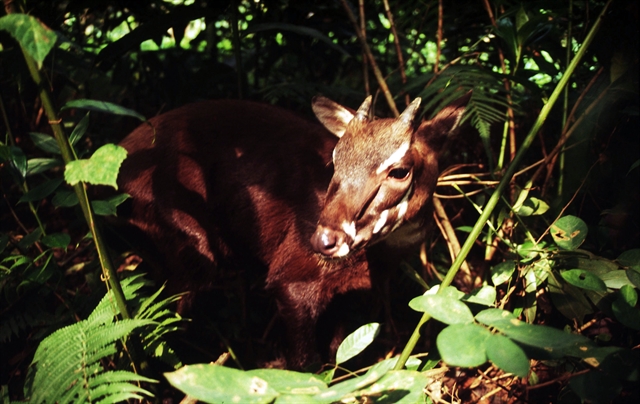 A saola, one of the world's rarest animals, is snapped like Việt Nam. The animal is getting a critical emergency boost from the European Union, Re:wild and WWF-Viet Nam to prevent its extinction. — Photo courtesy of WWF-Vietnam
THỪA THIÊN-HUẾ — The saola, one of the world's rarest animals, is getting a critical emergency boost from the European Union, Re:wild and WWF-Vietnam to prevent its extinction.
WWF-Vietnam said its latest Rapid Rescue efforts aimed to find the world's last saola to save the species from extinction.
The saola is the focus of the latest efforts by the Rapid Response for Ecosystems, Species and Communities Undergoing Emergencies (Rapid RESCUE) fund, established in 2020 by the EU, Leonardo DiCaprio and Re:wild to provide a swift response to emerging biodiversity threats.
The funding will support Re:wild and WWF-Viet Nam in their search for the last saola that survives in Việt Nam as a first step in securing these animals for a conservation breeding program to ensure their survival.
As a result of the pandemic, intensive search efforts to find the last saola were effectively stopped for two years, greatly increasing the need for emergency support to initiate surveys and conservation measures to save it from extinction.
"We have an amazing opportunity to find and save the last saola in Việt Nam," said Andrew Tilker, Re:wild's Asian species officer.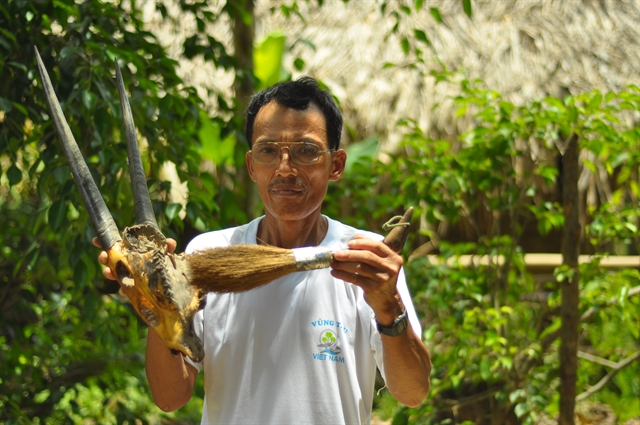 A man shows a horn of saola that was left after a hunt in the jungle. Its horns commonly identify the critically endangered animal. — Photo courtesy of WWF-Vietnam
"And as we search for saola, we will also look for some of the other special and endangered species found only in the Annamite Mountains. We are working with local stakeholders to start conservation breeding programs for a number of these species to someday return them to the wild when it is safe to do so."
The saola, discovered by scientists in 1992, is so rare that no biologist has ever seen one in the wild.
Their evasiveness has earned them the nickname Asian' unicorn'. Like other species in the Annamite Mountains, a rugged mountain chain on the border of Việt Nam and Laos, saola are the victims of unsustainable hunting through wire snares.
Although the snares do not target saola, they indiscriminately kill ground-dwelling animals and have emptied the forests of wildlife across the region.
"Protecting ecosystems is key for wildlife to flourish," said Giorgio Aliberti, head of the European Union Delegation to Việt Nam. "We all depend on it, as biodiversity is crucial to safeguard global food systems and food security. The European Union is proud to support conservation efforts to save species like saola from extinction, in line with the EU biodiversity strategy."
Since the saola's discovery, the species has only been camera-trapped five times in the wild by biologists – twice in Laos and three times in Việt Nam.
The most recent camera trap photos were taken in 2013 when a WWF camera trap caught images of an animal in central Việt Nam. This year's Southeast Asia (SEA) Games, which ran from May 12 through May 23, featured the saola as its mascot.
"With funding from the EU through Re:wild, the USAID Biodiversity Conservation Activity and WWF-Việt Nam's efforts will focus on rapidly detecting the last remaining saola individuals through the use of local ecological knowledge and state-of-the-art technologies such as environmental-DNA and intensive camera trapping," said Nguyễn Văn Trí Tín, lead of WWF-Việt Nam's wildlife programme.
"We hope these search efforts and a successful conservation breeding program can recover the saola in Central Annamite and preserve an important part of Việt Nam's natural heritage."
These efforts are part of a broader vision to establish the first-ever conservation breeding centre for saola and other rare and threatened animals found nowhere else in the world except the Annamites, including large-antlered muntjac, Annamite-striped rabbit and Annamite crested argus pheasant.
Re:wild and WWF-Viet Nam are working with Việt Nam's Ministry of Agriculture and Rural Development and multiple IUCN SSC species specialist groups to turn this vision into a reality.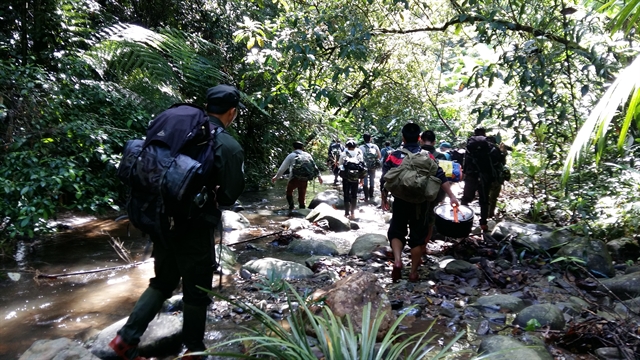 A team of rangers check the jungle of the Saola Conservation Centre in the mountainous A Lưới district of Thừa Thiên Huế Province. Many efforts have been made by scientists, conservationists and rangers in seeking prints of the saola for decades. — VNS Photo Công Thành
In 2021, Google joined forces with the WWF-Việt Nam to help raise awareness and call for action to save this unique and endangered species.
Google launched a 3D Augmented Reality (AR 3D) saola on Google Search that global users use to view a saola close-up, with full details of this spectacular species, on their smart devices.
It was the first time Google had digitised Việt Vietnam's rare wild animals and produced an AR 3D replica.
The saola, native to the Annamite Mountains, spanning the border between Việt Nam and Laos, is symbolic of the rich biodiversity of Việt Nam and the wider Mekong region.
Since the species was first discovered in 1992, in Vũ Quang Nature Reserve, in Hà Tĩnh, only about 10 saola have ever been captured alive.
They were all caught by local villagers in Laos and Việt Nam, but without professional veterinary and husbandry care, the longest that any of the animals lived was a few months.
The last saola known to be captured alive was in 2010 in a village in Laos. It died in less than a week.
Biologists have only photographed the species five times in the wild in the last 25 years, all by camera traps — twice in Laos and three times in Việt Nam.
The most recent camera trap photos were taken in 2013 when the WWF captured images of the animal in a saola nature reserve in central Việt Nam. It was the first photo of a saola in the wild in more than 15 years.
Saola is nicknamed the Asian' unicorn'. They are difficult to find, living in remote and difficult terrain in dense forests.
The saola is critically endangered, with the global population estimated to be less than 100. Habitat loss caused by human development, rampant snaring to supply the illegal wildlife trade, and climate change threaten the entire species with extinction.
The Bạch Mã National Park in the central Thừa Thiên-Huế province was selected as the site for the world's only breeding centre for the saola. — VNS
Inbox:
Re:wild protects and restores wild animals. We have a singular and powerful focus: the wild as the most effective solution to the interconnected climate, biodiversity and human health crises.
Founded by a group of renowned conservation scientists together with Leonardo DiCaprio, Re:wild is a force multiplier that brings together Indigenous peoples, local communities, influential leaders, non-governmental organisations, companies and the public to protect and rewild at the scale and speed we need.