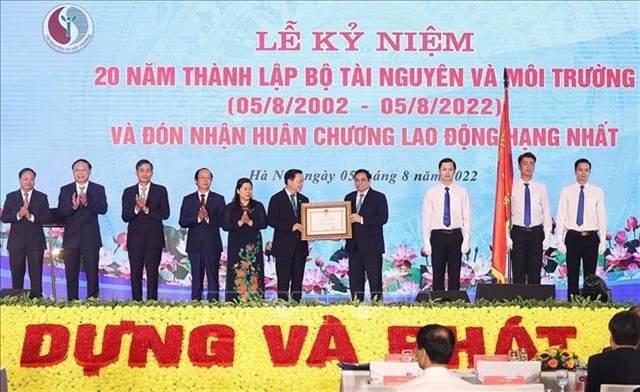 Prime Minister Phạm Minh Chính awards the First Class Labor Medal to the Ministry of Natural Resources and Environment and Minister of Natural Resources and Environment Trần Hồng Hà on the ministry's 20th anniversary on Friday. — VNA/VNS Photo
HÀ NỘI — Party General Secretary Nguyễn Phú Trọng on Friday congratulated and applauded the efforts and achievements the Ministry of Natural Resources and Environment (MoNRE) over the past 20 years.
In his letter sent to the ministry to celebrate its 20th anniversary, Trọng said that the sector should continue to promote its achievements and experiences and be more proactive in implementing solutions to issues like climate change, natural disasters and diseases promptly and effectively.
The ministry was also asked to grasp the trends of the times, take advantage of the achievements of the Fourth Industrial Revolution, and strive to make more substantive and effective contributions to Việt Nam's socio-economic sectors and its international integration, especially Việt Nam's participation in global initiatives that help solve environmental and climate challenges.
Speaking at the ceremony to mark MoNRE's 20th anniversary, Prime Minister Phạm Minh Chính said that environmental resources are an indispensable factor for human survival and development, as well as the sustainable development of the country.
"Resource management, environmental protection, natural disaster prevention and control, and response to climate change are always issues of concern to our Party, State and people," Chính said.
Over the past 20 years, MoNRE has overcome difficulties and challenges to constantly grow, develop, and grasp advantages and opportunities, Chính said, adding that the ministry has an important position and role in the country's sustainable development.
PM Chính said that the system of environmental policies, laws, planning and strategies were always completed synchronously, though the mindset has shifted from tightening management to creating favourable conditions for further development and opportunities to free up natural resources for socio-economic development.
The transformation of growth models towards sustainable development, a green economy, and the circular economy was made to further reduce emissions and proactively respond to climate change.
The basic investigation of natural resources has been strengthened, contributing to firmly grasping the quantity, quality, potential and resources of natural resources for management, protection, efficient exploitation and accounting in the economy.
Natural resources are managed and used effectively and for multiple purposes, making important contributions to the State budget. Land resources are transformed following the process of industrialisation, urbanisation, synchronous infrastructure development, improving the efficiency of use of natural resources and creating revenue for the State budget.
Between 2016 and 2021, more than VNĐ1.05 quadrillion was added to the State budget thanks to land management. In the past 20 years, more than 6.74 million ha of land have been put into use for economic purposes.
The potential advantages of the sea are promoted and the localities with the sea have become dynamic development areas, attracting a lot of investment resources.
Water resource security in Việt Nam is also a focus. Digital transformation is promoted with better data resources on geographic information, land, and remote sensing for digital economic development.
According to the Prime Minister, in the trend of deeper international integration, especially with the strong impact of the Fourth Industrial Revolution, MoNRE has actively joined and contributed to many regional and global initiatives to solve major issues including ocean plastic waste pollution, climate change response, prevention of transboundary environmental pollution, and management and sustainable use of resources.
In particular, Việt Nam's participation in the historic Paris agreement on climate change and its commitments to net zero emissions by 2050 at the Climate Change Summit COP 26 brings dual benefits, Chính said.
Việt Nam could access knowledge, technology and finance to restructure the economy towards a green economy, a circular economy, as well as proactively responding to climate change, Chính added.
The environmental indicators of Việt Nam have changed, contributing to bringing the sustainable development index up to 51st of 165 countries and territories last year, up 37 positions compared to 2016.
In addition, the quality of forecasts and warnings of weather and natural disasters have improved and are approaching the level of developed countries; especially forecasting extreme weather, which contributes to preventing and minimising damage to people and property, Chính said.
PM Chính requested the MoNRE to review and perfect the system of guidelines, policies and laws of the Party and State and international agreements on natural resource management, environmental protection, and climate change responses. This is to ensure transparency in line with the socialist-oriented market economy and ensure safe living conditions for people.
The PM highlighted the need for a draft of amended Land Law 2013, institutionalising the views, guidelines and solutions of Resolution No.18-NQ/TW of the 13th Central Committee of the Communist Party of Việt Nam to overcome the shortcomings and limitations in land use management.
The ministry was also asked to more focus on completing the approval of plans and strategies to ensure feasibility and shape the country's development space with a long-term vision to allocate, exploit and use resources economically and efficiently.
Requirements on environmental protection, resource management, and climate change response must be part of socio-economic development strategies, master plans and plannings.
The PM urged the MoNRE to continue promoting digital transformation, building digital resources based on big data.
By 2025 at the latest, the centralised, unified, multi-purpose, integrated and interconnected information system and database on national land must be put into operation, Chính said.
The ministry was asked to improve the efficiency of management and use of natural resources and overcome shortcomings, especially in land and minerals management.
The ministry must implement solutions to effectively cope with the risk of water source depletion and degradation, ensuring national water security.
It was also assigned to research mechanisms for sharing and resolving disputes and conflicts in the management and use of transboundary water resources, especially the Mekong and Red rivers.
On this occasion, Prime Minister Phạm Minh Chính awarded the First Class Labor Medal to the Ministry of Natural Resources and Environment and Minister of Natural Resources and Environment Trần Hồng Hà. — VNS