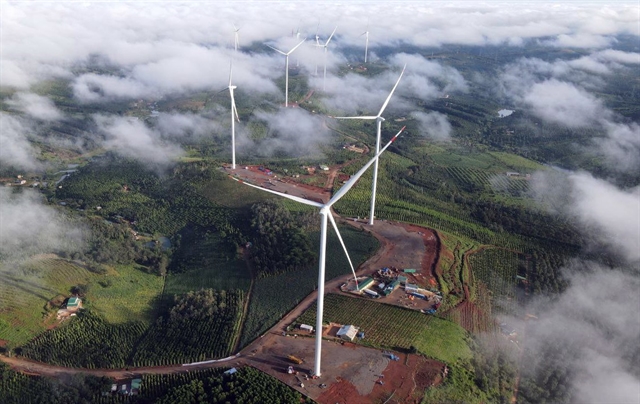 A wind power project in the Central Highlands of Đắk Nông. — VNA/VNS Photo
HÀ NỘI — Việt Nam's top priority in the coming years is building a roadmap, mechanism and policy for the formation and operation of a green, circular and eco-friendly economy, the Ministry of Natural Resources and Environment has said.
Speaking on Thursday at a national conference reviewing environmental protection work between 2016 and 2022, and setting out tasks and action plans for the future, Minister of Natural Resources and Environment Trần Hồng Hà emphasised the importance of harmonising economic development and environmental protection.
"Environmental issues are always at the centre of the agenda with the top goal of protecting people's health, ensuring the quality of the living environment, and protecting biodiversity and ecosystems for a life in harmony with nature and a more sustainable future," he said.
Hà said that the green transformation, based on a circular and low-carbon economy, is Việt Nam's path to sustainable development and improving the quality of people's lives in the future.
Vice Minister of Natural Resources and Environment Võ Tuấn Nhân said the country still faces many challenges in environmental protection.
Environmental degradation, natural resource and biodiversity depletion remain complicated. In some places, the rate is at alarming levels such as pollution in craft villages or some big cities.
Infrastructure for environmental protection is inadequate and low-quality. The percentage of domestic wastewater collected and treated in urban areas was very low - only about 15 per cent. Most rural residential areas are not equipped with a centralised domestic wastewater treatment system.
The volume of solid and hazardous waste is also on the rise. Solid waste collection and treatment in rural areas only reach 66 per cent of the total, and more than 80 per cent of landfills are substandard. The classification of domestic solid waste has not been carried out, he said.
Nhân said the causes of these challenges are the country's out-of-date production technology, the impact of climate change, low awareness of environmental protection, inadequate human resources at State agencies in charge of environmental protection, especially at local and grassroots levels, restricted State funds for environmental protection, and inadequate infrastructure and technology for environmental treatment.
Nhân said under the national environmental protection strategy to 2030 with a vision for 2050, 90 per cent of urban domestic solid waste, 80 per cent of rural domestic solid waste, and 95 per cent of hazardous waste would be collected and treated properly by 2025. Furthermore, 92 per cent of industrial parks and export processing zones will be equipped with a centralised wastewater treatment system.
He suggested that the 2020 Law on Environmental Protection, which took effect at the beginning of this year, would help improve the environmental impact assessment towards development projects, supervising waste from businesses in craft villages and industrial zones, better managing solid waste and plastic waste by classifying waste at sources and minimising single-use plastic waste.
​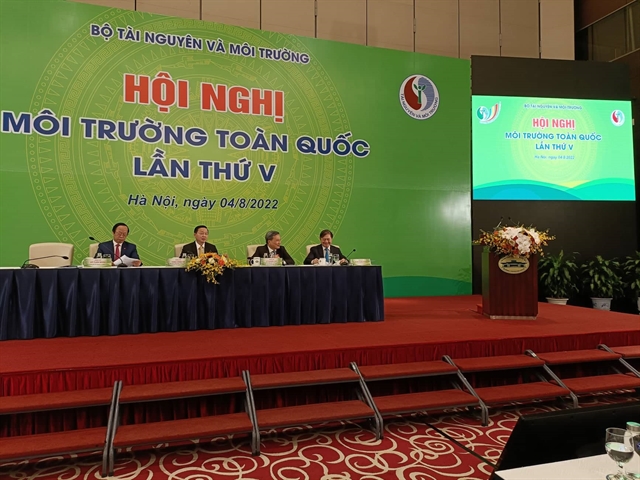 Delegates at the environmental conference held by the Ministry of Natural Resources and Environment on Thursday. — VNS Photo Khánh Linh
​
Caitlin Wiesen, Resident Representative, UNDP Việt Nam said from 2016 to 2021 Việt Nam has shown leadership and commitment to tackling climate action.
In particular, the country has rapidly seized and adopted the circular economy as a tool to address many of those interlinked environmental challenges while reducing emissions.
To be able to achieve carbon neutrality by 2050, she suggested that Việt Nam have solid climate legislation to guide and enforce domestic climate actions towards net zero emissions. The country shall accelerate the production and distribution of renewable energy and embrace energy transition.
The country needs to introduce a transparent policy on green financing flow to support new green and resilient projects and investments.
She said the circular economy should bring different elements into a single framework to enable a more systematic and cohesive approach to economic development.
"Nature-based development is a sustainable pathway for Việt Nam," she said.
At the conference, Minister Hà urged all ministries, sectors and localities to raise people and businesses' awareness and responsibility for environmental protection and sustainable lifestyle in harmony with nature.
He emphasised the importance of solutions to transform the economic structure, based on a digital, circular and low-carbon economy, for development instead of intensive exploitation of natural resources.
Solutions include curbing environmental pollution in craft villages and main river basins, promoting the classification of domestic solid waste, applying advanced technology in solid waste recycling and gradually reducing the direct burial of waste, he added.
Hà also stressed the roadmap for effectively implementing the Government's commitment at COP26 to the energy transition, greenhouse gas emissions reduction, sustainable use of the natural resource, and the implementation of the programme of planting one billion trees.
He emphasised the role of international cooperation, science and technology application, and digital platforms in solving environmental problems. — VNS