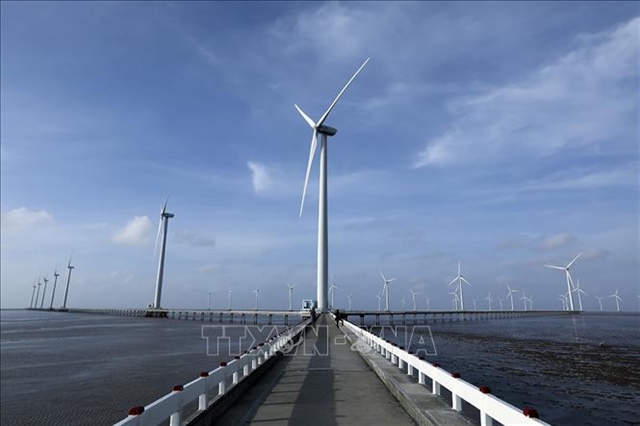 Việt Nam aims to reduce greenhouse gas emissions to net zero by 2050. — VNA/VNS Photo
HÀ NỘI — Deputy Prime Minister Lê Văn Thành has approved the National Strategy on Climate Change for 2050.
The overall objective of the strategy, set out in Decision 896/QĐ-TTg, is to proactively and effectively adapt to climate change, reduce greenhouse gas emissions to net zero, and deal with vulnerabilities and risks caused by climate change.
The strategy also aims to make active and responsible contributions to the international community in protecting the Earth's climate, take advantage of opportunities from climate change response to transform growth models, as well as improve the competitiveness of the economy.
The strategy expects that by 2050, Việt Nam will effectively manage water and land resources, improve environmental quality and prevent natural disasters affecting socio-economic development, firmly ensuring the security of national water resources.
It includes maintaining stable forest cover at 43 per cent; 100 per cent of the population is provided with clean water, 100 per cent of households in disaster-prone areas have safe houses and disaster risk insurance for production and business activities of enterprises.
To achieve the above objectives, the strategy has set out specific tasks and solutions.
According to the strategy, Việt Nam needs to enhance the resilience and adaptive capacity of natural, economic and social systems, ensuring sustainable livelihoods, including preventing deterioration, and restoring resources; building a smart, modern agriculture sector that can effectively adapt to climate change and has high economic value; strictly managing and protecting existing natural forests; and developing infrastructure that adapts to climate change.
Solutions to reduce damage caused by natural disasters and increased climate extremes are to increase investment and modernise the weather monitoring system, and upgrade technology related to forecasts.
Between now and 2030, Việt Nam will develop and implement an action plan to reduce methane emissions by 30 per cent compared to 2020, as well as manage and eliminate substances that cause greenhouse gas effects.
Workshop held on vulnerable groups amid climate change
The impact of climate change on vulnerable groups was discussed at a workshop jointly held by the Vietnamese Ministry of Foreign Affairs and the United Nations Development Programme (UNDP) in Hà Nội on Friday.
Assistant Minister of Foreign Affairs Đỗ Hùng Việt underlined that climate change and devastating extreme weather conditions had posed an adverse and deep impact on people's rights, especially vulnerable groups.
As one of the countries hardest hit by climate change, Việt Nam has paid particular attention to ensuring human rights during climate change response, focusing on institutionalising international treaties to which Việt Nam is a signatory, said Việt.
He added that Việt Nam had joined vital UN Human Rights Council groups in promoting annual resolutions related to climate change and human rights, especially among vulnerable groups.
This is a priority of Việt Nam at the council, especially as the country is running for a seat on the panel for the 2023-25 tenure.
He highlighted Việt Nam's determination and efforts in settling the negative impact of climate change and promoting international cooperation through realising commitments made at the 26th UN Climate Change Conference of the Parties.
Việt also affirmed Việt Nam's consistent policies on protecting and promoting human rights and the country's endeavours in realising commitments to fundamental freedom rights, including the right to participation and information, transparency, accountability, equality and non-discrimination in climate change adaptation efforts.
UN Resident Coordinator in Việt Nam Pauline Tamesis hailed Việt Nam's commitments on human rights amid climate change, including the net-zero emission commitment.
She stressed that the UN agencies in Việt Nam were willing to assist the country in realising its commitments.
Kanni Wignaraja, UN Assistant Secretary-General and UNDP Regional Director for Asia and the Pacific, welcomed Việt Nam's determination to realise the dual goal of becoming a high-income country by 2045 and achieving net-zero emissions by 2050.
She stressed the need to listen to the voice of the most vulnerable groups.
Wignaraja said that the UNDP is committed to supporting the Vietnamese Government in developing climate change response and environmental policies in line with international standards on human rights.
Ambassadors of countries and representatives of international organisations in Việt Nam shared experience and good practices in responding to climate change and ensuring the rights of vulnerable groups at the workshop. — VNS