Mekong Delta plan seeks flexible response to climate, market changes: Agriculture minister
Agricultural planning is a crucial part of the Mekong Delta regional master plan that will help open opportunities, Minister of Agriculture and Rural Development Lê Minh Hoan has said.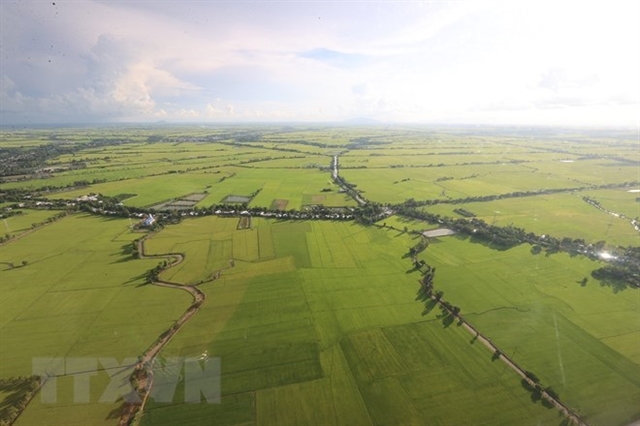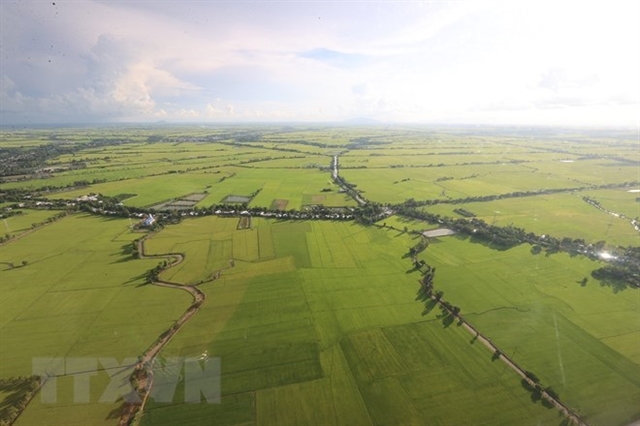 CẦN THƠ — Agricultural planning is a crucial part of the Mekong Delta regional master plan that will help open opportunities, Minister of Agriculture and Rural Development Lê Minh Hoan has said.
The minister emphasised that each locality in the region should actively expand its connections and boost coordination of the whole region for mutual sustainable development.
Speaking at the launch of the Mekong Delta regional master plan on Tuesday, Hoan said that it would be a turning point for the socio-economic development of the region, awakening potential and tackling pending problems.
"Land can be fragmented, administrative boundaries can be divided, but development space cannot be fragmented, economic space cannot be divided," Hoan said.
The Coordination Office for Agriculture and Rural Affairs in the Mekong Delta, based in Cần Thơ City, coordinated to integrate regional agricultural information through the digitisation of databases, production planning, and standardisation of input material areas and production processes.
The office also helps connect enterprises investing in high-tech agriculture and deep processing. It also forms a commodity chain through industry associations, helping to improve the quality of cooperatives and links between production and consumption.
It also coordinated the operation of irrigation works to ensure synchronisation of the whole system.
Hoan said that the agriculture ministry was actively negotiating and calling for investment projects in agricultural and rural logistics infrastructure, including a cold storage chain to preserve agricultural products at inter-district and inter-provincial levels along the Hậu and Tiền rivers.
Ecological, integrated agricultural models recently appeared in many localities in the region, such as the economic model under the forest canopy, the shrimp-rice model in the peninsula in Cà Mau, and the model of converting from monoculture of rice to multi-cropping and intercropping to increase incomes for farmers in the Đồng Tháp Mười (Plain of Reeds), Long Xuyên Quadrangle, a production model adapted to drought and salinity in the coastal provinces, models of ecotourism, agricultural and rural tourism.
Hoan said the agriculture ministry and relevant agencies and localities were developing a project on the establishment of a centre based in Cần Thơ specialising in processing farming products for the whole Mekong Delta region.
It is expected that the project would be submitted to the Prime Minister next month.
As the Mekong Delta region is very vulnerable to the negative impacts of climate change, like saltwater intrusion, declining water resources, deposited estuaries, landslides and subsidence, proactive and flexible responses were crucial, Hoan said.
"Water resources including fresh, brackish and salt water are closely and intimately linked with diverse agro-ecological zones," Hoan said, emphasising that with the spirit of "proactive, flexible" responses to changes, more development opportunities would be opened.
For example, a sensor device integrated with artificial intelligence, measuring the concentration of salty lever on the Cổ Chiên River in Trà Vinh Province or the breeding of new drought-tolerant and salt-tolerant crops.
Regarding regional linkage in the Mekong Delta Region, Minister Hoan said that the link was not a combination of population, area, and tangible resources of 13 provinces and cities.
"Above all, it is openness, connecting thinking, connecting invisible and limitless resources, creating a harmonious relationship between the State, market and society, seeking new impulses, that will create a new development space," he said.
Recently, many large corporations and enterprises had also implemented inter-provincial large-scale projects, promising to activate the potential of many localities at the same time. Those were optimistic signals that demonstrate the creativity, dynamism and vitality of the Delta, Hoan said.
"The point is that we need to connect and spread those values. Then, each locality, with its own specific conditions and strengths, will actively and harmoniously contribute to the overall economic space," he said. "The Delta will become a complete economic entity, operating flexibly and dynamically."
With effective planning and investment, the "Mekong Delta" brand could be recognised as an active example of overcoming the challenges that climate change creates, he said.
"With the issuance of a clear master plan, specific orientation along with investment priorities in infrastructure, logistics and services, investors, especially private investors will feel more secure and want to seek more opportunities in different fields," he said. — VNS
Source: VNN
Maybe You Also Interesting :
» Hà Nội applies IT to enhance value of agricultural products
» Mekong Delta should adopt digitisation in agriculture: experts
» VNĐ86 trillion earmarked for transport infrastructure in Mekong Delta