Hà Nội needs to combine green growth with urban development
The capital Hà Nội is focusing on urban development towards green and sustainable growth and building a smart and modern city.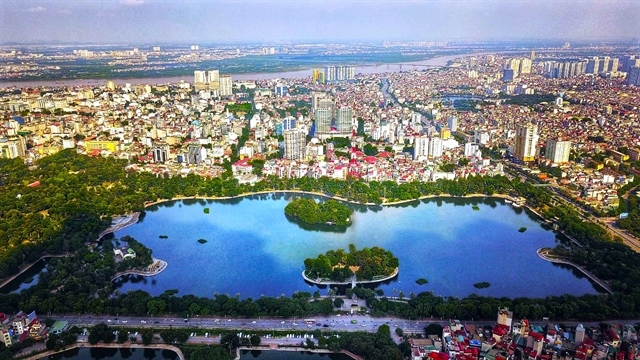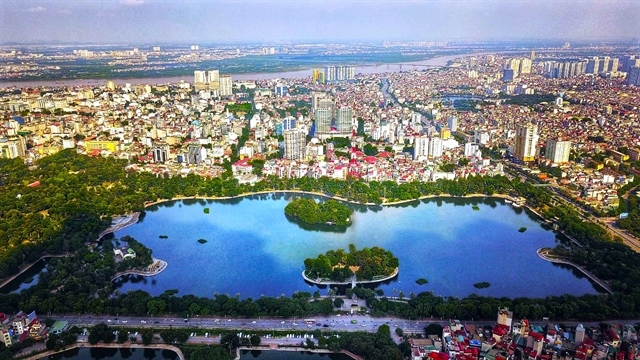 HÀ NỘI — The capital Hà Nội is focusing on urban development towards green and sustainable growth and building a smart and modern city.
According to the Hà Nội Construction Department, the city has paid attention to implementing environmental protection and improvement toward green and sustainable urban development.
The city has also invested in and completed the environment monitoring system in polluted areas and publicised monitoring results in the media to improve the capacity and efficiency of management, forecasting and control of environmental pollution.
Accordingly, the city has put 10 automatic air monitoring stations, one mobile monitoring vehicle, one wastewater and air monitoring station at the Nam Sơn Waste Treatment Complex, and six automatic water surface monitoring stations.
The station data is transmitted to management centres for monitoring and processing.
The work of undergrounding the electric and communication cables, planting trees, and embellishing the street pavement have been done synchronously. Thanks to that, the face of the city is getting greener, cleaner and more beautiful.
Besides, the development of public green outdoor spaces has been gradually meeting the needs of urban residents. From 2015-to 2020, the city has built 382 works of public spaces.
In recent years, the municipal authority has paid special attention to renovating and upgrading the flower gardens and parks system in the central urban area to create typical architectural and landscape spaces of the capital.
The current large parks such as Thủ Lệ and Bách Thảo parks in Ba Đình District, Thống Nhất and Tuổi Trẻ parks in Hai Bà Trưng District have an area of ​​10-50ha each along with natural lakes and flower gardens make the city's landscape beautiful and improve the microclimate for the areas.
Along with the projected investment by the State budget, many public works such as parks, flower gardens, squares and lakes in new residential areas are invested in and built by the investors.
Five water supply projects have been completed, bringing the total capacity of the water supply of water plants in the city to about 1.5 million cu.m per day. This means 100 per cent of the city's population can have access to clean water.
Currently, the rate of public green land area in inner cities reaches 7.87 sq.m per person, and the average rate of garbage collection in urban areas is over 97.6 per cent. The city's waste is treated by landfilling and incineration.
The amount of domestic wastewater collected and treated meets 28.8 per cent of the total generated volume.
Currently, waste and wastewater discharge and treatment of almost 100 per cent of industrial parks and large-scale production facilities are well monitored.
Shortcomings
Although green growth indicators are improving, there are many limitations and shortcomings, according to the Hà Nội Construction Department.
Specifically, the land fund for green areas is still limited.
The city-managed parks and flower gardens in four inner-city districts of Hoàn Kiếm, Ba Đình, Hai Bà Trưng and Đống Đa are public works that were built for a long time and have started degrading while there is lack of land fund for building new parks in densely populated areas such as Cầu Giấy and Hoàng Mai districts.
Another feature is that Hà Nội has many lakes, especially a very large lake - the West Lake, but the lakes often have to receive a large amount of untreated wastewater that make them gradually become shallower over time, accumulating a thick layer of mud of 0.5 - 1m.
Most of the lakes are not embanked, so it is difficult to control illegal encroachment and garbage dumping into the lakes.
According to the Hà Nội Natural Resources and Environment Department, the city's urban natural water surface area decreased by 11.11ha in 2015 and 192.52ha by 2020.
Thus, from 2015-to 2020, the total urban natural water surface area dropped by 203.63ha.
In general, the water surface and agricultural land areas are gradually shrinking due to the fast urbanisation rate in the city. Many ponds and lakes have been filled to make the land for urban residential and technical infrastructure development, let alone the situation of people illegally encroaching on the water surface areas for doing business.
The city still lacks specific and appropriate mechanisms and policies to encourage all economic sectors and people to participate in growing green trees.
Financial resources for investment in upgrading and building clean water supply infrastructure are limited, and many clean water supply plants have not invested in modern technology.
Regarding the waste treatment, the waste separation at the source has not been implemented synchronously, and the waste collection and recycling are entirely spontaneous.
The construction progress of waste treatment plants is still slow due to difficulty choosing investors and the lack of regulations on waste treatment.
Fund mobilisation for green growth
To reach the targets of urban construction towards green growth for 2021-25, the Construction Department has proposed the city mobilise and arrange resources for the implementation and acceleration of related projects.
The city also needs to make a plan to mobilise resources for applying science and technology to green growth in urban areas, improving urban-rural connectivity, and investing in urban waste and wastewater treatment.
The city also needs to further invest in the construction and renovation of low-income residential areas and building more public spaces.
In addition, it is necessary to complete legal documents and promulgate mechanisms and policies to mobilise domestic and international resources for urban development towards green growth and climate change response. — VNS
Source: VNN
Maybe You Also Interesting :
» Hanoi CDC officials pocketed $47,200 in Covid test kit scandal: police
» People rush to apply for passports after month-long suspension
» Vietnamese ceramic artisan sets 2 new Guinness records