Ninh Thuận all charged up over renewable potential
When the nuclear power plants planned in the province were cancelled, Ninh Thuận quickly retrained its focus on becoming a renewable energy hub, utilizing its natural strengths.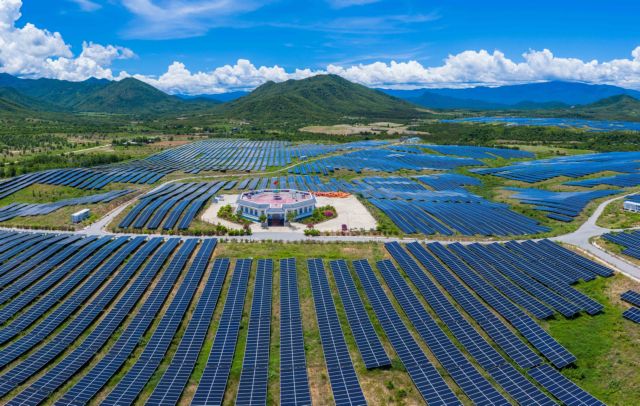 by Viết Tôn - Xuân Hương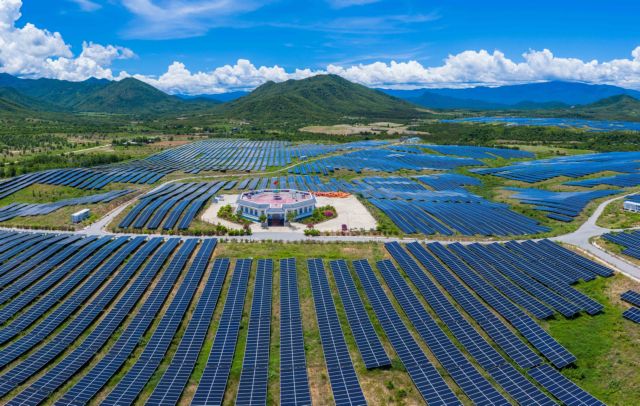 When the building of nuclear power plants planned in the province was cancelled, Ninh Thuận quickly retrained its focus on becoming a renewable energy hub, utilizing its natural strengths.
Climate data shows that the south-central province has the lowest rainfall in the country, but it is blessed with abundant sunlight and wind. It enjoys wind speeds of 6.4-9.6 metres per second for 10 months of the year, making it ideal for stable operation of wind turbines.
On the sunlight front, it remains sunny for 2,600-2,800 hours and 200 days each year, with solar radiation totalling over 230kcal per square centimetre, which is great for solar power development.
"The policies to develop Ninh Thuận into the country's renewable energy hub have achieved positive results and become a driving force for economic breakthroughs and restructuring," Trần Quốc Nam, chairman of the provincial People's Committee, said.
"After the Government issued Resolution 115/NQ-CP on August 31, 2018, Ninh Thuận's difficulties and challenges became opportunities with competitive advantages. It facilitated investment inflow and advanced plans to turn the province into a national renewable energy hub.
"By the end of 2021, the province was home to 49 renewable energy projects with a total capacity of 3,055MW connected to the national grid, generating 6,408 million kWh of electricity last year, creating an added value of VNĐ3.614 trillion (US$158 million), up 59.8 per cent over three years, and contributing a 6.84 per cent growth to the province's GRDP in 2021."
Most renewable energy projects in the province are invested in by the private sector. The industry is one of Ninh Thuận's three economic pillars alongside tourism and agriculture, propelling the province into the list of top five localities with the fastest economic growth rate over the past five years.
On this path, the province has placed some important governance landmarks. It is the first locality to allow private investment in the 500kV transmission line to hook up renewable energy to the national grid.
Ninh Thuân is also in the process of selecting investors to implement the 6,000MW Cà Ná liquefied natural gas (LNG) power project.
The Prime Minister has approved the project's Phase 1 with a capacity of 1,500MW. Phase 2 with 4,500MW will be considered for inclusion in the National Power Plan VIII.
Once complete, the project will contribute to ensuring stable electricity supply for the southern region, help reduce greenhouse gas emissions and promote industry, transportation and services, creating business opportunities for locals.
The province is also accelerating construction of the 1,200MW Bác Ái Pumped-Storage Hydropower Project for optimal use of excess energy.
Major bottlenecks
Despite teeming with potential, the province has run into several significant problems that can hamper the development of the renewable energy sector, according to the provincial Department of Industry and Trade.
One of the biggest challenges is the lack of compatibility between the development of power projects and transmission lines, resulting in overloads and preventing plants from operating at full capacity.
To address such bottlenecks, Ninh Thuận aims to focus on transmission infrastructure in tandem with electricity generation and development of support industries.
It will also complete legislation and policies on renewable and clean energy centres and development of transmission systems strong enough to transmit power from Ninh Thuận to the national grid.
The province will continue to make practical proposals to the Prime Minister and the Government on issues related to planning, mechanisms and policies on building itself into the nation's renewable energy hub in compliance with Politburo Resolution 55/NQ-TW, according to Chairman Nam.
An important task that the province will undertake is the setting up of a renewable energy research and development centre to ensure that growth remains sustainable and does not stagnate.
It will also encourage firms that consume a large amount of electricity to consume more of the power generated locally, particularly from renewable sources.
The province will also work to provide relevant human resources training, strengthen State management and accelerate digital transformation in the industry.
It will apply flexible and effective credit policies to create optimal conditions for firms to access capital while strictly enforcing environmental protection policies associated with reducing greenhouse gas emissions.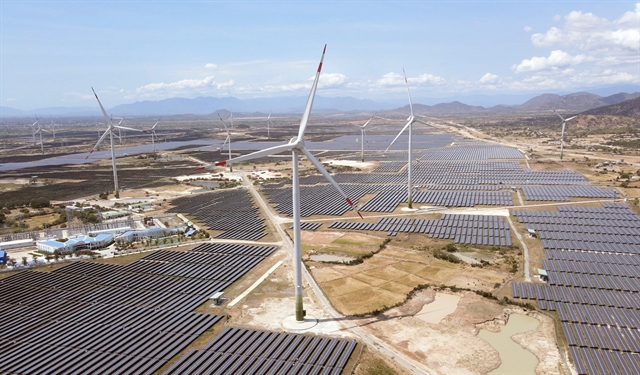 Commenting on Ninh Thuận's potential, Trần Du Lịch, PhD, head of the advisory group for the Central Coastal region, said the priceless resource and the distinct advantage that the province possesses is "sunshine" and "wind".
Therefore, the plan to make Ninh Thuận a national renewable energy hub is a step in the right direction, not only for the province's development, but also the national energy strategy, according to Lịch.
"Conditions to turn potential into reality must include two policies. At the national policy level, there must be a strategic shift from thermal power to renewable energy and clean energy, increasing the proportion of wind and solar power in the national electricity grid and shortening the roadmap to stop dependence on thermal power," he said.
"To exploit its natural resources optimally, it is necessary to ensure transparent and competitive bidding to select investors, and encourage the application of new technologies to lower renewable energy costs."
The province's vice chairman of the People's Committee, Phan Tấn Cảnh, said by implementing comprehensive solutions, Ninh Thuận aimed to reach a total installed capacity of 6,500MW by 2025.
Of this, solar power would account for 3,440MW, onshore and nearshore wind power for 1,200MW, hydroelectricity for 360MW, and LNG-fired power for 1,500MW. Together, these would be generating nearly 11.2 billion kWh of electricity.
"Ninh Thuận will strive to raise its renewable power capacity to 11,800MW, making it the indisputable renewable energy hub in the country," Cảnh added. VNS
Source: VNN
Maybe You Also Interesting :
» Ninh Thuận leads country in renewables development by turning difficulties into opportunities
» Vietnam's hassles in developing offshore wind power industry
» German-invested firm plans three wind power plants Lạng Sơn