Finding sustainable waste management solutions for Hà Nội
Hà Nội is one of the biggest and most modern cities in the country, but its waste treatment capacity does not match the growth of the city.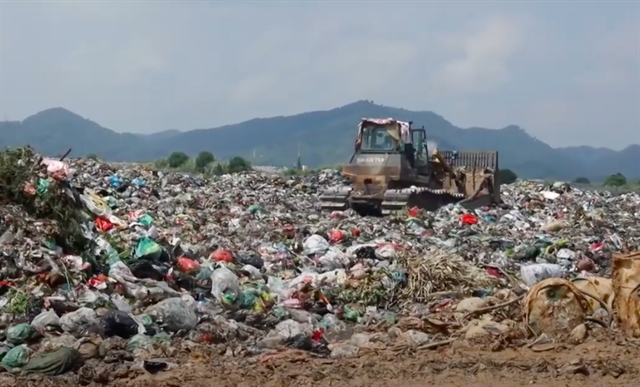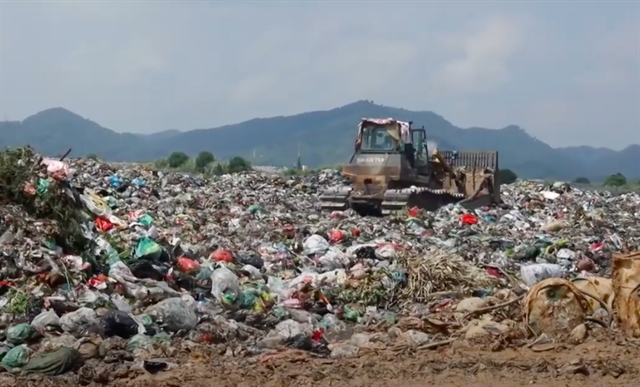 By Ly Ly Cao
HÀ NỘI — The capital Hà Nội is one of the biggest and most modern cities in the country, but its waste treatment capacity does not match the growth of the city.
With population of more than 8.4 million people, Hà Nội produces over 6,000 tonnes of trash, with 90 per cent of the waste buried.
However, burying is an old fashioned waste treatment that many developed countries now refuse to apply due to its side effects.
The Nam Sơn Waste Treatment complex, which is the biggest landfill in Hà Nội, is running out of capacity.
"Việt Nam and Hà Nội are facing a waste treatment crisis. The Nam Sơn complex was estimated to reach its full capacity in 2020, while it is not possible to extend the landfill," Nguyễn Thị Thuỳ Ninh, said the deputy head of Sales and Communication Department at the Urban Environment Corporation (URENCO).
Nam Sơn opened with ​​83 hectares of land, of which more than 53 hectares were landfill. By 2011, Hà Nội had continued to expand the complex by nearly 74 hectares.
With the launch of the waste-to-energy plant using Japanese technologies in Nam Sơn complex, the problem is expected to be solved. The plant, worth over VNĐ7 trillion (US$304.5 million), is run by URENCO.
Huge investment, low efficiency
Incinerators that generate power are considered as one of the most effective solid waste treatment technologies as they significantly reduce the amount of landfilled waste, and have the ability to recover energy such as heat or electricity.
But the plant's efficiency misses expectations for many reasons, according to Dr. Hoàng Minh Giang, lecturer at the Faculty of Environmental Engineering at Hà Nội University of Civil Engineering.
"One of these reasons is that Việt Nam is still inexperienced in assessing, selecting and controlling technology, operation and contractors," Giang said.
A disadvantage of this type of incinerator is the large pollutant emissions, including dioxins and furans that are among the most toxic types of chemical compounds. Therefore, it requires huge investment and operation costs to control pollution effectively.
Besides, waste must be sorted before being transferred to the incinerator, otherwise economic and environmental efficiency will be very low.
Household waste in Việt Nam consists of 50 to 70 per cent high organic content, and about 20 per cent recycled waste, so only around 10 per cent of waste needs to be burned. But the sorting system and related activities in Việt Nam are still very poor.
"At the moment, the waste-to-energy plant in Nam Sơn is eligible to operate but it is difficult for the business to run because of the lack of input waste, while the waste treatment cost is expensive, around VNĐ2 - 3 million a tonne," Giang said.
The plant is automatically controlled and operated, the expert added.
Industrial facilities will accordingly choose other waste treatment units that may be inferior in technology and environmental protection but with lower costs. Therefore, the efficient operation of the incinerator is relatively low without business support mechanisms.
In addition, dealing with ash from incinerated waste is costly and also requires landfill to dump the ash, causing environment damage.
Research from Yobel Novian Putra, a member of GAIA Asia Pacific, showed that waste-to-energy incinerators were the most expensive method to generate electricity. The system costs nearly four times more than solar power and wind energy (onshore), and costs more than twice as much as natural gas. It is even more expensive than coal power by 25 per cent.
Meanwhile, electricity generated from the plant couldn't meet demand as electrical efficiencies of a normal incinerator can reach up to 30 per cent but not higher, he added.
"Higher values are not practicable, due to the risk of corrosion of the boiler that is induced by the higher steam parameters," Yobel said.
"European incinerators may have higher efficiency because they are plugged into district heating networks to heat buildings.
"These do not exist in any developing countries that I am aware of, because they are extremely expensive to build, and in any case, building heating systems is not needed in many developing countries."
The Sóc Sơn incinerator generates 75MW of electricity, of which the plant consume 15 - 20 per cent, while the rest is sold to Việt Nam Electricity (EVN).
Electricity consumption in Hà Nội City, especially in summer, can reach over 4,000 MW.
Looking for sustainable solutions
However, incinerators are still needed at the moment to solve urgent waste problems, Giang said, with all matters being considered, especially technology issues.
Quách Thị Xuân, coordinator at Việt Nam Zero Waste Alliance (VZWA), also agreed that waste-to-energy can still work, but input waste must be sorted.
"In all scenarios with waste-to-energy plants, a sustainable solid waste management solution for Việt Nam in general and Hà Nội in particular must still ensure both prevention and optimal treatment," Xuân said.
General solutions to prevent and reduce waste for the whole country have been and will be applied, especially after the Decree on guiding a number of articles of the Law on Environmental Protection 2020 is effective, she added.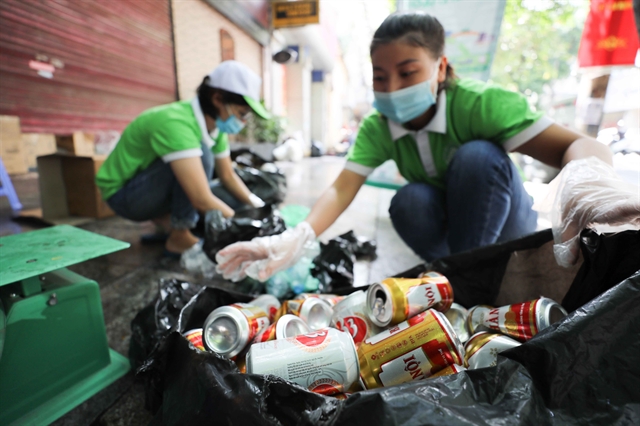 There is the application of policies to encourage the reduction and restriction in using plastic, especially single-use plastics, the policy of extended producer responsibility (EPR), and the policy to encourage the application of the circular economy.
In the management and treatment of solid waste, the key point is to sort waste at source as prescribed in the Law on Environmental Protection 2020.
She recommended that within the next 3 to 5 years, Hà Nội needs to promote, guide and boost waste classification at source, invest in infrastructure to serve the collection and separated treatment of different types of waste, and pilot the collection of waste fees by volume.
Hà Nội also needs to invest in building facilities to treat organic waste at different scales, and support recycling businesses to upgrade, expand or build new recycling facilities.
"If we do well in both prevention and treatment measures, Hà Nội can reduce the amount of waste generated per capita, removing 80 per cent of waste from landfills or incinerators. Of which, 60 per cent is organic waste to make compost and 20 per cent is recyclable waste," Xuân said.
Therefore, only about 20 per cent of waste needs to be buried, with low investment capital, unlike incineration, she added. — VNS
Source: VNN
Maybe You Also Interesting :
» French Senate President inspects the France-invested metro line in Hà Nội
» Private sector drains Hanoi workers from public healthcare
» Fighter jets perform light dance at Hanoi defense expo