Science & Education
For a developing society and economy like Việt Nam's, energy is the engine behind growth, especially in the post-pandemic recovery.
Up to 2,000 printed books, journals and reports on science and technology are being showcased at an exhibition, which opened its door in the capital city on Tuesday.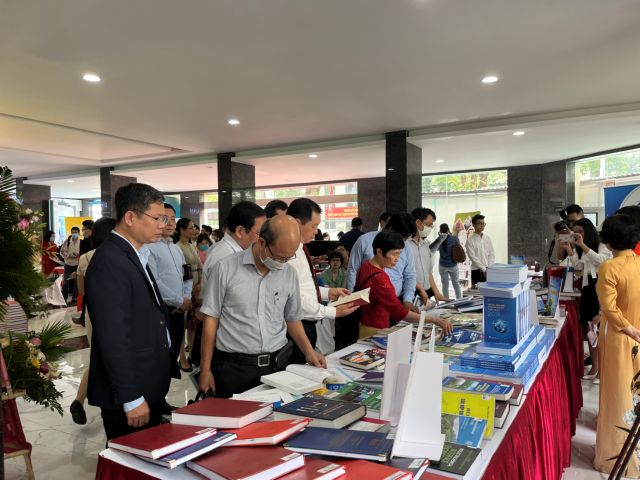 The University of Economics HCM City (UEH) and the Vietnam News Agency (VNA) will collaborate on linking training and research in communication and design with ground realities.
Graduates in certain disciplines should be allowed to start teaching and get their pedagogy qualifications later, within a specified time frame, HCM City officials suggest.
Tags:
Choice in education includes everything from choice provided to students in the classroom to education models and school choice, Kyle Konold, Principal of Ivy Global School, said.
The U.K. magazine Times Higher Education (THE) has listed seven schools in Vietnam among those having the most impacts in the world in 2022.
UNICEF Việt Nam has called on the country to reopen schools for all age groups "without prerequisites".
HÀ NỘI — Central provinces have quickly remedied the consequences of unseasonal torrential rains, which have been hitting the central provinces from Quảng Bình to Khánh Hòa over the last four days.
Tags:
The Mekong River Commission (MRC) has unveiled the Xieng Kok water level monitoring station in Laos that's expected to reduce downstream vulnerability to unexpected flows.
Nearly 2,000 tonnes of equipment and goods of Việt Nam's first military engineering unit participating in the United Nations peacekeeping operations at the UN Interim Security Force for Abyei (UNISFA) will be transported from Hải Phòng port in the northern city of Hải Phòng to the mission from April 4, according to the Ministry of National Defence's Việt Nam Department of Peacekeeping Operations.
Activities within the framework of Việt Nam Book and Reading Culture Day 2022 will take place from March 15 to April 30, expected to attract thousands of book lovers across the country.
As more COVID-19 cases are detected among school children, education institutions in HCM City are taking measures to adapt and prepare for the upcoming end-semester exams.
Tags:
Page 8 of 140