Science & Education
A virtual information session on top master's programmes for Vietnamese nationals will be held for the first time by Quacquarelli Symonds.
The Ministry of Industry and Trade (MoIT) has asked provinces and centrally-run cities to review wind, solar and hydropower projects included in the national planning scheme for electricity development for 2011-2020 with a vision towards 2030.
Tags:
The number of COVID-19 patients are increasing rapidly, especially in schools, and teachers, besides their professional work, are reluctant to become medical staff.
Tags:
Agricultural development in the Mekong Delta region must adapt to climate change and be in close connection with the growth of industry and services, said Prime Minister Phạm Minh Chính.
Tags:
At 8:30 a.m on March 6 2022, Savi Pharmaceutical Joint Stock Company (Savipharm) held a "Ceremony of Awarding the Third Class Labour Medal and Inaugurating High-Tech Research and Development Center and Nationwide Modern Medicine Distribution System" in the Industrial Park of Tan Thuan Export Processing Zone (District 7, Ho Chi Minh City)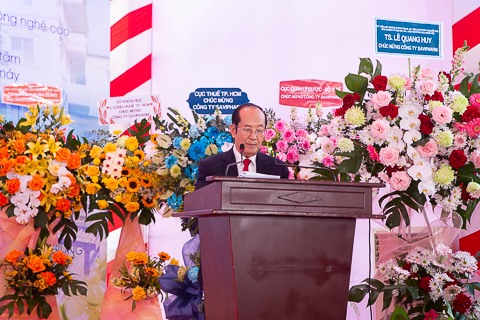 Architect Trần Huy Ánh spoke to VietNamNet online newspaper about the importance of natural ponds and lakes as Hà Nội's bodies of water are being filled in to make way for real estate development.
Tags:
The Ministry of Information and Communications has put forward a plan to give each poor family a tablet if they cannot afford one.
Around 500 hectares of riverbank are lost yearly across the Mekong Delta to excessive sand mining, according to World Wildlife Fund (WWF) and the agriculture ministry.
Schools across Ho Chi Minh City have been provided more than 50,000 rapid antigen testing kits to screen students suspected to have Covid-19.
Being infected with the novel coronavirus often means a disruption in people's everyday lives, but dedicated teachers are still doing their job as usual – even from their hospital beds.
Deputy Prime Minister Phạm Bình Minh has signed a decision on policy reform to support the national target programme on socio-economic development in ethnic minority and mountainous areas in 2021-2030.
Tags:
The Cửu Long (Mekong) Delta provinces say they have taken effective measures to mitigate saltwater intrusion impacts in the ongoing dry season.
Page 9 of 140