By Lương Thu Hương
Đắk Lắk, a beautiful province located in the Central Highlands, welcomes tourists with its rich landscapes and natural resources that make it a bucket-list destination for any nature lover.
The province charms visitors with its vast forests, poetic waterfalls, tranquil lakes and secluded coffee and cacao farms.
The peacefulness of the mountainous locality impressed me when I first set foot here after a 1.5-hour flight from Hà Nội. The tree-lined streets of Đắk Lắk's capital Buôn Ma Thuột, and the fresh air amazed me, a city-dweller.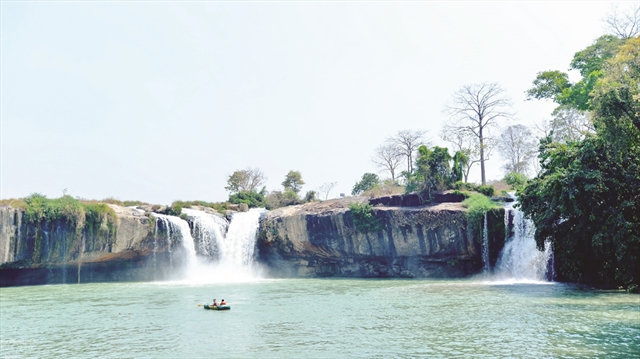 GREEN LUNG: Đắk Lắk's spectacular scenery has always been one of its greatest assets, making it an ideal destination for tourism. VNA/VNS Photo Hoài Thu
Buôn Ma Thuột is among cities with the highest rate of tree coverage in Việt Nam. Taking a walk around the city, visitors encounter leafy parks or forests that provide shade for the whole city all year round, like the luxuriant forest growing on both sides of Nguyễn Lương Bằng Street connecting the city centre to Buôn Ma Thuột Airport, or Ea Kao Forest Park around Ea Kao Lake.
Land of waterfalls
Known as the 'Coffee Capital' of Việt Nam, Đắk Lắk also takes pride in its numerous picturesque waterfalls, many of which have been recognised as national scenic spots.
Dray Nur is the Central Highlands' most magical waterfalls. It is located in Krông Ana, about 25km from Buôn Ma Thuột. The beautiful waterfalls, which is 250m long and 30m high, have become a symbol of the wild beauty of the highlands.
Dray Nur is the largest in a cluster of three waterfalls: Gia Long - Dray Nur - D'Ray Sáp Thượng of the Sêrêpok River. It is located by D'Ray Sáp Thượng waterfalls, also known as Smoke waterfalls, and you can cross two suspension bridges to get from one falls to the other.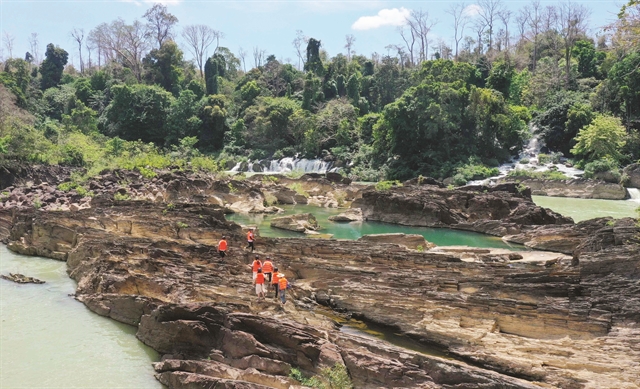 PICTURESQUE: Visitors explore ancient volcanic rocks at Đắk Lắk Province's Gia Long - Dray Nur waterfall. VNA/VNS Photo Hoài Thu
Local residents refer to D'Ray Sáp Thượng as "Husband Waterfalls" and the other as "Wife Waterfalls." Although they are both created by the Sêrêpok River. Dray Nur is in Đắk Lắk Province while D'Ray Sáp Thượng is in neighbouring Đắk Nông.
As adventurous nature-lovers, my friends and I booked a rafting trip on the mighty Sêrêpok River, one of the highlights of our three-day trip exploring Đắk Lắk.
Assisting us are two local Ê Đê ethnic men – Y Sáp and Y Duy. They were not only our rowers, tour guides, porters, but also spontaneous singers who enlivened our voyage with songs praising the Central Highlands – their homeland – and its people.
The 4km trip was an out of this world experience, sailing under the beautiful blue sky and above the transparent jade water of the Sêrêpok.
We enjoyed the fresh air, listened to birdsongs echoing from the forests and stopped at falls to contemplate their beauty or become immersed in the water pouring down from above. At some points with fast current, we had to get off the boat and walk on ancient volcanic rock with unique shapes. Of course, we did not forget to take photos to capture such magical moments.
From Dray Nur Falls, nature-lovers can also trek in the primeval forest to contemplate the thousands-of-year-old giant tree roots hugging the big rocks, or wait until the sunset to watch thousands of bats flying back to their shelters.
You can also join a new adventure tour that has been launched at the Dray Nur Eco-tourism site and is also the first of its kind in Việt Nam, an All-Terrain Car Tour combining physical activities such as climbing, rafting and camping in the forest.
According to Ngô Xuân Nam, manager of the Trung Nguyên Healing Tourism Investment Company, safety is a key concern at all times.
"Besides our certification, our staff receive professional training on rescue every year. The protective gear and equipment are maintained and renewed regularly. Meanwhile, the tourists will be equipped with life jackets and helmets. They will be guided by our local ethnic people who are familiar with the terrain to ensure their safety," he said.
Yang Tao Elephant Rocks
A must-see destination in Đắk Lắk is Yang Tao Elephant Rocks, about 40km from the centre of Buôn Ma Thuột.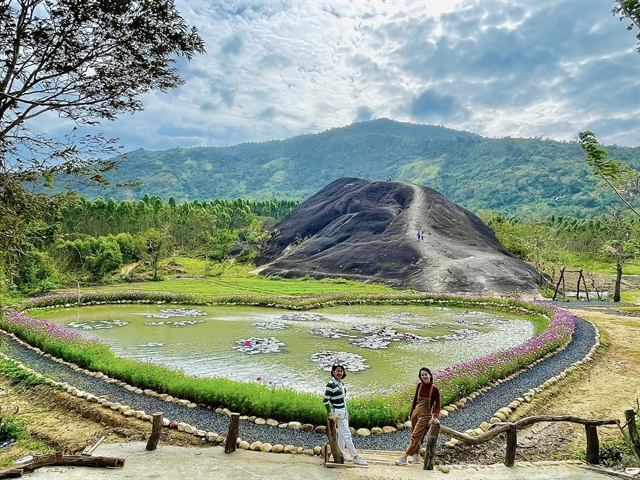 ROCK ON: Checking in and conquering Đá voi mẹ (Mother Elephant Rock) is a must for visitors to Đắk Lắk Province. VNS Photo Courtesy of Duy Linh Buôn Mê
This is a pair of giant monolithic rocks shaped like two elephants. The larger one is near the foot of a mountain called Đá voi mẹ (Mother Elephant Rock); and the smaller one called Đá voi cha (Father Elephant Rock), is about 5km away in the middle of a field.
It took us about 15 minutes to reach the top of Mother Elephant Rock. The climb is not too tough, but climbers have to get over some gentle slopes. Standing on its summit, we took in a panoramic view of the surrounding majestic nature such as Yang Reh Lake and Chu Yang Sin Forest, the roof of the Central Highlands.
Although it is not difficult to get to the top, visitors should wear a good pair of shoes and must be careful as the trail can be slippery. It is recommended not to climb the rock on windy and rainy days when it is riskier.
Lắk Lake
Driving along Highway 27 about 55km from central Buôn Ma Thuột, we reached Lắk Lake on what was a beautiful sunny day.
It is the largest freshwater lake in the Central Highlands, covering an area of over 6 square kilometres at an altitude of over 500 metres above sea level. It is also the second-largest natural freshwater lake in Việt Nam, after Ba Bể Lake in the northern province of Bắc Kạn.
The lake is surrounded by large mountains with primeval forests and vast wet rice fields interspersed with the villages of the M'nông ethnic people who have lived there for generations and maintain the beauty of the land.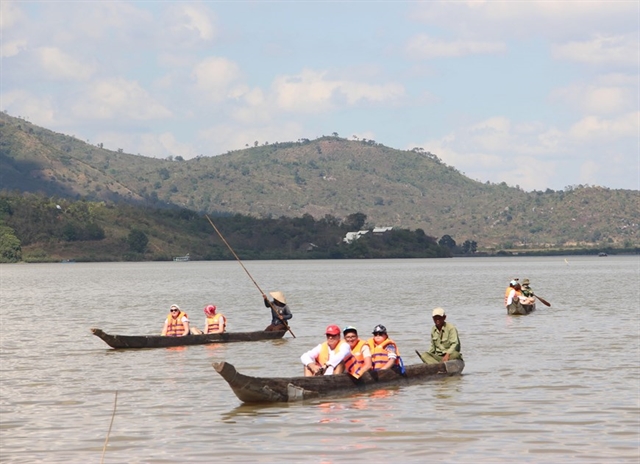 PLAIN SAILING: Tourists seen travelling by dugout canoes on Lắk Lake. VNA/VNS Photo Nguyễn Tuấn
Visitors can take dugout canoes, the typical waterway vehicles of the Central Highlands, or boats to ride around the lake and enjoy its tranquillity. At times, we could see a number of elephants leisurely walking by, and did not miss the rare chance to take some photos of them and give them some fruit as a reward.
Arriving at Lắk Lake at about 4.30pm is the perfect time to catch the sunset and see the last golden rays of the sun glittering on the calm surface, creating mesmerising scenery.
Cacao farm
Lurking on bustling Y Ngông Street in downtown Buôn Ma Thuột City is surprisingly a large cacao farm, owned by Phạm Hồng Đức Phước, a cacao expert.
Cacao is grown in three regions in the country: the Central Highlands, the Mekong Delta, and the southeastern region, but Đắk Lắk is said to have the most ideal soil and weather conditions for it. The province has the largest area of cacao trees in the region.
At the farm, we had the chance to try our hands at picking cacao fruit at the farm and look into the process of producing cocoa powder.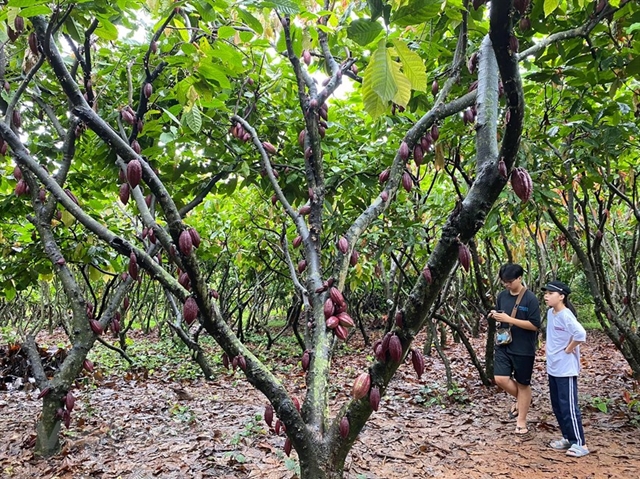 ECO-TOURISM: Tourists visit the cacao farm behind the Rêu Phong coffee shop at No. 111 Y Ngông, Tân Thanh Ward. They can try their hand at picking cacao at the farm and take a look at cocoa powder production. VNA/VNS Photo Minh Thu
After wandering around the farm, we tried tasting smoothies made from the pulp of cacao fruit, a special treat at the farm, not found in other similar destinations. It may be one of the reasons why more and more tourists visit the farm, even though it does not advertise itself. Fruity, sweet, tangy and slightly acidic, the cacao pulp offers the perfect mix for tropical fruits like mango, pineapple, passion fruit, and lychee.
Đắk Lắk is also home to many other natural and eco-tourism destinations that we regrettably could not visit during our three-day trip, such as the coffee farms, Troh Bư Garden, Yok Đôn National Park, and Ea Sô Nature Reserve.
However, they have given us motivation for our next visit, hopefully in December when the coffee flowers blossom, and it is the ideal time to visit Đắk Lắk. VNS