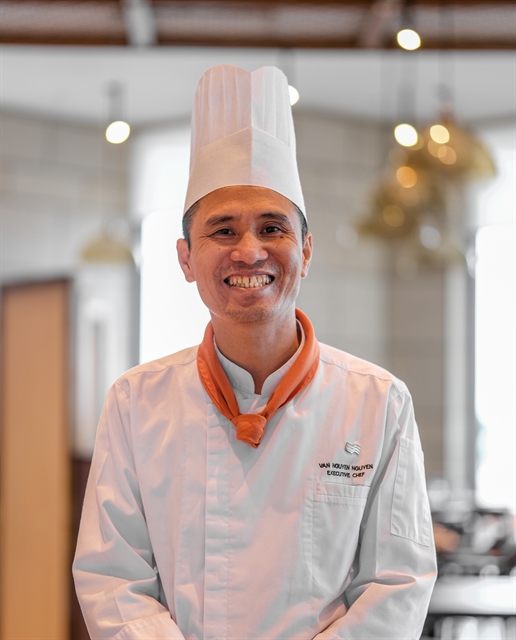 Executive Chef Nguyễn Văn Nguyên of Crowne Plaza Vĩnh Yên City Centre
Shoyu ramen is the most common noodle soup, with a broth made of soy sauce, in Japan. There are different versions of shoyu ramen: it can be cooked with either pork or chicken, garnished with different toppings, and served with different condiments. Today, let's give it a try with the signature red mustard chicken ramen by Executive Chef Nguyễn Văn Nguyên of Crowne Plaza Vĩnh Yên City Centre. Travel to Japan through your own kitchen with this easy-to-follow recipe.
Ingredients: serving 1 person
Ramen noodle (instant ramen noodle is OK): 150g
Chicken (boneless): 200g
Chicken stock: 300ml
Red mustard: 50g
Chicken egg: 1
Nori: 30g
Beansprout: 30g
Bok choy: 50g
Japanese soy sauce: 20ml
Mirin (Japanese cooking rice wine): 20ml
Salt: 5g
Sugar: 5g
Minced pepper: 5g
Cooking oil: 10ml
Spring onion: 10g
Paprika powder: 3g
Ginger: 5g
Garlic: 5g
Tool: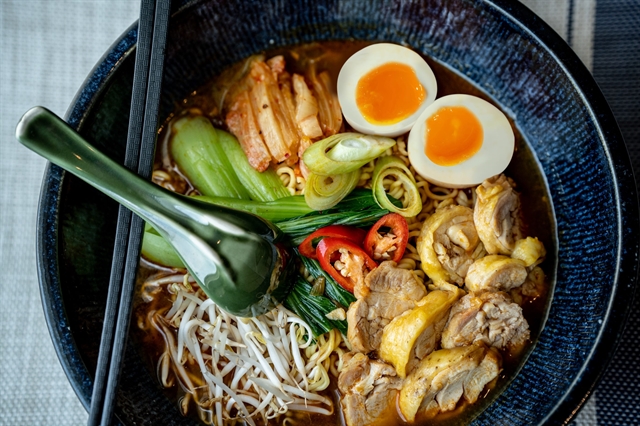 Red Mustard Chicken Ramen
Method:
Chicken:
Marinate boneless chicken with pepper, salt, paprika powder, red mustard and chopped ginger. Roll the chicken, tighten it with cooking twine and pan-sear at 150 Celsius degrees until light brown.
Put the pan-seared chicken in a pot with 300ml of chicken stock and 3ml of Japanese soy sauce and 3ml of mirin. Braise for 20 minutes.
Remove the braised chicken from the pot. Remove the cooking twine. Slide the chicken roll into 1cm-thick pieces.
Egg:
Boil the egg for 5 minutes.
Remove the egg from the boiling pot. Immediately put the egg in a bowl of iced water to prevent the heat from completely boiling the egg. Remove the eggshell when it's cooled down.
Boil a mixture of Japanese soy sauce, mirin, chopped spring onion, chopped garlic, chopped ginger and sugar. Turn off the heat, let it cool down and pour it over the egg. Let the egg soak in the mixture for 3-5 hours or overnight in a fridge.
When used, cut into halves.
Noodle & bean sprouts:
Boil the noodle and bok choy with the chicken stock for a few minutes. When removing the noodle and bok choy from the boiling pot, ensure the noodle is still stretchy, and the boy choy is still crunchy and green.
Poach the bean sprouts. Remove them from the pot and let them dry.
Presentation:
Put the noodle into a big bowl. Top up with the sliced chicken on one side and the bok choy on the other side. Top up with the two halves of egg, poached beansprouts, chopped spring onion and nori.
Pour the chicken stock into the bowl.
Sensory evaluation:
Chicken: tender
Presentation: colourful and beautiful
You can enjoy this Japanese iconic chicken ramen and many other savoury dishes by chef Nguyên and his talented team at HOP Kitchen restaurant, located on the 4th floor of Crowne Plaza Vĩinh Yên City Centre, 396 Mê Linh Road, Liên Bảo Ward, Vĩnh Yên City, Vĩnh Phúc Province. Tel: (84) 2113 778899.