By Thu Hiền
For the past 21 years, each month a Japanese man spends some two weeks in Lô Lô Chải, a remote village in the northern mountainous province of Hà Giang, becoming a familiar friend to many members of the Lô Lô ethnic minority group.
Visiting Việt Nam for the first time in 1995, spending one week in HCM City and Cần Thơ, Yasushi Ogura was immediately lured by friendly Vietnamese people. Since 2002, he has returned every month and decided to learn Vietnamese to ease his travel throughout the country.
Since 2002, he has often visited Hà Giang, which hosts spectacular landscapes and diverse cultures of 22 ethnic groups. He flies from Tokyo to Nội Bài, takes two car trips and a xe ôm to Lô Lô Chải.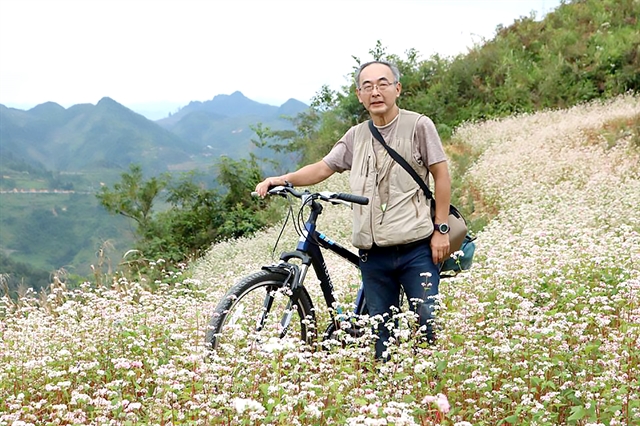 Yasushi Ogura travels by bike in the area. VNS Photo Bùi Công
He sometimes travels by bike around the area.
It takes some three hours for a local to travel by bicycle from Đồng Văn to Lũng Cú, but he needs some four hours as he has to walk the bicycle on sloppy roads.
"Travelling by bicycle is very slow here," he said. "But we can admire the scenery along the road, especially in spring with lots of flowers."
"The most exciting part of the bicycle trip is that you go up and down the slopes. It's cool with fresh air. I have met many young Vietnamese and foreign people. All of them encourage me to go on. I feel very happy," he said.
Traveller Trần Tân, who met Ogura once along his Hà Giang trip, said he was impressed with the strong will of the Japanese.
"I was taking a rest by a field of buckwheat flowers," Tân said. "I saw him riding a bicycle from Lũng Cú to Đồng Văn. He was walking with his bicycle along the slope. I admired him very much as I have seen no one travelling by bicycle in that area, let alone a foreign elder."
Not visiting the area only for fun, Oruga has assisted locals to do business as well.
He has spent his savings to set up a café named Cực Bắc (North Pole) in the area and let a local family run it. The café has been a popular resting place for visitors to Lô Lô Chải, Lũng Cú Commune, Đồng Văn District.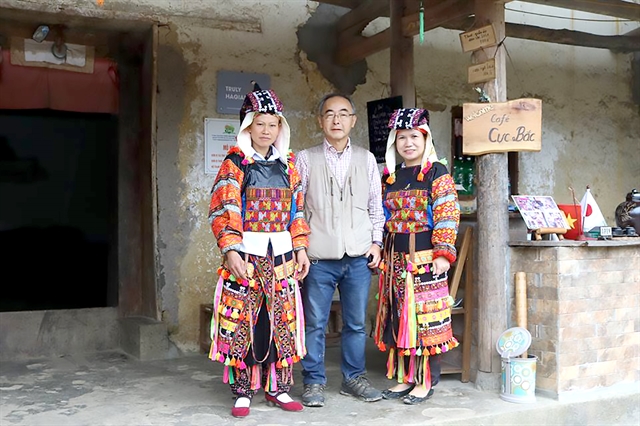 Ogura with locals at the café he helped open in Lô Lô Chải Village. VNS Photo Bùi Công
The café was set up in a trình tường house made from clay and stone with a wooden gate. Visitors can ring a bell to order a drink, and watch local women weaving cloth and make wine. They can speak to locals while feasting their eyes on a mesmerizing landscape.
"If they know how to combine traditional cultural values and architecture, Lô Lô people will succeed," he said.
The Japanese enthusiast has wandered from house to house to consult locals on how to communicate with guests, arrange dishes in a meal, and move cattle away from homes to ensure hygiene and a good landscape. He has even given them the necessary budget to do the task.
Ogura said community tourism will be a good solution to improve locals' living standards in a province with lots of natural resources and rich cultures.
"A reason why I chose the Lô Lô people to help as they are very friendly, are able to speak the Kinh majority language very well, while Mông people cannot," he said. "More over, there are many ancient trình tưởng houses in the area."
Oruga said he wants locals to protect their traditional culture and ancient houses; otherwise they will lose them forever. "I hope the café will be a tourism destination, where locals can introduce their culture to visitors," he said.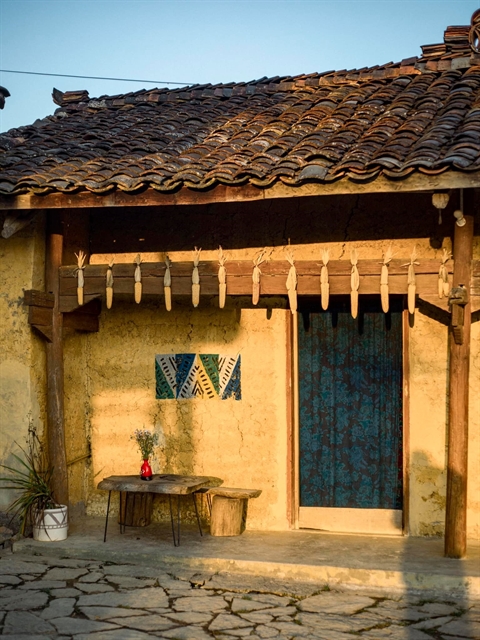 An ancient house used as a homestay in the area. VNS Photo Bùi Công
Oruga admitted that it is challenging to preserve traditional culture in modern life, when people tend to follow a modern lifestyle and build new houses.
"I have told them again and again that no more visitors will come if there is no traditional culture," he said. "The café and homestay service can bring along profit to the owners. But it's not enough if some families get wealthier. They should do something to lure more guests to the village so that the whole village can get more income. I have encouraged them to sell more corn wine, handicraft products and agricultural products."
Among the four districts of Hà Giang - namely Quản Bạ, Yên Minh, Đồng Văn and Mèo Vạc - Oruga said he likes the spectacular karst mountain in Đồng Văn the most.
"In each district, there are so many attractive destinations that visitors cannot have enough time to stop at every destination if they have only one or two days in the area," he said.
Oruga noted that local authorities and people have not been aware of protecting natural and cultural resources.
"Localities are trying their best to implement mass scale tourism projects and modern recreational centres, which help lure more guests but, at the same time, destroy local nature and culture. When the nature and culture are lost, guests will no longer come," he said.
Oruga suggested provinces should have detailed plans for areas that need protection, limit building high rises and strictly follow those plans.
"Another issue is that there are more people from cities involved in tourism services rather than locals," he said. "In the meantime, only locals can introduce their culture to visitors."
It means that concerned agencies should train tourism service skills to locals and offer other support to boost up local community-based tourism, he said. VNS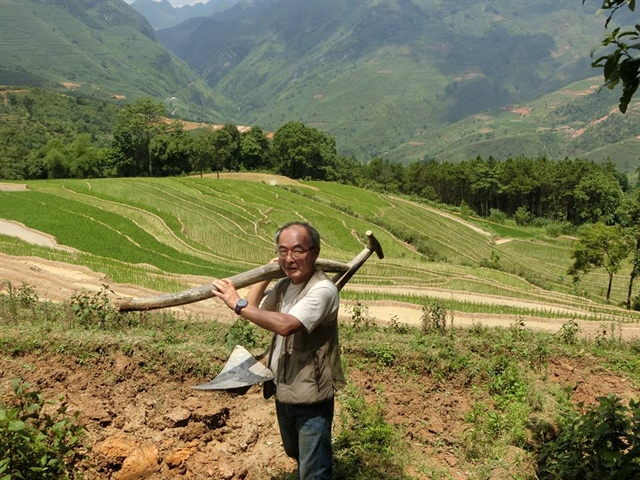 Oruga especially loves Hà Giang Province. VNS Photo Bùi Công