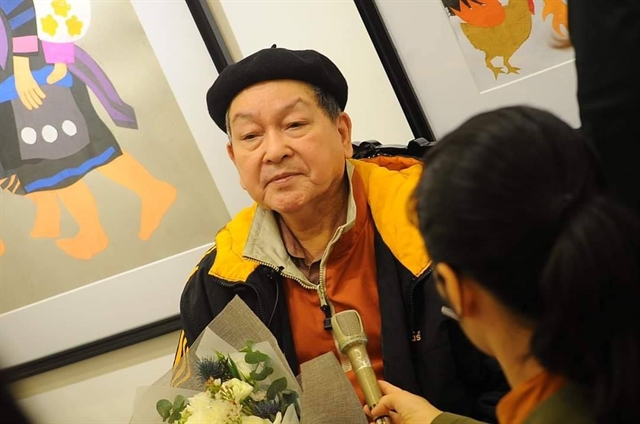 Artist Phạm Viết Hồng Lam. Photo Facebook of the artist
HÀ NỘI Veteran artist Phạm Viết Hồng Lam has long been associated with gouache paintings of rural landscapes. He is one of the very few Vietnamese artists to become successful using gouache.
Việt Nam News reporter Nguyễn Bình interviews Lam on the occasion of his two paintings going on display at Việt Nam National Fine Arts Museum (VNFAM).
Your painting Dừa Kiến An (Coconut Trees in Kiến An) is shown at an exhibition at the national museum. When did you paint it?
This is one of my favourite paintings because it is the first time I take my students for an internship in Kiến An, Hải Phòng City.
After graduating from Việt Nam Fine Arts College in 1976, I taught at the School of Art Education.
I draw Dừa Kiến An to combine sketches and my imagination of form and colour. It was displayed at the National Fine Arts Exhibition in 1986 and the museum collected it after the exhibition.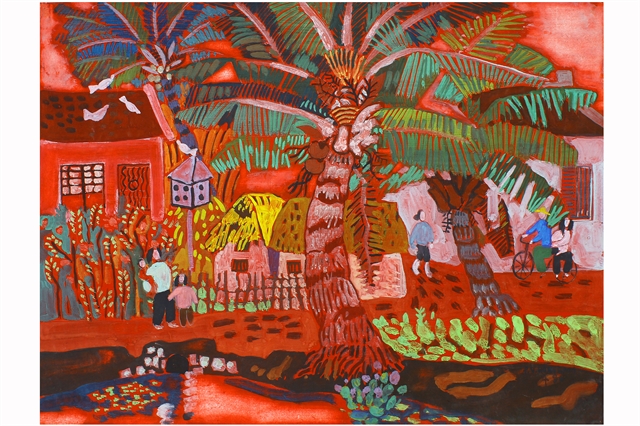 Gouache painting Dừa Kiến An (Coconut Tree in Kiến An) is displayed at VNFAM until February 15.
Fine arts critics said that not many artists use gouache for painting and get success. What do you think about those comments?
They are right. I think one of the most successful artists using gouache was the late artist Văn Giáo. However, it must be said that no matter what material is used to create a work, it is only a means. Important and decisive factors are expressing methods.
Depending on ability and life experience, artists use form, lines and colours to express their feelings about the real world. I choose colours for my expression.
Why do you choose gouache?
In the hard-economic past, it wasn't easy to secure foreign oil paint. It was a scarce luxury, while gouache was locally made and much cheaper.
However, the main reason comes from the discovery and encouragement of my wife, painter Tạ Phương Thảo. She told me that my gouache paintings are beautiful and I don't need to use other materials.
In the beginning, I didn't want to use gouache because it was a less popular material and the trendy choices were oil paint and lacquer. I painted with gouache because the other materials were expensive. I intended to repaint the gouache paintings later with other materials.
However, gouache attracted me, and I have stuck with it for decades. It seems that this is also a fateful choice, showing my serendipity.
How do you use gouache to paint?
I did research and created my own way of painting with gouache. Simply, I needed to save paper. When I don't like my painting I wash it under the water tap gently. After rinsing the gouache layer and waiting for the paper to dry, I drew again, but with a little bit of deviation from the original.
The strength of gouache is convenient. It can be used on many surfaces, easy to erase and change. I combine traditional dó (poonah) paper which is a durable material that can withstand erasing several times.
The colour catch and moisture resistance of dó paper also overcome the disadvantages of gouache. And I use scallop shell powder as an additive to make the colours fresh and brighter.
I learn from traditional cultures, such as painting background colours from folk Đông Hồ paintings and inspiring temple and pagoda sculptures. I don't care about theory in fine arts, near and far, right and wrong or big and small.
In my paintings, a cow can be red or a chicken can be a bigger person. Unreality creates a unique painting. I learn colours from my students. Many of my students are from ethnic communities in remote areas, so they draw innocently and naturally.
I have researched and found that gouache is more durable than oil. Many artefacts found thousands of years ago in China painted with gouache and colours are almost intact. If gouache painting is in a glass frame, it can be good for hundreds of years.
Do you remember your first exhibition?
My first solo exhibition was by chance. One of my colleagues wanted him and me to hold an exhibition. But he pulled out at the last minute. Since it has begun, it must be finished. I bring my paintings to the fine arts national council for approval before the exhibition.
Late artist Trần Văn Cẩn, one of the council members watched my paintings and asked me how many paintings I have. Then I displayed some 100 gouache paintings.
The all gouache exhibition was the first of its kind in the country. It was successful and inspired painters to use gouache.
Do you want to hand down your gouache technique to younger artists?
It is not a technique. It is creativity, and I think each artist has his own creativity. I want to make a book about the career of my wife and me. My wife is my teacher, helping me to gain success.
Two artists, Trịnh Minh Sơn and Trịnh Sinh Nha, will help me to complete the book. - VNS