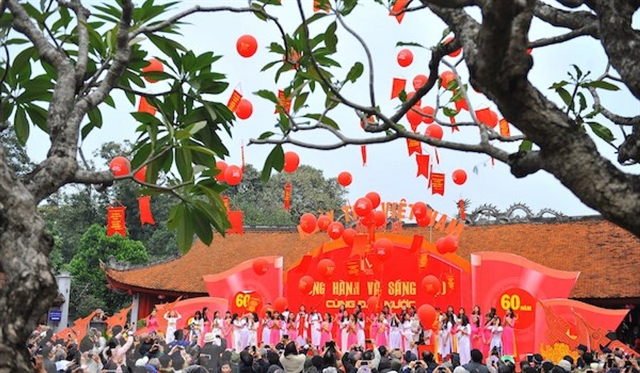 Việt Nam Poetry Day in 2019. File Photo
HÀ NỘI - The Việt Nam Poetry Day will be held next month in Hà Nội's Thăng Long Imperial Citadel with new activities.
It is the first time this annual cultural event will take place in the citadel, which is a UNESCO World Heritage of Việt Nam, after 18 years being held at the Quốc Tử Giám (Temple of Literature) and three years of hiatus due to the COVID-19 pandemic, according to Nguyễn Quang Thiều, President of the Việt Nam Writers' Association (VWA).
With the theme "Nhịp Điệu Mới" (New Rhythm), the 21st event carries the wish that after the country has overcome the pandemic, life returns with a "new rhythm, momentum and confidence" along with the recovery of the whole economy, culture and society to approach a "future full of hope for good things", Thiều said.
The day is organised by the Việt Nam Writers' Association in collaboration with the Thăng Long Imperial Citadel Management Board.
It is expected to open on the occasion of the new year's full moon celebration which falls on January 15 of the Lunar calendar or February 5, 2023 with more events organised in new and attractive ways, organisers announced at a recent press conference.
All activities have been designed and staged by a creative team including general director and artist Lê Quý Dương and two other artists, Phạm Hà Hải and Lê Đình Nguyên, who are in charge of fine artistic works.
The main event of Poetry Day is planned to take place on the full moon night to increase the effect of sound, light and theatrical values. Poet Hữu Việt, Head of the Young Writers Department, is in charge of the entire script for the event.
Within the framework of Poetry Day, there will be activities such as a seminar hosted by the VWA at the great hall of the citadel with the participation of poets of many generations to discuss important issues of contemporary poetry. Other activities will also be held including poetry readings, chatting about poetry, and visits to and exchanges at the Poetry Memory House (PMH).
The event's general director said at the press conference that the audience will walk on a Poetry Road to enjoy 100 beautiful verses of Vietnamese poetry written on dó papers which have been shaped into fans and butterfly wings.
At the end of Poetry Road, the audience will enter the Poetry Memory House, which displays special artefacts of famous poets through many periods of Vietnamese literature provided by the Vietnam Literature Museum. Next to the PMH is the Poetry Shop, where poets and poetry lovers will interact with the public, read poetry and talk about Vietnamese poetry.
Parallel to Poetry Road is Book Road, with about 40 booths of publishers and book companies, where visitors can purchase literary works, such as anthologies of classical and contemporary poetry.
In the central area in front of Đoan Môn gate is a Poetry Stage with an area of ​​about 350 sq.m including a 100sq.m glass floor, where the Night of Poetry will take place. On the citadel wall will hang two large panels on which will be printed a "divine poem" by Lý Thường Kiệt and another poem themed "Nguyên Tiêu" (First Full Moon Festival) by President Hồ Chí Minh.
Some 21 poems/poetry authors will appear on the stage on the full moon night of the programme. The public will also have a chance to see images of famous poets from the period of New Poetry to Resistance War Poetry such as Nguyễn Đình Thi, Chế Lan Viên, Huy Cận, Xuân Diệu, Hoàng Cầm, Lê Đạt and Chính Hữu.
Next will be the reading and performances of poetry by poets of the anti-American generations and those from 1975 to the Đổi Mới (Renovation) period. The last performances will be for young poets. Interspersed with poetry reading, famous artists will perform songs with music created from poems that are loved by the public. VNS